Navy's Triton surveillance drone returns to Japan for Indo-Pacific duty
By
Stars and Stripes
August 22, 2022
---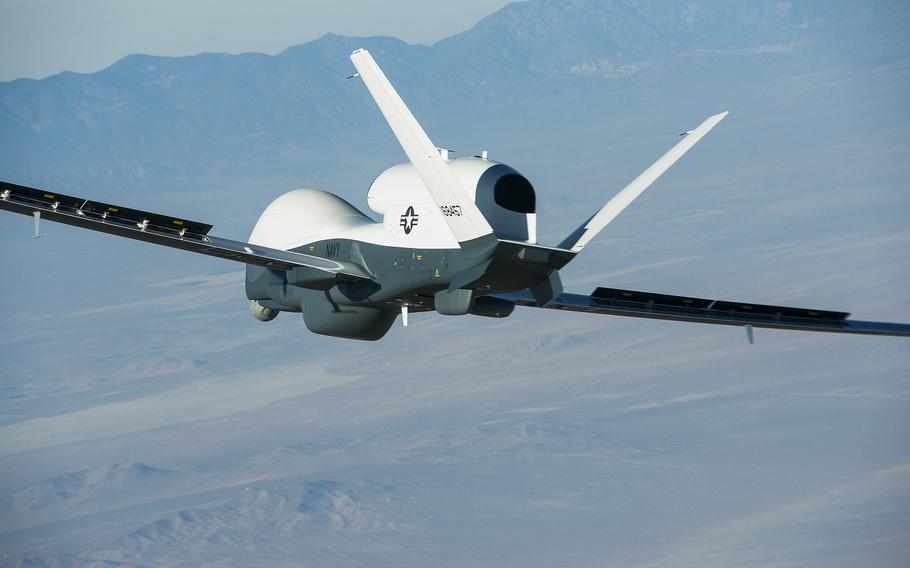 MARINE CORPS AIR STATION IWAKUNI, Japan — An unmanned surveillance aircraft arrived at this base near Hiroshima last month to support the Navy's operations in the Indo-Pacific region.
Tritons have visited Japan before. Last year, two were deployed to Misawa Air Base in the northeastern corner of the country.
This time, one MQ-4C Triton assigned to Unmanned Patrol Squadron 19 in Florida arrived at MCAS Iwakuni on July 12 to conduct maritime patrols, reconnaissance and theater outreach operations for Task Force 72, according to a base news release. Task Force 72 is the patrol and reconnaissance component of 7th Fleet.
"Operating the MQ-4C at MCAS Iwakuni strengthens our interoperability with Japan and provides the flexibility to operate at multiple airfields within the 7th Fleet area of operations," Lt. Scott Van Hoy, spokesman for Squadron 19, told Stars and Stripes by email Thursday.
The U.S. military uses the term "interoperability" to describe how one country's armed forces use another country's training methods and military equipment.
The Triton arrived from Naval Air Station Jacksonville, Fla., with a supporting contingent of maintenance and operations personnel. Pilots at Iwakuni launch the Tritons before handing control over to Jacksonville.
"It is a team effort between pilots at MCAS Iwakuni and pilots at our homeport in Jacksonville, Florida, to operate the unmanned aircraft," Van Hoy said.
Similar to the Air Force's RQ-4 Global Hawks, the Triton is designed for maritime surveillance rather than terrestrial scouting.
The Triton has a reinforced airframe to protect against hail, bird strikes and high winds and allows the aircraft to pass through harsh maritime weather while the Global Hawk does not have that capability, according to Northrop Grumman's website.
"This is the first time the Navy has operated the MQ-4C from MCAS Iwakuni and adds another operating airfield to the Navy's unmanned capability," Van Hoy said.
---
---
---
---