Navy promises 'life-altering $115,000' in bonuses to lure veterans back to active duty
By
Stars and Stripes
August 17, 2022
---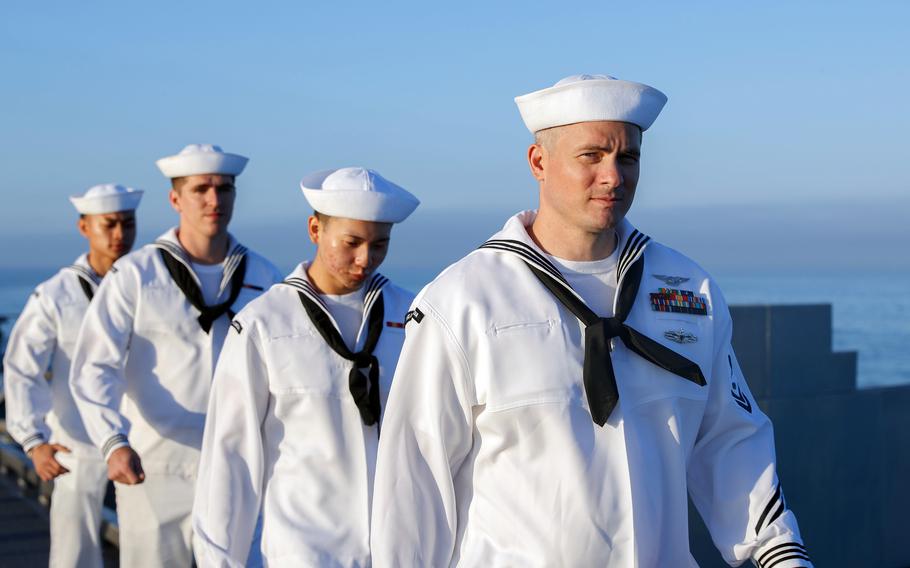 The Navy announced a hefty bonus program aimed at enticing its veterans — and veterans of other services — to reenlist.
The Navy is offering a $50,000 signing bonus and up to $65,000 in student loan repayments for a "life-altering $115,000," Rear Adm. Lex Walker, the head of Navy Recruiting Command, said in a news release Aug. 6.
The Navy, like other branches of the U.S. military, is facing a tough year for recruiting. A record low percentage of young Americans are eligible to serve and even fewer are willing to consider it, NBC News reported June 27. Further complicating recruiters' efforts are a low unemployment rate and lingering impacts of the COVID-19 pandemic.
The Air Force in July announced its own bonus program to lure recruits into 22 active-duty career fields. Bonuses for prospective airmen range from $3,000 to $58,000 if they sign up by Sept. 30, the end of the federal government's fiscal year. The Air Force needs thousands to sign up to meet its 2022 recruiting goal of 26,000 recruits.
Likewise, veterans lured by the Navy bonuses need to act by Sept. 30. Some conditions apply. Veterans must re-enter the service in pay grade E-4 or below, meet specific bonus eligibility and not have received a bonus in their first enlistment, according to the Navy release.
"If you are a Sailor, Marine, Airman, Soldier, Guardian, or Coast-Guardsman who recently separated, this is an opportunity without precedent," Walker wrote. "And if you have student loan debt, you could be eligible for the Loan Repayment Program if you ship in any month of any fiscal year while the program remains active."
The bonus program has $10,000 available for high school seniors who enter the delayed entry program by Oct. 31 and graduate from high school before shipping out in July 2023.
Navy veterans attracted by the bonus need not attend boot camp but will complete in-processing at Recruit Training Command Great Lakes in Illinois. Veterans of other services would enter a three-week naval orientation course and complete the same training a typical recruit would experience, including ship-handling, live-fire, swim qualifications and firefighting, according to the Navy release.
---
---
---
---