Navy ends early-out programs for enlisted sailors, urges rethink by others eyeing exit
By
Stars and Stripes
June 30, 2022
---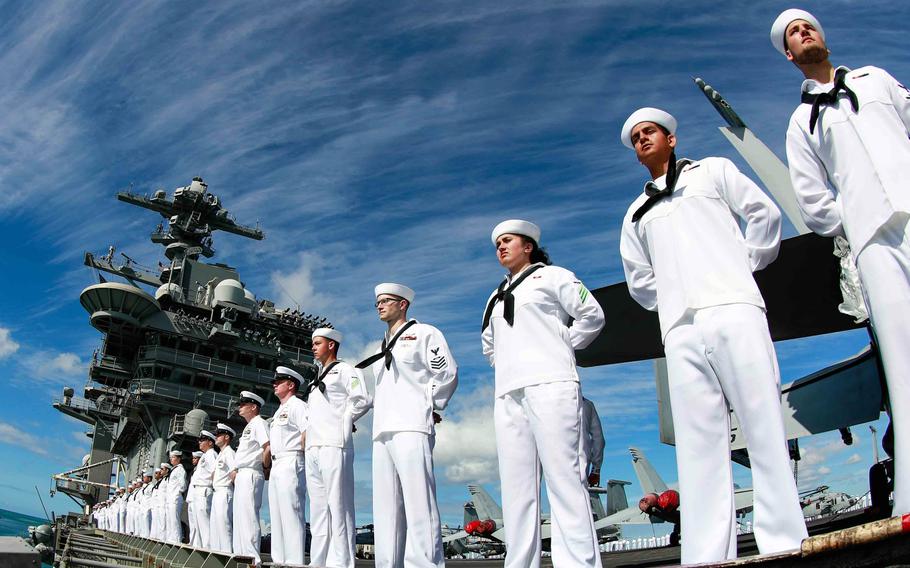 The Navy is canceling all early-separation programs for active-duty enlisted sailors and encouraging those with approved separation or retirement plans to stay, as retention efforts take on growing importance for the service.
The policy change, announced in a June 22 administrative order posted Tuesday, comes amid recent attempts to balance the fleet by offering early separation to sailors in certain ratings or career fields considered overmanned, such as boatswain's mate or culinary specialist.
Chief of Naval Operations Adm. Michael Gilday told Congress in May that future recruitment will be difficult, especially efforts to sign up people with cyber expertise, USNI News reported May 16.
Gilday's comments follow a series of retention initiatives by the Navy this year, including reenlistment bonuses in certain ratings and career fields and an initial enlistment bonus of up to $50,000 for new sailors.
The service's 2023 budget forecasts an estimated active-duty end strength of 346,300, a drop of 620 officers and enlisted sailors compared with the 2022 level, according to Navy budget documents.
Similarly, the service estimated that it would have 900 fewer reservists in 2023, for an end strength of 57,700, the documents show.
In Tuesday's announcement, the Navy said cancellation of the programs will not affect sailors whose early separation already was approved. It also said sailors with an approved separation or retirement can delay their departure from the service if they apply by Aug. 31.
Service members whose separation or retirement was due to age, misconduct or disability are not eligible for the postponement.
In addition, people who had started their retirement or separation orders, such as shipping of their household goods, are ineligible, the Navy said.
---
---
---
---