USS Frank E. Petersen Jr. becomes ninth destroyer to homeport in Hawaii
By
Stars and Stripes
June 14, 2022
---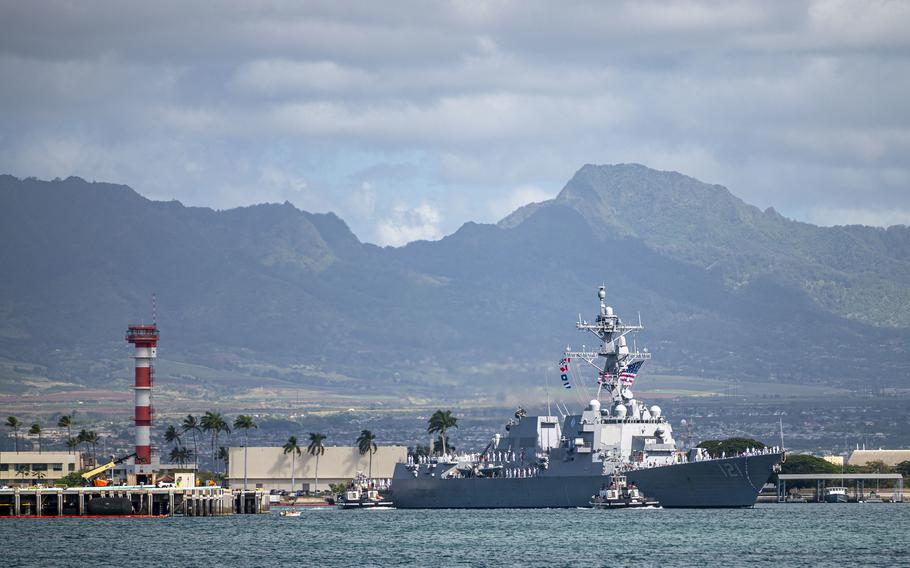 FORT SHAFTER, Hawaii — The Navy's newest guided-missile destroyer, the USS Frank E. Petersen Jr., arrived Monday in Pearl Harbor, making it the ninth ship of its class to homeport in Hawaii.
The 509-foot Arleigh Burke-class destroyer steamed into Joint Base Pearl Harbor-Hickam from Charleston, S.C., where it was commissioned last month, the Navy said in a news release Monday.
It joins the USS Daniel Inouye, which arrived in November at the joint base that is headquarters to U.S. Pacific Fleet.
The ship's namesake is Marine Corps Lt. Gen. Frank E. Petersen Jr., who was the Corps' first African American aviator and three-star general, the Navy said in a news release Monday.
Former Secretary of the Navy Ray Mabus announced in 2016 that an Arleigh Burke-class destroyer would be named to honor Petersen, a year after the veteran died at age 83.
Petersen flew combat tours in the Korean War in 1953 and the Vietnam War in 1968.
He flew more than 350 combat missions and logged over 4,000 hours in various fighter and attack aircraft, the Navy said.
"My crew and I share a deep sense of pride and honor to represent our namesake, the late Lt. Gen. Frank E. Petersen, Jr., USMC," Cmdr. Daniel Hancock, the destroyer's commanding officer, said in the news release.
"This ship is fast, formidable, and built to fight and win in the Pacific Theater," Hancock said. "This is a great ship, with a proud name, and a wonderful crew; we are thrilled to be here in Hawaii, ready for fleet service."
The ship was built at Huntington Ingalls Industries shipyard in Mississippi. At nearly 9,500 tons and a draft of 31 feet, the Petersen has four gas turbine engines to power it to speeds greater than 30 knots, according to the Navy.
Arleigh Burke-class destroyers are built around the Aegis Combat System, which is capable of meeting simultaneous threats coming from the air, the sea surface and from underwater, according to the Navy. An advanced radar system at its heart can search, track more than 100 targets and simultaneously guide defensive missiles. The Petersen's weaponry includes Tomahawk and Harpoon missiles and a mounted, 5-inch Mark 45 gun.
---
---
---
---