Navy details damage to submarine USS Connecticut that struck undersea mountain
By
Stars and Stripes
March 4, 2022
---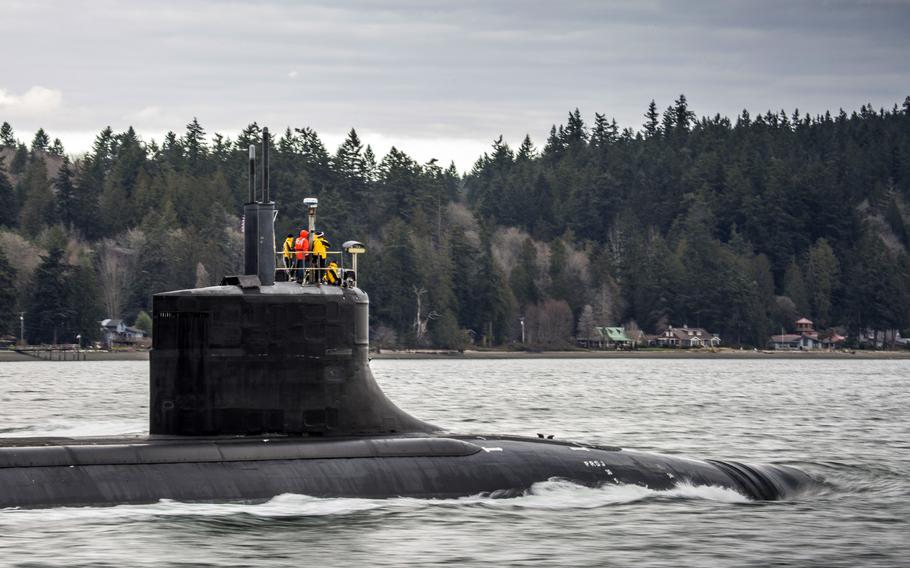 The fast-attack submarine USS Connecticut, which struck an underwater mountain in October, sustained damage to its ballast tanks and sonar sphere, according to a Navy evaluation of the vessel in drydock.
The service is conducting a "thorough assessment of damage" to the Connecticut at Puget Sound Naval Shipyard in Bremerton, Wash., where it arrived on Feb. 8., Submarine Force U.S. Pacific spokeswoman Cmdr. Cindy Fields told Stars and Stripes in an email Friday.
"The initial assessment shows damage to forward main ballast tanks, the sonar sphere, and the need to replace the sonar dome," she said. "Neither the pressure hull nor the nuclear propulsion plant suffered damage."
Despite the damage, the Connecticut made it to Guam from somewhere in the Indo-Pacific region under its own power, but on the surface. From Guam, it traveled to San Diego in December entirely on the surface across the Pacific.
Submarine ballast tanks provide stability and buoyancy control, allowing the vessels to surface and submerge. Sonar domes are positioned on the hulls of submarines or surface ships and house electronic navigational equipment such as a sonar sphere, which is used in sonar navigation.
Fields said that "based on the damage, there was no risk to the submarine's buoyancy or stability."
The anticipated length and cost to make repairs won't be available until the Navy completes a detailed assessment of the submarine, Fields wrote in her email.
The damage occurred when the Connecticut struck an unidentified "object" on Oct. 2, the Navy said.
U.S. 7th Fleet on Nov. 1 clarified that the submarine had "grounded on an uncharted seamount," or underwater mountain, in international waters somewhere in the Indo-Pacific region.
The incident's exact location was never disclosed, but an unnamed defense official said it occurred in the South China Sea, according to an Oct. 8 report from USNI News.
The incident left a dozen sailors with minor injuries and resulted in the removal of the Connecticut's commander, executive officer and enlisted chief. The 7th Fleet's commander, Vice Adm. Karl Thomas, relieved the three on Nov. 4, citing a "loss of confidence" in their leadership.
---
---
---
---