Nuclear sub's leaders fired after probe finds South China Sea collision was avoidable
by
Corey Dickstein
Stars and Stripes
November 4, 2021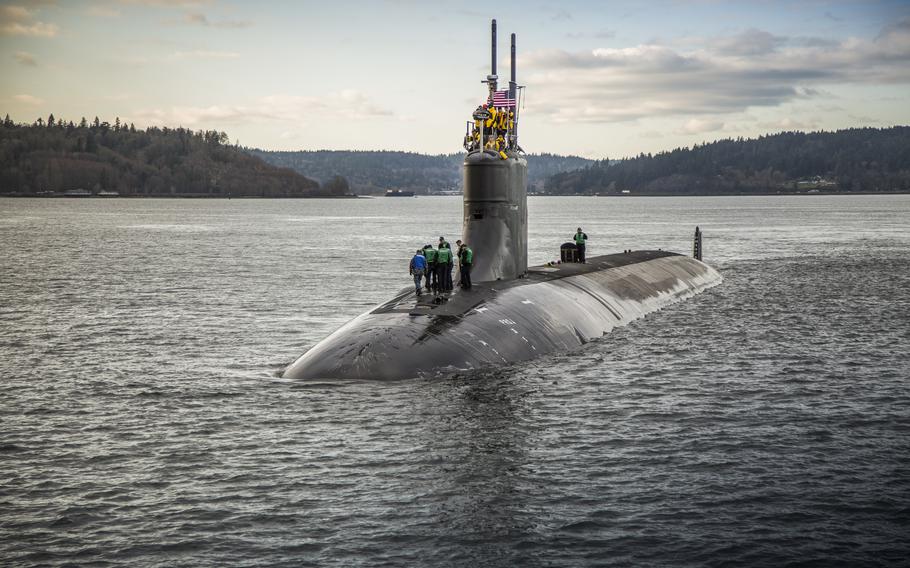 The Navy fired the USS Connecticut's top officers and enlisted sailor on Thursday, days after an investigation found the nuclear-powered submarine was damaged last month when it struck an uncharted undersea mountain, according to the service.
Navy Vice Adm. Karl Thomas, the commander of the 7th Fleet, relieved Cmdr. Cameron Aljilani of his command of the submarine and removed Lt. Cmdr. Patrick Cashin and Master Chief Petty Officer Cory Rodgers from their duties as the vessel's executive officer and chief, respectively, according to a Navy statement. Thomas cited a "loss of confidence" in their leadership after an investigation into the Oct. 2 incident in which the fast-attack submarine was damaged when it struck the mountain, the Japan-based 7th fleet said.
Thomas' investigation, which had not been made public as of Thursday, appeared to find the collision was avoidable, according to the statement. The admiral "determined sound judgment, prudent decision-making and adherence to required procedures in navigation planning, watch-team execution and risk management could have prevented the incident," the statement reads.
Navy officials have provided few details about the underwater collision, in which the service initially said the submarine struck an "unidentified object" in Indo-Pacific waters. A service official last month said about a dozen sailors aboard suffered minor injuries, from which they were expected to fully recover. U.S. Naval Institute News reported the collision occurred in the South China Sea.
After the collision, the Connecticut traveled to Guam for damage assessment and initial repairs, defense officials said. It remains in Guam and will eventually travel to its homeport at Naval Base Kitsap-Bremerton, Wash., for further repair, according to the statement on Thursday.
Navy Capt. John Witte will soon assume interim command of the submarine, the Navy said. Cmdr. Joe Sammur will assume duties as interim executive officer and Command Master Chief Petty Officer Paul Walters will assume duties as interim boat chief, the service said.
The Connecticut is one of three of the Navy's Seawolf-class nuclear attack subs, which date back to the Cold War era. It had been deployed in the Indo-Pacific region since late May, according to the Navy.