Navy investigation says nuclear submarine struck uncharted undersea mountain
By
Stars and Stripes
November 2, 2021
---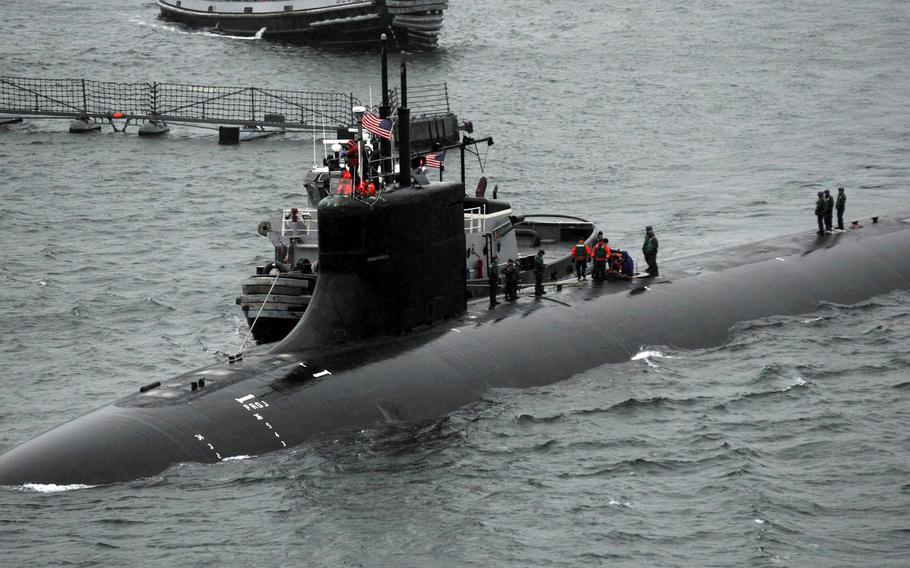 Navy investigators say a nuclear-powered, fast-attack submarine was damaged last month after running into an uncharted undersea mountain.
Monday's findings follow a nearly monthlong investigation into the Oct. 2 incident in which the USS Connecticut struck what the Navy at the time referred to as an "unidentified object."
The collision injured several crewmembers and damaged the submarine, although the Navy has not disclosed how many or to what extent.
Navy investigators determined the Connecticut struck an "uncharted seamount," or undersea mountain, while it was operating in international waters in the Indo-Pacific region, according to a U.S. 7th Fleet news release.
The investigation is being referred to 7th Fleet commander Vice Adm. Karl Thomas to determine whether additional action or discipline is warranted.
No additional information regarding the investigation was immediately available, 7th Fleet spokesman Lt. Nicholas Lingo told Stars and Stripes on Tuesday.
The exact location of the incident was not disclosed, but an unnamed defense official said it occurred in the South China Sea, according to an Oct. 8 report from U.S. Naval Institute News.
One of three Seawolf-class submarines, the Connecticut can support a crew of 140. Of those, nine suffered minor injuries and two suffered moderate injuries, according to a Navy official who spoke on condition of anonymity to the Japan Times. The same official reported that the sub arrived in Guam on Oct. 8.
The collision happened the same weekend an armada of 17 warships, including the aircraft carriers USS Ronald Reagan, USS Carl Vinson and HMS Queen Elizabeth, trained together in the Philippine Sea near Taiwan.
Meanwhile, nearly 150 Chinese warplanes flew into Taiwan's air defense identification zone over a four-day period beginning Oct. 1.
The Navy's disclosure of the Connecticut collision on Oct. 7 prompted criticism from China's Ministry of Foreign Affairs the next day. In addition to accusing the U.S. of concealing details of the incident, spokesperson Zhao Lijian called it another example of the U.S. "making trouble in the South China Sea in the name of 'freedom of navigation.'"
Lingo declined to comment on the Connecticut's current location, although various outlets have continued to report its presence in Guam.
The incident closely mirrors that of the USS San Francisco, which struck an undersea seamount 350 nautical miles south of its homeport on Guam in 2005. The collision resulted in 23 injuries and one death, as well as significant damage to its sonar dome and bow structure.
---
---
---
---