Damaged Navy attack submarine arrives in San Diego after surface voyage from Guam
by
Alex Wilson
Stars and Stripes
December 14, 2021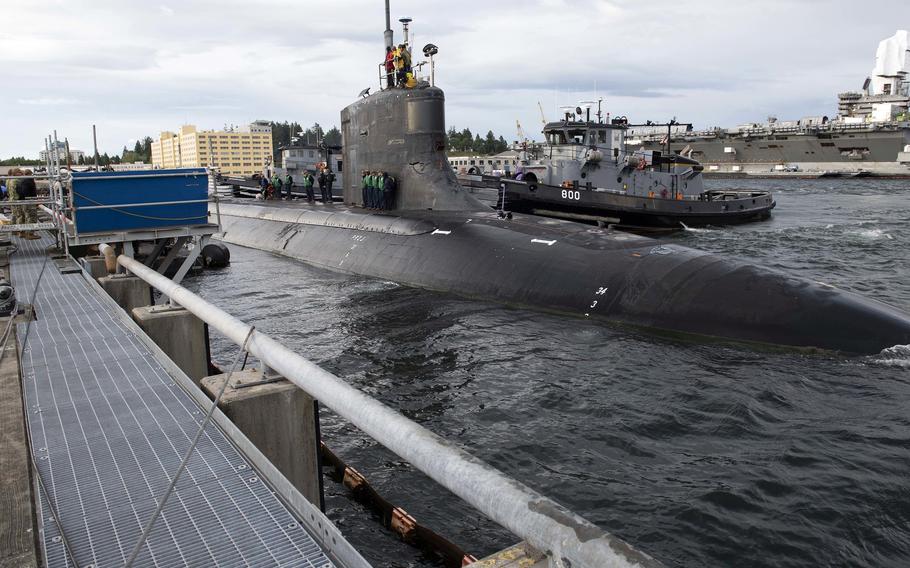 The fast-attack submarine involved in an undersea collision in October completed a trip from Guam to San Diego entirely on the ocean's surface, a media report said.
The USS Connecticut pulled into San Diego on Sunday after departing Guam sometime last month, where it stopped for repairs after striking an undersea mountain in the South China Sea, according to a Tuesday report from U.S. Naval Institute News. It cited unnamed Navy officials who said the trip was made entirely along the surface.
U.S. submarines are significantly slower and more vulnerable when traveling on the surface , according to the National Museum of the U.S. Navy's website.
The Connecticut is in a "safe and stable condition" in port in San Diego, a Submarine Force Pacific spokeswoman, Cmdr. Cindy Fields, told Stars and Stripes by phone Tuesday. She declined to comment on whether the vessel had made the entire trip on the surface.
The voyage comes two months after the nuclear-powered submarine struck an underwater mountain in international waters in the Indo-Pacific region. The exact location of the incident was not disclosed, but an unnamed defense official said it occurred in the South China Sea, according to an Oct. 8 report from USNI News.
The collision, which resulted in minor injuries to about a dozen sailors, also led to the removal of the Connecticut's commander, executive officer and enlisted chief. Vice Adm. Karl Thomas, commander of 7th Fleet, relieved the three on Nov. 4, citing a "loss of confidence" in their leadership.
The Seawolf-class submarine is expected to undergo repairs in Bremerton, Wash., more than 1,300 nautical miles from San Diego, according to a Navy news release Nov. 4.
---
---
---
---