Navy recovers F-35 that sunk into South China Sea in January crash
By
Stars and Stripes
March 3, 2022
---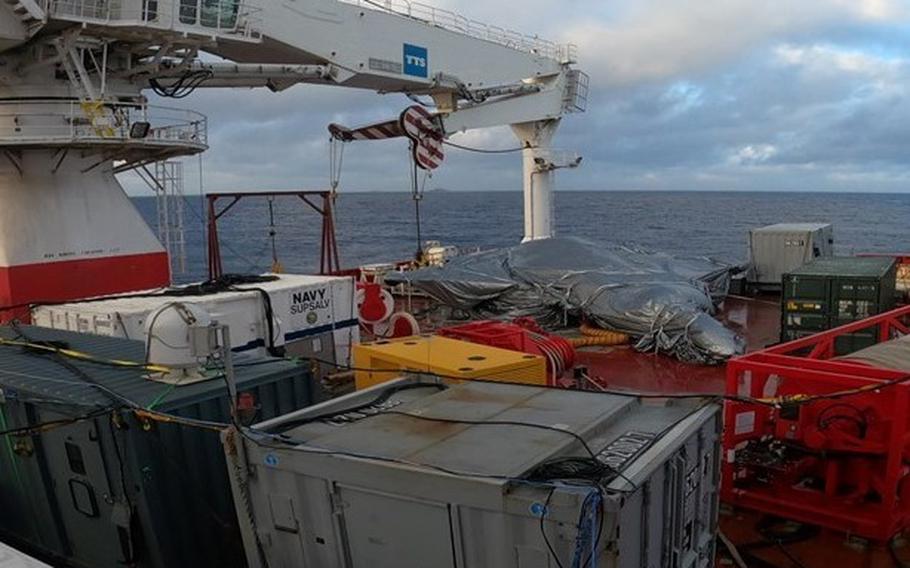 The Navy has recovered the advanced F-35C Lightning II fighter jet from the bottom of the South China Sea that it lost after a crash aboard an aircraft carrier more than a month ago, service officials announced Thursday.
The stealth jet was lifted Wednesday from a depth of 12,400 feet using a remotely operated diving vehicle and a crane from a diving support construction vessel known as Picasso, according to the 7th Fleet, which is based in Yokosuka, Japan. U.S. officials have said in recent weeks that it was critical to recover the F-35, which crashed Jan. 24 during normal training operations aboard the carrier USS Carl Vinson. Some Pentagon officials worried China would attempt to find the downed fighter before the United States.
Navy Capt. Gareth Healy, who commanded the task force which recovered the plane, said in a statement that his team encountered "unique challenges" to find and recover the jet on "an aggressive and achievable timeline." He credited his team with success in accomplishing that goal in 37 days.
The Navy on Thursday released photos of the wrecked $103 million plane that showed aircraft sitting on Picasso's deck wrapped in a protective covering after it was hoisted from the sea. The service said the plane would be taken to an unnamed nearby military facility for evaluation. Officials plan eventually to return it to the United States, according to 7th Fleet.
Officials are investigating the cause of the wreck, the Navy said. Leaked video of the incident that appeared on social media in the weeks after the crash showed the F-35's wing striking the deck of the Carl Vinson before the plane burst into flames and slid off the deck into the water.
The crash left the pilot — who ejected — and six other sailors injured. The Carl Vinson has since returned to its homeport in San Diego, according to the Navy.
At least five sailors have been charged with disobeying a lawful order or regulation for their roles in the leaked video, the Navy has said. Videos were captured on cell phones and uploaded to websites, including Reddit, Navy officials said.
---
---
---
---