Navy confirms authenticity of leaked flight-deck footage showing F-35 crash aboard carrier
By
Stars and Stripes
February 7, 2022
---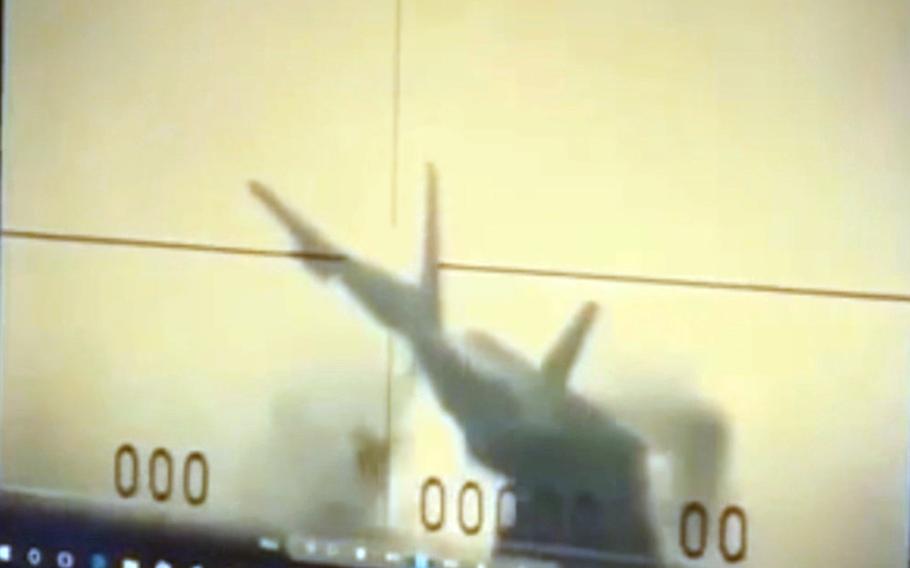 Leaked video footage posted on social media over the weekend shows an F-35C Lightning II crashing aboard an aircraft carrier and falling into the South China Sea, a Navy spokesman confirmed to Stars and Stripes on Monday.
The footage began circulating Sunday on Reddit and Twitter. The $103 million advanced stealth fighter is seen hitting the USS Carl Vinson's flight deck and bursting into flames. It then skids across the flight deck before splashing into the ocean.
"We are aware that there has been an unauthorized release of video footage from flight deck cameras onboard USS Carl Vinson (CVN 70) of the F-35C Lightning II crash that occurred Jan. 24, in the South China Sea," Naval Air Forces Pacific spokesman Cmdr. Zachary Harrell said in an email. "There is an ongoing investigation into both the crash and the unauthorized release of the shipboard video footage."
A mobile phone was apparently used to film the 1-minute, 2-second clip from footage playing on a desktop computer likely taken from the Pilot's Landing Aid television system – a closed-circuit system on the carrier that records takeoffs and landings.
In the video, a landing signal officer can be heard screaming "wave off, wave off," an order for the pilot to abort the landing before the aircraft crashes into the deck. The pilot appears to eject at an angle while the burning jet is skidding along its side.
The timestamp on the footage shows 4:31 p.m. Jan. 24.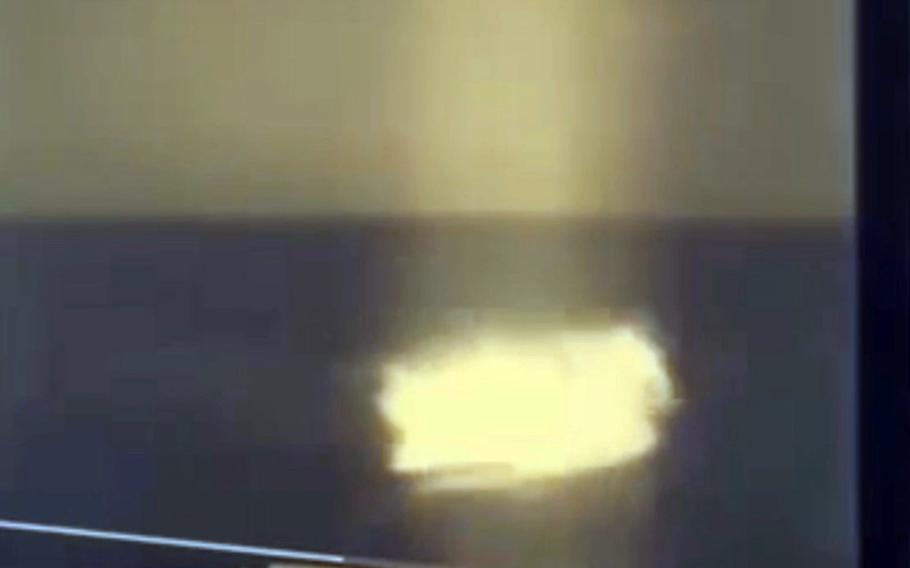 The leaked footage isn't the first to come out of the incident. In late January, photos appeared on social media of the F-35 in the water, along with a shorter video showing the aircraft approaching the carrier before passing overhead and disappearing from view. The Navy also confirmed the authenticity of those leaks.
The crash left the pilot and six other sailors injured. Three were flown to a hospital in Manila, the Philippines; the others were treated aboard the Carl Vinson. The three sailors have been released from the hospital.
The Japan Coast Guard issued a maritime navigational alert Jan. 29 for salvage operations in the South China Sea, indicating that 7th Fleet is moving forward to recover the $103 million aircraft.
Footage leaked in November showed a British F-35B taking off from the aircraft carrier HMS Queen Elizabeth and then crashing into the Mediterranean Sea. The leak resulted in the arrest of a male sailor aboard the Queen Elizabeth, according to a Dec. 7 report from the UK Defence Journal.
---
---
---
---