Navy less active in annual anti-submarine drill as attention focuses on Russia's next moves
By
Stars and Stripes
February 23, 2022
---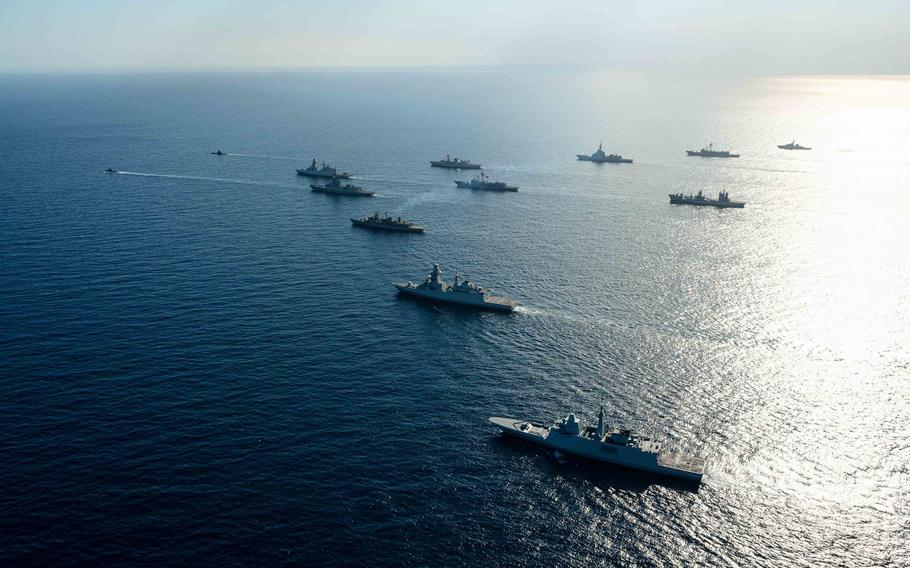 NAPLES, Italy — An annual NATO anti-submarine exercise in the Mediterranean Sea got underway this week with less American participation than in recent years, as U.S. forces in the region turn their attention to the Russian military advance in Ukraine.
U.S. destroyers, submarines and maritime patrol planes have traditionally been frequent participants in Dynamic Manta. But the only U.S. vessel taking part in this year's iteration, which started Monday off the coast of Sicily, is the replenishment ship USNS Robert E. Peary. Naval Air Station Sigonella in Sicily also is offering support for patrol planes and helicopters.
"Our participation in maritime exercises is balanced with operational commitments and real-world requirements of our forces," said Lt. Tyler Barker, a U.S. Naval Forces Europe-Africa/U.S. 6th Fleet spokesman.
Dynamic Manta includes Canada, France, Greece, Italy, Spain, Turkey, the U.K. and the U.S. It is one of two major anti-submarine warfare exercises led every year by NATO Maritime Command, an alliance statement said.
"We still have enough allied units in the exercise to achieve exercise objectives as planned," said NATO spokesman Cmdr. Erik Reynolds, adding that it isn't unusual for units to leave between the planning and the start of an exercise.
It was unclear Wednesday how many U.S. ships or planes were scheduled to participate. The U.S. was actively involved in the exercise's planning phase, Barker said.
The downsizing of the U.S. contingent at Dynamic Manta comes as the Russian navy is out in force in the Mediterranean and Black seas. Some analysts see that as an indication that Russia may launch an amphibious assault on southern Ukraine.
At least six Russian amphibious assault ships and a Kilo-class submarine armed with Kalibr cruise missiles have passed through the Mediterranean and into the Black Sea in recent weeks.
On Saturday, the Israeli intelligence firm ImageSat International released satellite images that it said show a sizeable military buildup in the Crimean Peninsula over the previous four days, the newspaper The Times of Israel reported.
If it engages in a large-scale invasion, Russia likely would launch an amphibious assault from Crimea to somewhere near the Black Sea port city of Odessa, said Jeffrey Edmonds, a research scientist and Russian military expert at the Washington, D.C.-based think tank CNA.
The naval forces would be linked with ground troops and the goal would be to surround and cut off Odessa, Edmonds said.
The Russians "are not going to fight into a terrain just using (landing ships) ... if you have a lower axis that is coming across southern Ukraine that this links in with, there isn't going to be any resistance, I think," Edmonds said.  
In the eastern Mediterranean, another exercise also started Monday in the increasingly crowded sea, bringing together France and Egypt, the newspaper Times of Malta reported Monday.
Meanwhile, a Russian naval exercise in the eastern Mediterranean that was focused on anti-submarine warfare and included ships from the Pacific, Northern and Black Sea fleets was expected to end Tuesday, Russian news agency Tass reported.
About 15 ships and support vessels along with more than 30 aircraft participated in that drill, Tass reported Monday.
The U.S. Navy remains well represented in the region. The USS Harry S. Truman Carrier Strike Group, including at least four destroyers and a cruiser, is operating in the Mediterranean. While it is rarely announced, carrier groups often have submarine support.
Other U.S. ships in the theater of operations include the expeditionary sea base USS Hershel "Woody" Williams, which departed Croatia on Friday, and the USS Mount Whitney, which left Rota, Spain, on Feb. 14.
---
---
---
---