Navy installations in Italy face uncertainty on availability of COVID-19 test kits, start of weekly testing for unvaccinated
Stars and Stripes
December 13, 2021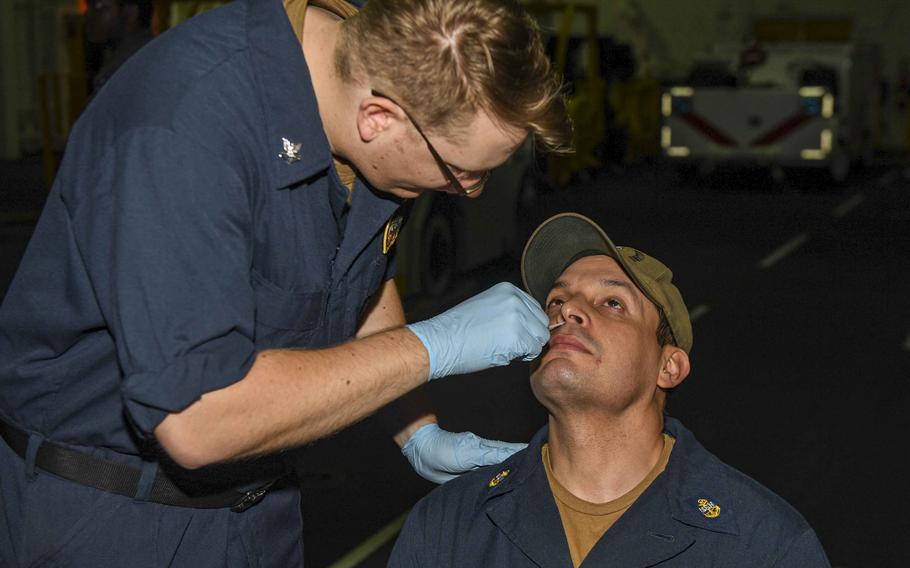 U.S. naval bases in Italy are waiting for COVID-19 test kits to arrive before starting mandatory testing of unvaccinated sailors, and there's no clear timetable for delivery of the kits, according to Navy officials.
In November, the service ordered all unvaccinated personnel to be self-tested at least weekly for COVID-19. The order specified that testing could begin as soon as Nov. 28 if testing kits were available.
Navy Region Europe Africa Central spokesman Lt. Cmdr. Matthew Comer said Monday that Naval Air Station Sigonella and Naval Support Activity Naples have not yet received the kits.
He could not provide an expected date for kit delivery or the start of testing. It was unclear Monday how many Navy bases or ships had started testing.
Meanwhile, Italy continues to grapple with a surge in COVID-19 cases. The Health Ministry reported 19,215 new cases of the virus and 66 deaths on Sunday. That was down slightly from the day before, when there were 21,042 new cases and 96 deaths.
Three regions — Calabria, Bolzano and Friuli Venezia Giulia, which is home to Aviano Air Base — are considered yellow risk zones. That designation requires additional restrictions, such as mandatory mask-wearing outdoors.
Campania, home to NSA Naples, and Sicilia, home to NAS Sigonella, remain in the white zone.
But eight regions — including Campania, Sicilia and Lazio, home to another U.S. Navy base in Gaeta — have seen a rise in the number of COVID-19 patients placed in intensive care, the Ansa news agency reported Monday.
At the end of November, about 9,500 active-duty sailors, or roughly 4% of the total, were unvaccinated, the Navy said.
Unvaccinated naval reservists face weekly testing beginning Dec. 28, also if supplies are on hand. The order did not address civilians or contractors, saying that guidance for them would be issued later.
---
---
---
---