Booster shot availability at some US bases in Europe limited despite heavy demand
by
Jennifer H. Svan
Stars and Stripes
November 30, 2021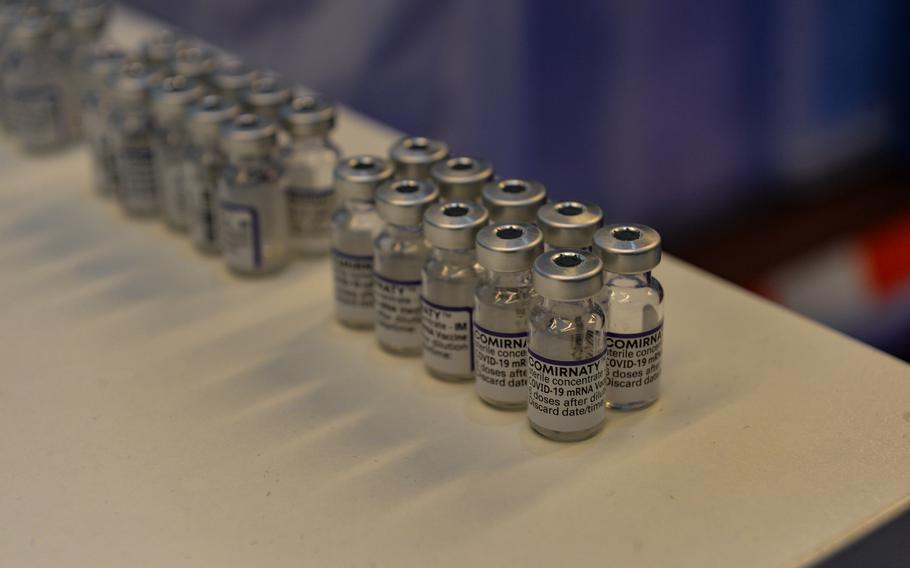 KAISERSLAUTERN, Germany — COVID-19 vaccine boosters are still hard to come by for many in U.S. military communities in Europe despite a record surge of coronavirus cases in Germany and other European countries that host American troops.
With an estimated 100,000 people at Army bases in Europe eligible for vaccinations, the service has administered about 4,100 booster shots on the Continent, Gino Mattorano, spokesman for Regional Health Command Europe, said Tuesday. The total figure includes children, who are not yet eligible for booster shots.
Most Army bases in Europe didn't have any booster appointments available this month, a check Tuesday of the Defense Department's online appointment system showed. That is expected to change, Mattorano said.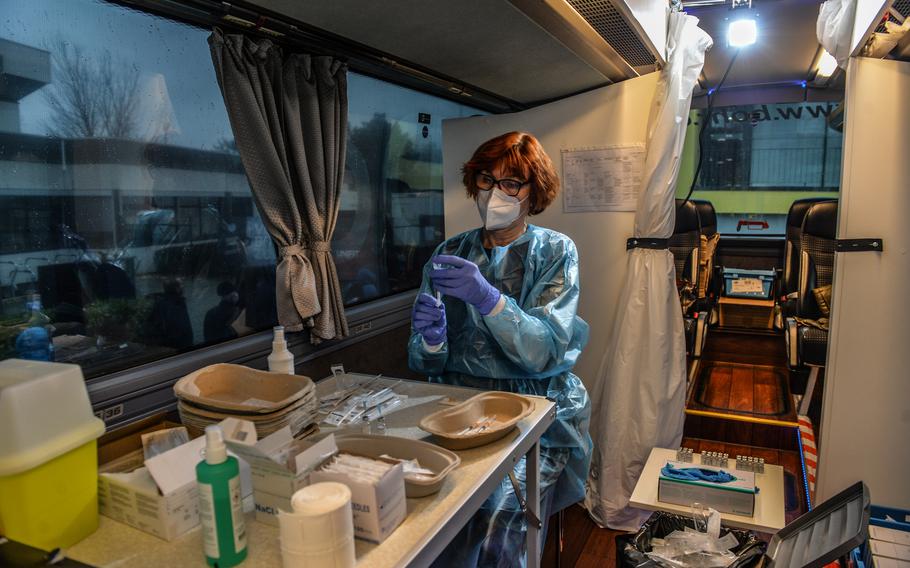 The health command has received guidance from Army medical leadership in Europe "that we need to open up more booster appointments in December," Mattorano said.
As of last week, Landstuhl Regional Medical Center, the Army's largest overseas hospital, was accepting booster appointments only for people in certain categories, including seniors 65 and older and younger adults with underlying health conditions.
The limitations have continued even after federal guidelines issued Nov. 19 made boosters available to all vaccinated adults in the United States.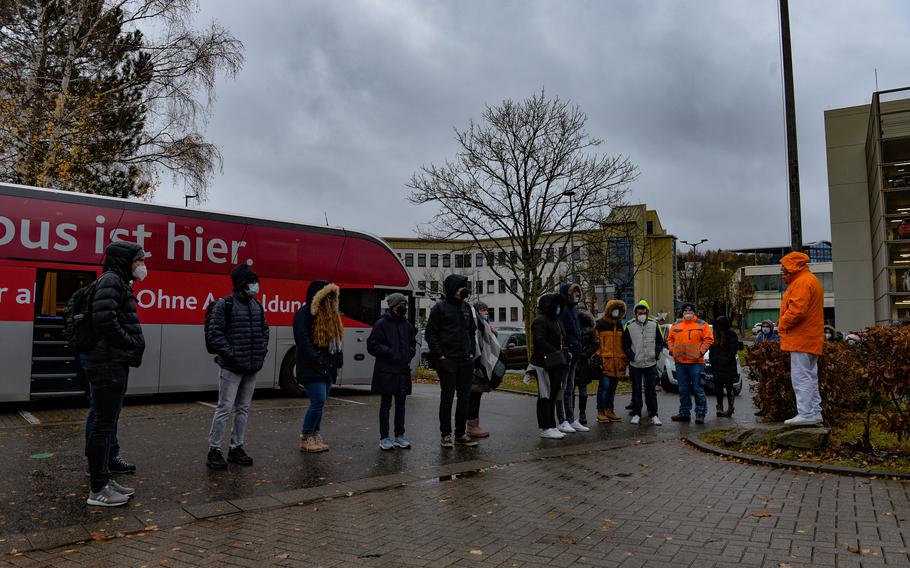 Mattorano said it can take a few days for the new guidance that booster eligibility has been expanded to reach those staffing the hospital's appointment line.
The Army's initial plan had been to wait until early next year to expand booster opportunities so medical workers could prioritize vaccinating people who were still not immunized against COVID-19, he said last week.
Mattorano said details should be announced soon, and he advised people to follow their base's official social media pages for announcements.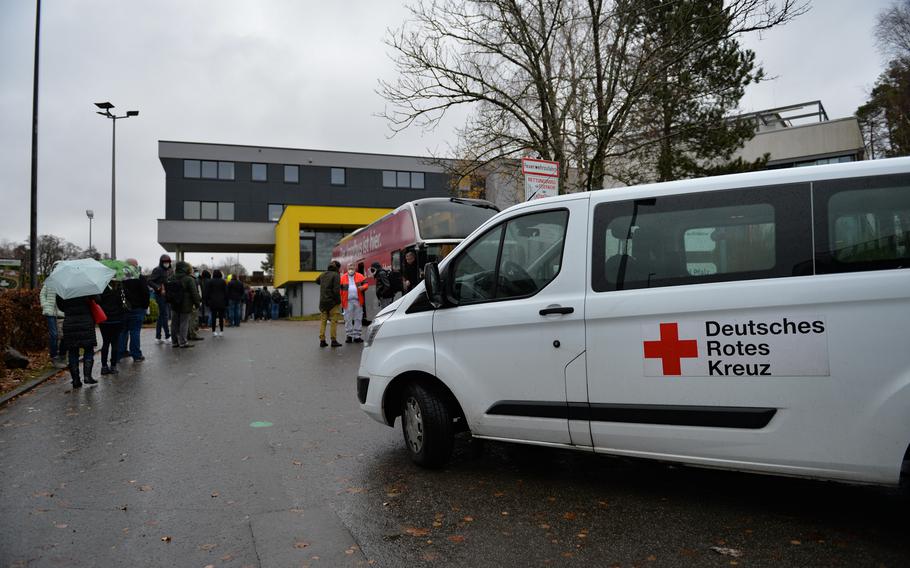 Some Americans don't want to wait, though.
Erin Crouch, a civilian spouse, waited two hours in the cold on Nov. 15 to get her booster shot from the roving vaccination bus provided by the German state of Rheinland-Pfalz.
"The booster appointments at LRMC are full through December right now, so this is a great option," she told Stars and Stripes on Tuesday.
A German Red Cross representative working at the bus Tuesday at Technical University in Kaiserslautern said quite a few Americans turned out when the bus was parked at the Edeka in Ramstein village two days before Thanksgiving.
Lines formed around the block, as Americans and Germans alike waited as long as five hours in subfreezing weather for the jabs.
The German Red Cross was working with the military to do one bus stop at Rhine Ordnance Barracks on Dec. 10, the representative said.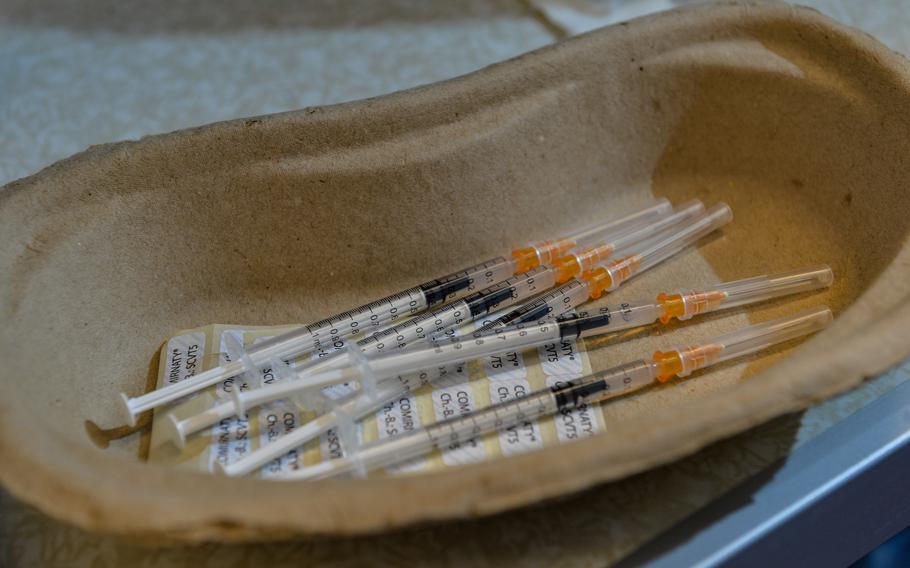 Boosters are also in high demand at Ramstein Air Base, which as of Tuesday was limiting boosters to active-duty members and people who have underlying conditions or other risk factors.
The latter category applies to people such as teachers and mission-essential personnel.
The base switched to an appointment-only format after a walk-in clinic earlier in November drew more than 700 people. "We have seen high interest in the booster vaccination, and we have approximately 600 appointments available per day," Lt. Col. Will Powell, a spokesman for the 86th Airlift Wing, said in a statement. "We will continue to accommodate personnel and their families with appointments as we assess the interest."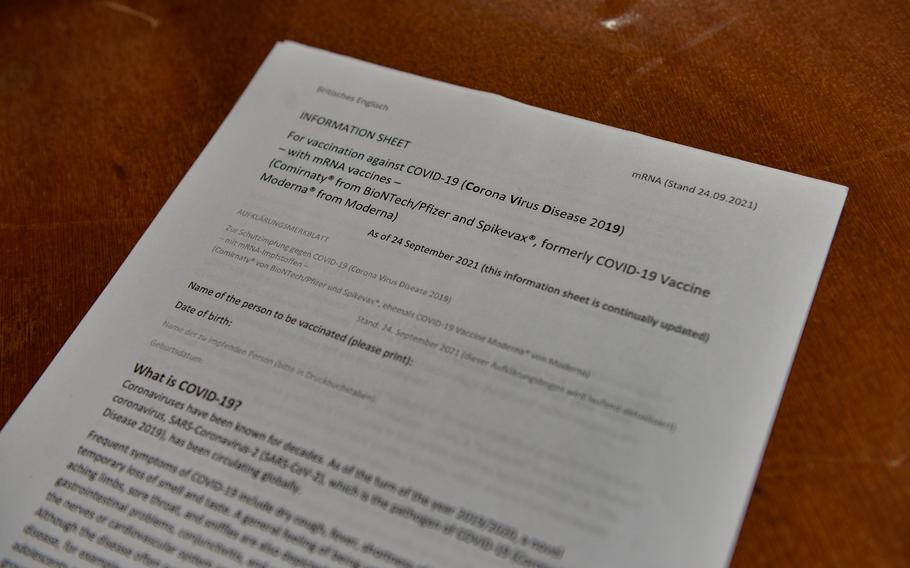 Appointments for three vaccine clinics this month and two in January appeared full on Ramstein's online appointment site Tuesday.
Several people commented on the base's Facebook page that they got an appointment for a booster shot despite not being on active duty. A base spokeswoman said they don't need to cancel their appointments.
She added that appointments will be open to the general public soon.
Elsewhere in Germany, Spangdahlem Air Base announced this week that it will offer initial series and booster shots to all adults on a walk-in basis at the base vaccine clinic three days a week starting Wednesday.
U.S. Naval Hospital Naples in Italy also is offering boosters to everyone. After booster appointments quickly filled through Dec. 10, the hospital announced Tuesday that it will add a day to its Moderna booster shot clinic.
As of Tuesday afternoon, a few appointments for Thursday were available on the Defense Department's online appointment site.
Stars and Stripes reporter Alexander W. Riedel contributed to this story.
---
---
---
---