Booster shots urgent for US personnel in Italy as new law invalidates earliest vaccinations on health passes
by
Alison Bath
Stars and Stripes
December 1, 2021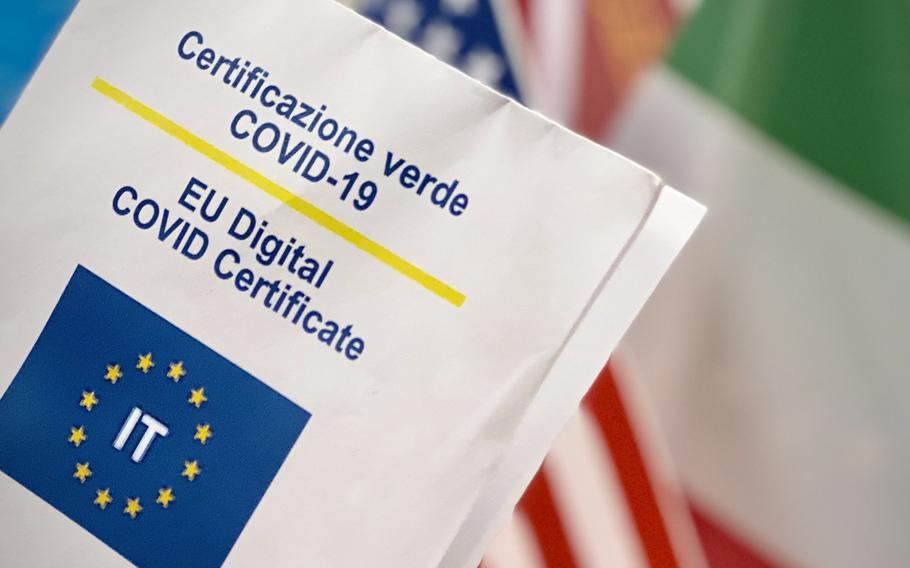 NAPLES, Italy — U.S. military installations in Italy are warning people who have been fully vaccinated against COVID-19 for at least nine months but haven't had a booster shot that they soon may be barred from most public places in the country.
Starting Monday, coronavirus vaccinations in Italy will be valid for only nine months, Naval Air Station Sigonella said Tuesday on its Facebook page.
"That means that those of us who were vaccinated in February or early March when vaccines first arrived in our community will no longer have valid super green passes or green passes unless we schedule a booster shot," the post said.
As of Monday, people 12 and older who prove they've been fully vaccinated or had a booster shot within the last nine months or have documented proof of recovery from the virus within the last six months qualify for a "super" green health pass.
That will allow entry to restaurants, museums, discos and other public venues, Sigonella's post stated.
Italy's green pass system restricts unvaccinated people's access to their workplace and to various public places and services.
Naval Support Activity Naples made a similar Facebook post, and Aviano Air Base and U.S. Army Garrison Italy offered details about the decree on their websites.
But the posts did not specifically address the availability of booster shots in the respective communities.
Aviano was prioritizing booster shot administration for individuals who were completely vaccinated on or before April 10, but all others will have the opportunity in the new year, said Tech. Sgt. Miquel G. Jordan, an Aviano spokesman.
"This way, (Aviano) members can continue enjoying activities while being in compliance with super green pass rules," Jordan said.
Naples and Sigonella have made boosters widely available to all eligible people 18 and older in accordance with federal health guidelines.
An online portal appeared to show that all available December appointments at Naples were filled, but the hospital had scheduled an additional Moderna booster clinic for Wednesday and Thursday.
As of Wednesday, Naples had given 800 booster shots since Tuesday and expected to give an additional 870 during the two-day shot event, said Lt. Cmdr. Megan Potter, a spokeswoman for U.S. Naval Hospital Naples.
U.S. Naval Hospital Sigonella was promoting the availability of boosters on its Facebook page Wednesday, but officials said they couldn't immediately respond to a request for more information.
Booster shots aren't as readily offered at U.S. Army Garrison Italy in Vicenza, which is prioritizing the unvaccinated and giving booster shots to people considered vulnerable.
Those groups include people 65 and older, individuals 18-64 who are at high risk of severe illness or occupational exposure to the virus, and mission-essential workers, said Del'Antony Campbell, a spokesman for Army Health Center Vicenza.
The health center had opened boosters to everyone at some vaccination events, Campbell said.
"However, they have to balance this significant effort with providing safe, high-quality health care to their beneficiaries," Campbell said.
Last week, Italy tightened restrictions on the unvaccinated in the face of a surge in COVID-19 cases and higher caseloads in hospitals and intensive care units.
On Monday, those indicators pushed the Friuli-Venezia Giulia region, home to Aviano Air Base, into Italy's yellow risk zone, triggering early implementation of the new law and additional requirements, such as mandatory mask wearing outdoors, Aviano said on its website.
For now, most of Italy remains in the white risk zone, but officials are concerned that several regions also may be designated yellow before Christmas.
The Italian Health Ministry reported 15,085 new infections and 103 deaths Wednesday. 
---
---
---
---