Rheinland-Pfalz, home to US forces, exempts those with coronavirus boosters from testing to enter restaurants
by
Alexander W. Riedel
Stars and Stripes
December 1, 2021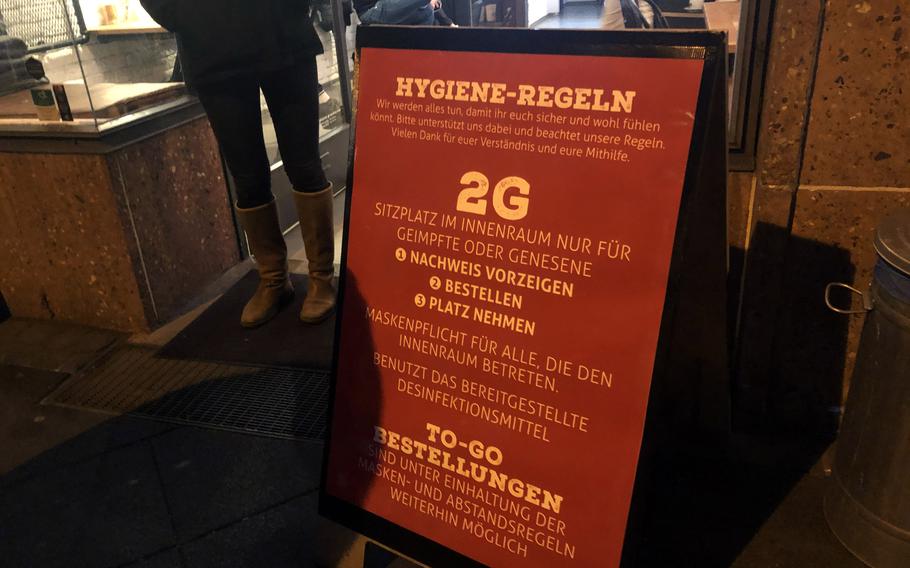 Updated Dec. 4, 2021, 12:17 a.m. CET
KAISERSLAUTERN, Germany — A German state that hosts tens of thousands of U.S. service members will require negative coronavirus tests from vaccinated patrons who haven't had booster shots for entry to restaurants and other indoor spaces where mask-wearing isn't feasible, beginning Saturday.
The new Rheinland-Pfalz testing requirement also applies to active participants in indoor sports and customers involved in close-quarter interactions, such as cosmetics appointments, the state announced Friday.
The Friday statement said that those who have received coronavirus booster shots are exempt from the testing rule, which was a change from comments made by state health officials earlier in the week.
"The booster vaccination increases the vaccination protection enormously," Rheinland-Pfalz governor Malu Dreyer said Friday. 
Children up to the age of 12 years and three months are also exempt from testing requirements under the new rules. So are children ages 12-17 who are vaccinated or recovered.
For outdoor events, such as Christmas markets, the so-called 2G rule, meaning vaccinated or recovered, remains in place for attendance. Nonimmunized minors with a valid negative test are also allowed to participate.
However, many Christmas markets in Germany have announced closures or are doing so. Kaiserslautern's market, which opened Nov. 22, will close Sunday, district officials said. For those requiring tests for entry to restaurants and other businesses, either rapid antigen or PCR results will be considered valid for 24 hours and can be used for multiple activities, the German Health Ministry said.
The new rules put further pressure on the unvaccinated, who are now only allowed to meet privately and in public spaces with people from their own household and two people from another household. Minors are not counted toward those totals.
Earlier in the week, the state had proposed allowing unvaccinated people to be in contact with only one other person outside their household.
"Experience has shown that the virus always spreads where people come into contact with each other," Rheinland-Pfalz Health Minister Clemens Hoch said in a statement earlier this week. "This is especially true for nonimmunized people. We have therefore decided to limit contacts in public spaces for nonvaccinated people."
Rapid tests, supervised by the business or service provider, will be permissible in many cases, Hoch said. In areas where masks can be worn, such as retail shops and hair salons, proof of vaccination or recent recovery will remain sufficient.
The measures come as Germany continues to battle its highest load of new coronavirus cases since the pandemic began, and amid concerns that the new omicron variant could make COVID-19 tougher to fight.
Other states with large concentrations of U.S. troops, such as Bavaria, also have introduced more stringent measures in recent weeks. Hessen, which includes U.S. Army Garrison Wiesbaden, announced this week they were limiting nonessential retail business access to those who are vaccinated or recovered.
Also in Rheinland-Pfalz, officials reintroduced occupancy limits of one person per 108 square feet in indoor commercial spaces. Minors do not count toward the total number of occupants.
Masks remain mandatory during outdoor events and when social distancing isn't possible, except when eating or drinking. The Rheinland-Pfalz statement also announced a mask mandate for students at elementary and special needs schools.
Officials said they are focused on curbing the sharply increased workload at hospitals. There have been 2,320 new coronavirus infections in Rheinland-Pfalz this week alone, according to Wednesday data from the Robert Koch Institute, Germany's disease control agency. That raised the state's total to 234,669 cases since the beginning of the pandemic.
In recent days, Rheinland-Pfalz hospitals have admitted COVID-19 intensive care patients from other German states, including hard-hit Bavaria, Dreyer said in a statement. Even if the situation in Rheinland-Pfalz is better than in some other states, she said, hospitals in many areas are reaching their limit.
Vaccination numbers are rising in the state, with 212,500 doses given in the past week and booster shot appointments now available to people who were fully inoculated as recently as four months ago.
Dreyer said her government is planning to double that number in the coming weeks and open vaccine registration to children 5 and older. Pediatric vaccinations will begin before Christmas pending availability of the vaccine, she said.
By Tuesday, at least 68.3% of the state's population had been fully vaccinated and more than 14% had received a booster shot, according to RKI data.
"The situation is very serious," Dreyer said. "The state government will increase the protective measures again and further accelerate the vaccination rate. We also need the solidarity and discipline of the citizens again.
"A new, even more contagious corona variant and a vaccination protection that is weakening faster than assumed are also presenting us with a great effort this winter, which can only succeed together."
Booster shots may soon see even higher demand as Dreyer's Social Democratic Party takes the reins of Germany's next coalition government. The party has discussed plans internally to make vaccination status good for six months only, the Rheinische Post and other German media outlets reported this week.
Stars and Stripes reporter Marcus Kloeckner contributed to this report.
---
---
---
---