Former Reagan skipper returns to Japan to lead Navy's 'only permanently afloat task force'
by
Alex Wilson
Stars and Stripes
October 21, 2021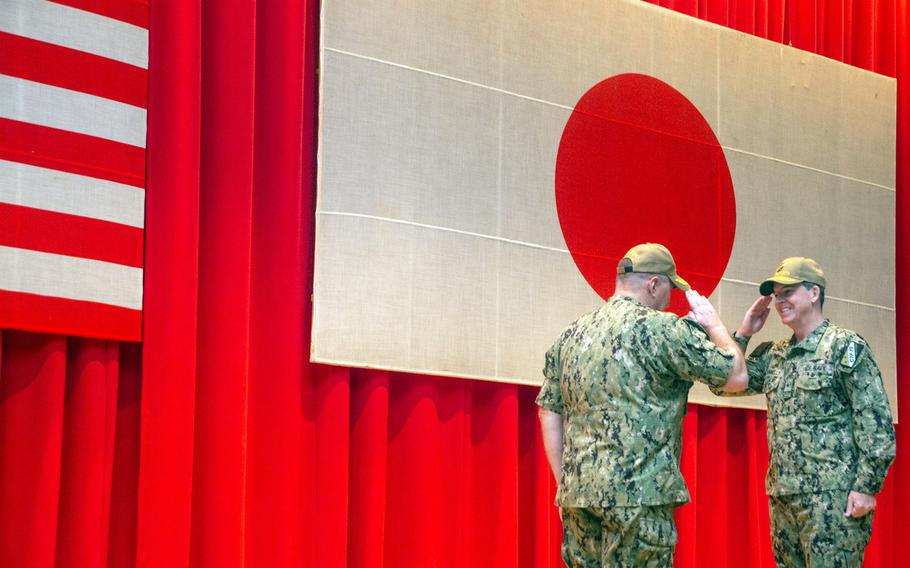 YOKOSUKA NAVAL BASE, Japan — The carrier strike group organized around the USS Ronald Reagan welcomed a familiar face as its newest commander on Thursday.
Rear Adm. Michael "Buzz" Donnelly took leadership of Carrier Strike Group 5 and Task Force 70, relieving Rear Adm. Will Pennington during a ceremony at Benny Decker Theater on the naval base south of Tokyo.
Task Force 70, which the Navy describes as its "only permanently afloat task force," consists of thousands of sailors and a wide variety of components, including guided-missile cruisers, the aircraft carrier USS Ronald Reagan and its air wing of fighter squadrons, Helicopter Maritime Strike Squadron 51 and a squadron of specialized electronic warfare aircraft.
Donnelly, originally from Kent Island, Md., is no stranger to 7th Fleet or the Ronald Reagan. He commanded the carrier from 2016 to 2018, and also served as an assistant to the 7th Fleet commander aboard the Yokosuka-based USS Blue Ridge.
After his time in Yokosuka, Donnelly in 2019 assumed command of U.S. Naval Forces Korea.
A 1989 graduate of Villanova University and the Naval War College in 2002, Donnelly also has extensive flight experience. He's a veteran pilot with more than 3,000 flight hours and 990 carrier landings in F-14 Tomcats and F/A-18 Super Hornets.
"My thanks go out to Adm. Pennington and his great leadership of the task force," Donnelly said in a Navy news release Thursday. "His stewardship has ensured support to a free and open Indo-Pacific, and it is a legacy I look forward to continuing."
Pennington, who assumed command of the task force in November, is slated to take over as deputy commander of 10th Fleet, the U.S. Fleet Cyber Command, at Fort Meade, Md.
The ceremony comes just five days after the Ronald Reagan returned to its homeport in Yokosuka after a 150-day deployment that included support for U.S. forces withdrawing from Afghanistan.