USS Ronald Reagan returns to Japan after 150-day deployment to Middle East
by
Alex Wilson
Stars and Stripes
October 16, 2021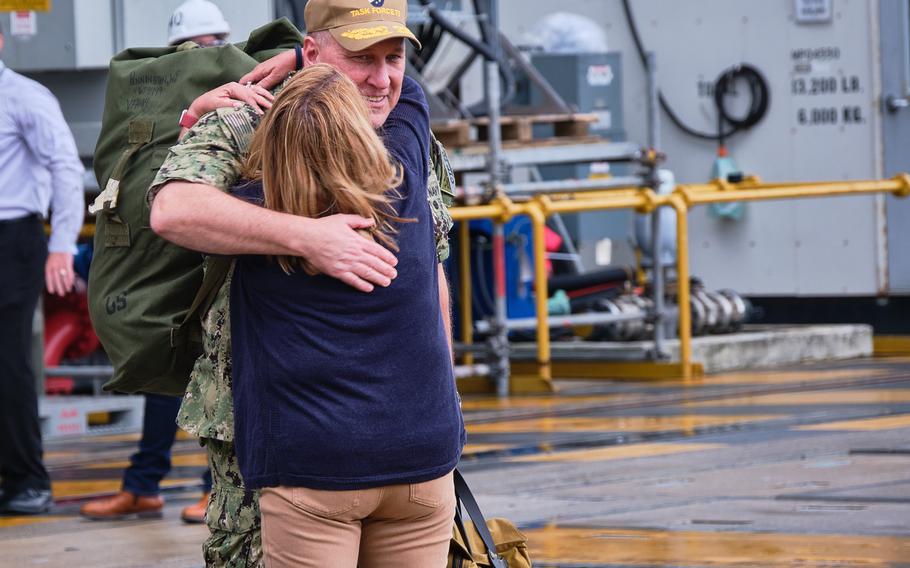 YOKOSUKA NAVAL BASE, Japan – The aircraft carrier USS Ronald Reagan steamed into Tokyo Bay and its homeport on Saturday, ending a five-month deployment, during which it covered U.S. troops withdrawing from Afghanistan. 
Despite a spattering of rain, the Reagan's crew arrived to find live music, food and hundreds of sailors and family members – fanfare that was largely missing from warship homecomings since the pandemic began in March 2020.
However, with cases of COVID-19 dropping and pandemic restrictions loosened, the Reagan was once again met by loved ones at the pier holding signs that sported messages such as "We missed you!" and "You're my superhero!" 
The crew lined the rails as the Reagan approached its berth. The approximately 4,500 crew members began to disembark within two hours.
The Reagan left Yokosuka in May and headed to the Arabian Sea to relieve the USS Dwight D. Eisenhower. The carriers supported the U.S. withdrawal from Afghanistan, which concluded Aug. 31 and ended the longest war in U.S. history.
Longer than the typical three-month deployment by U.S. aircraft carriers, the Reagan's absence proved a challenge for some at home, several family members told Stars and Stripes. 
"I'm excited to have him home," said Zayra Garcia, wife to Reagan sailor Petty Officer 3rd Class Christopher Garcia.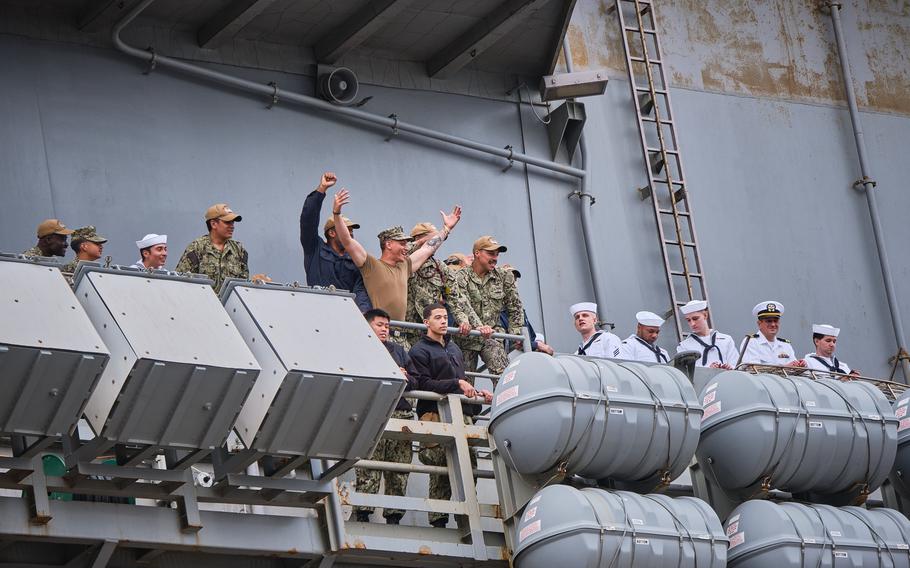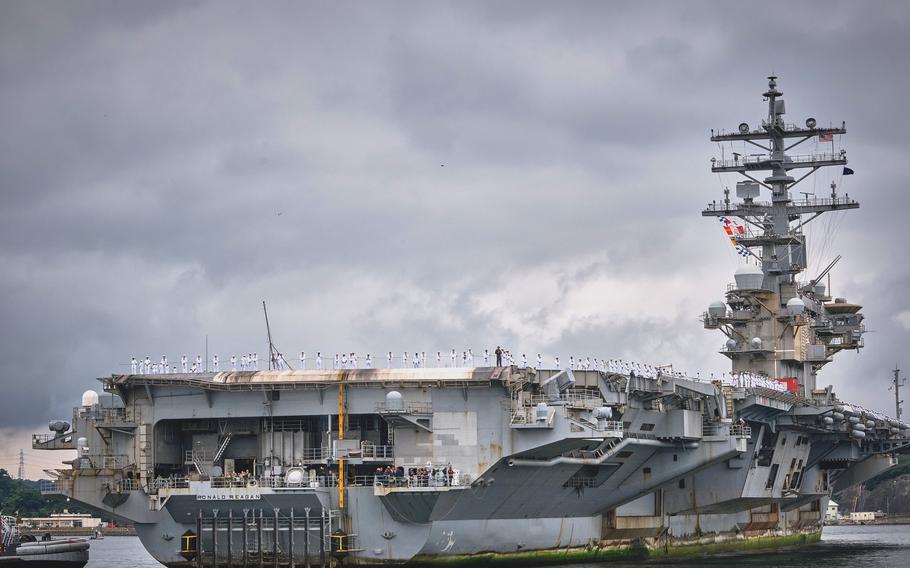 During the Reagan's deployment the ship and its strike group covered more than 49,000 miles over 150 days, according to Capt. Fred Goldhammer, the Reagan's skipper. In that time, the Reagan's F/A-18 Super Hornets flew missions over Kabul to protect U.S. and allied assets during the withdrawal.
"We were there just in case as an emergency measure if things didn't go according to plan or if there were additional combat actions that were required to support the evacuation," Goldhammer said at a news conference.
Outside of flight missions, the Reagan's sailors also provided logistics support to the U.S. withdrawal and offered humanitarian aid to civilians. 
"As people were flown out of Afghanistan through Bagram [airfield] - they were going to all sorts of different places - so we were just making sure they had all their health care needs, food, that kind of thing," Goldhammer told Stars and Stripes. U.S. forces pulled out of Bagram airfield on July 1.
Goldhammer said the Reagan also work with a variety of other nations' militaries during the deployment, including the United Kingdom, India, Pakistan, France and Germany. 
"It was pretty amazing to see how many other different nations' vessels were out there," he said.
The Reagan was preceded into the naval base by the cruiser USS Shiloh, which returned to Yokosuka on Wednesday. Another member of the Reagan's strike group, the guided-missile destroyer USS Halsey, returned to its homeport in Pearl Harbor on Oct. 4.