Another guided-missile destroyer joins Navy's Japan-based 7th Fleet
by
Alex Wilson
Stars and Stripes
September 9, 2021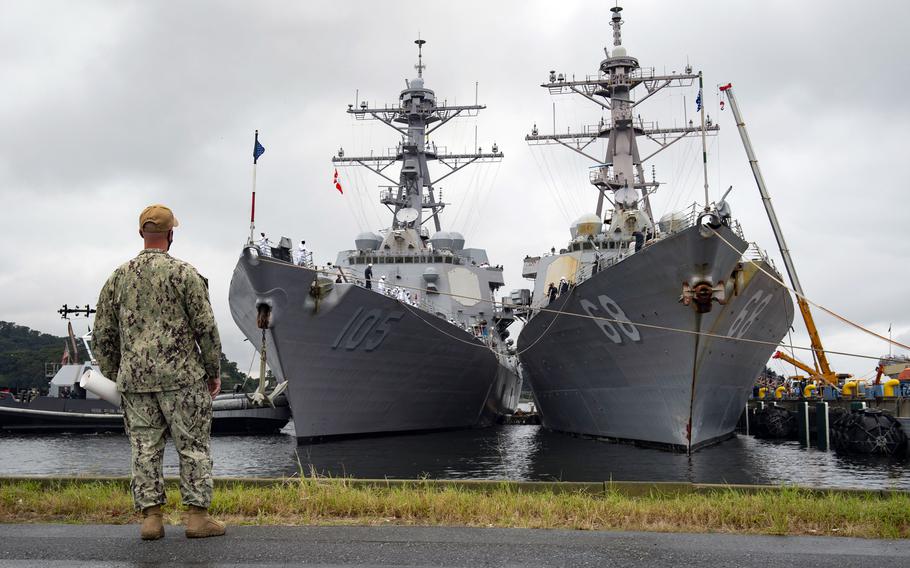 YOKOSUKA NAVAL BASE, Japan – The guided-missile destroyer USS Dewey, formerly of San Diego, pulled into its new homeport Wednesday, the largest U.S. naval base in the Far East.
The Arleigh Burke-class destroyer is replacing the USS Curtis Wilbur, 7th Fleet spokesman Lt. Nicholas Lingo told Stars and Stripes in an email Thursday. The Curtis Wilbur left Yokosuka on Aug. 18 for San Diego and a scheduled maintenance period.
Although the ship wasn't greeted by a formal welcoming party, Yokosuka Command Master Chief Robert Beachy was on the pier to welcome his wife, Dewey Command Master Chief Eliza Rubic, said base spokesman Randall Baucom.
The Dewey is the third destroyer to arrive at the naval base in the past month. The USS Higgins and USS Howard docked Aug. 16 as replacements for the USS McCampbell and the USS Stethem, both of which left for modernization.
The Dewey will join Task Force 71, Destroyer Squadron 15, a surface warfare command based out of Yokosuka that also serves as the sea combat command for the Ronald Reagan Carrier Strike Group, according to the Navy.
"Dewey is an excellent addition to our forward-deployed team," said Task Force 71's commander, Capt. Chase Sargeant, in a Wednesday news release. "Dewey brings capability and lethality that enables U.S. 7th Fleet to defend U.S. and like-minded nations' interests and supports a rules-based international order and free and open Indo-Pacific."
The Dewey left San Diego on Aug. 3 as part of the Carl Vinson Carrier Strike Group, after which it participated in the Navy's Large-Scale Exercise 2021.
Commissioned in 2010, the ship has seen service in the Western Pacific. In 2018, the Dewey sailed alongside the Wasp Expeditionary Strike Group as part of its first patrol of the Indo-Pacific region.
The Dewey also visited the South Korean island of Jeju in 2017, one of several ships deployed to the area that year amid rising tensions with North Korea.
The destroyer is the third vessel named after the former Navy admiral George Dewey, who's known for a major 1898 victory in Manila Bay during the Spanish-American War.