Aircraft carrier USS Carl Vinson to visit Yokosuka for first time in nearly two decades
by
Alex Wilson
Stars and Stripes
August 27, 2021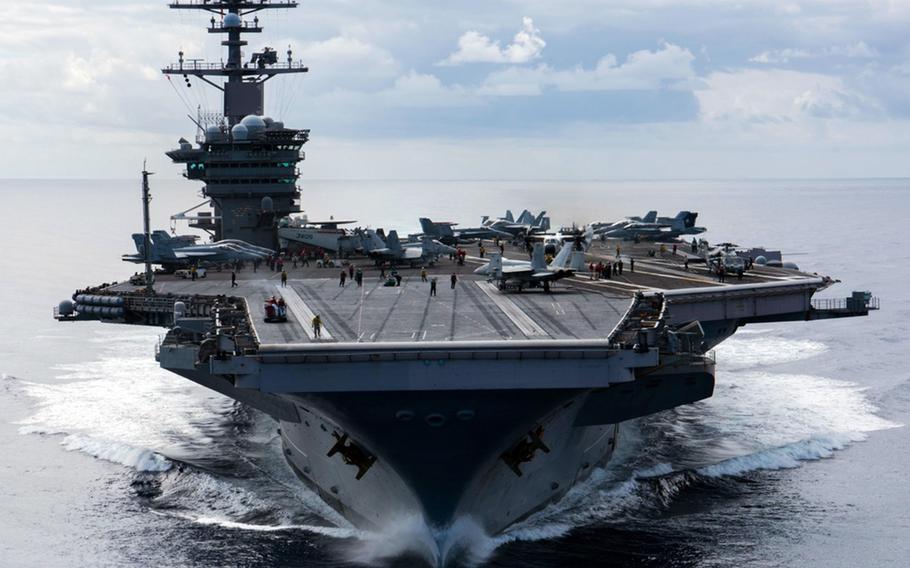 YOKOSUKA NAVAL BASE, Japan — The USS Carl Vinson is expected to arrive at Yokosuka in the near future, the aircraft carrier's first visit to the home of the 7th Fleet in almost two decades.
The Navy announced the upcoming port call in a Thursday news release, although it mentioned no specific date. The service routinely declines comment on ship movements; however, the spokeswoman for Naval Forces Japan, Cmdr. Katie Cerezo, said the carrier is expected soon.
"Our crew is excited and honored to have this opportunity for an on-installation port visit," said Capt. P. Scott Miller, commander of the Carl Vinson, in the Navy's release. "Carl Vinson, the embarked air wing and our strike group staffs are looking forward to this time of relaxation and a short pause from our underway time in support of global and regional stability."
However, the Carl Vinson's 5,000 crew members will have to pass their free time on the base due to coronavirus restrictions, according to the release.
The carrier last pulled into Yokosuka in 2003, Cerezo said in an email to Stars and Stripes on Friday. It deployed to the Western Pacific that year for an eight-month tour as part of a backfill operation for the USS Kitty Hawk Battle Group, which was sent to the Persian Gulf in support of Operation Iraqi Freedom.
The carrier now homeported at Yokosuka, the USS Ronald Reagan, departed Japan early this summer to support the withdrawal of U.S. forces from Afghanistan.
The Carl Vinson, a Nimitz-class carrier homeported in San Diego, left the West Coast on Aug. 2 for a deployment supporting "global maritime security operations," according to the Navy.
The Carl Vinson strike group is the first to deploy with F-35C Lightning II stealth fighters and Navy CMV-22B Ospreys aboard.
The fifth-generation F-35Cs are the carrier version of the multirole fighters whose primary task is air superiority, according to the Navy. The CMV-22B Osprey — tiltrotor aircraft that replace the fixed wing C-2A Greyhound — primarily fill a logistics role for the strike group.