Two destroyers arrive at US Navy base in Japan, while a third takes its leave 
by
Alex Wilson
Stars and Stripes
August 19, 2021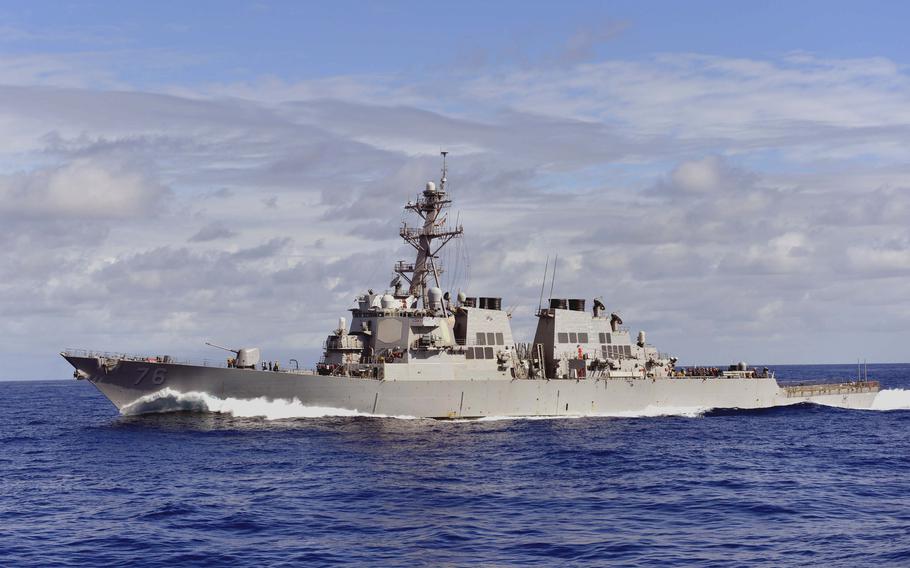 YOKOSUKA NAVAL BASE, Japan — Two replacement destroyers took up their new stations at the home of the U.S. 7th Fleet this week, and another destroyer with a 25-year history in the Indo-Pacific region departed. 
The USS Higgins and the USS Howard, two Arleigh Burke-class guided-missile destroyers, arrived at Yokosuka Naval Base on Monday, according to a U.S. Navy news release that day.
Wednesday, the guided-missile destroyer USS Curtis Wilbur steamed for San Diego, where it's scheduled for maintenance with the 3rd Fleet, according to the U.S. Pacific Fleet.
The Curtis Wilbur was the first U.S. destroyer deployed to Japan with the Aegis Combat System, a naval weapons system for air and fleet defense against enemy aircraft and cruise missiles, according to a Pacific Fleet news release.
The destroyer arrived in 1996 and during its stay in the Western Pacific took part in Operation Tomodachi, the recovery effort that followed the 2011 earthquake and tsunami in eastern Japan, humanitarian relief in East Timor, sanctions enforcement against North Korea and many other missions.
"For the last 25 years, the 'Steel Hammer of the Fleet' boldly sailed the Indo-Pacific as part of the long grey line of warships of Destroyer Squadron 15 that maintained the freedom of the seas and protection of our national interests," the Pacific Fleet quoted Capt. Chase Sargeant, commander of Task Force 71, as saying.
The Higgins and the Howard are now part of the 7th Fleet's Destroyer Squadron 15, a component of Task Force 71, which frequently deploys with the USS Ronald Reagan carrier strike group.
"These two ships will be an integral part of the 7th Fleet team for years to come," Sargeant said in the release.
The two destroyers are replacing sister ships the USS McCampbell and the USS Stethem, both of which departed the region over the past three years for modernization, 7th Fleet spokesman Lt. Mark Langford told Stars and Stripes in an email Tuesday.
The Stethem left in 2019 for San Diego and the McCampbell left in July 2020 for Portland, Ore.
Both the Higgins and the Howard have seen prior service with the 7th Fleet.
The Higgins commissioned in 1999 in May 2018 conducted a freedom-of-navigation patrol with the guided-missile cruiser USS Antietam through the South China Sea near the Paracel Islands.
Most recently, the Higgins was part of the USS Carl Vinson carrier strike group.
The Howard, commissioned in 2001, has routinely operated in the Eastern Pacific and Western Pacific regions. It completed a seven-month deployment with the 7th Fleet in 2014, and was also part of the USS Nimitz and Carl Vinson carrier strike groups, according to the U.S. Navy.