USS Mustin to be replaced by USS Ralph Johnson after a busy 15 years in Japan
by
Alex Wilson
Stars and Stripes
June 28, 2021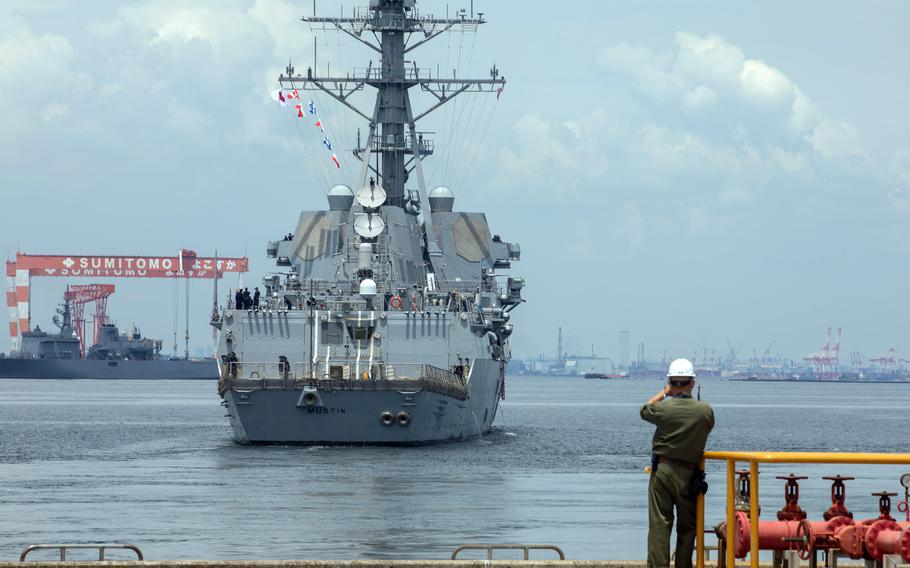 YOKOSUKA NAVAL BASE, Japan — The USS Mustin is sailing back to the United States after an eventful 15 years of Western Pacific service that included multiple disaster-relief missions and frequent freedom-of-navigation operations in the South and East China seas.
The guided-missile destroyer, which departed its former homeport of Yokosuka last week, is bound for San Diego, where it's slated to join 3rd Fleet following a maintenance and modernization period early next year, according to Cmdr. Nicole Schwegman, a Pacific Fleet spokeswoman. The work, which will begin early next year, is expected to take two years to complete.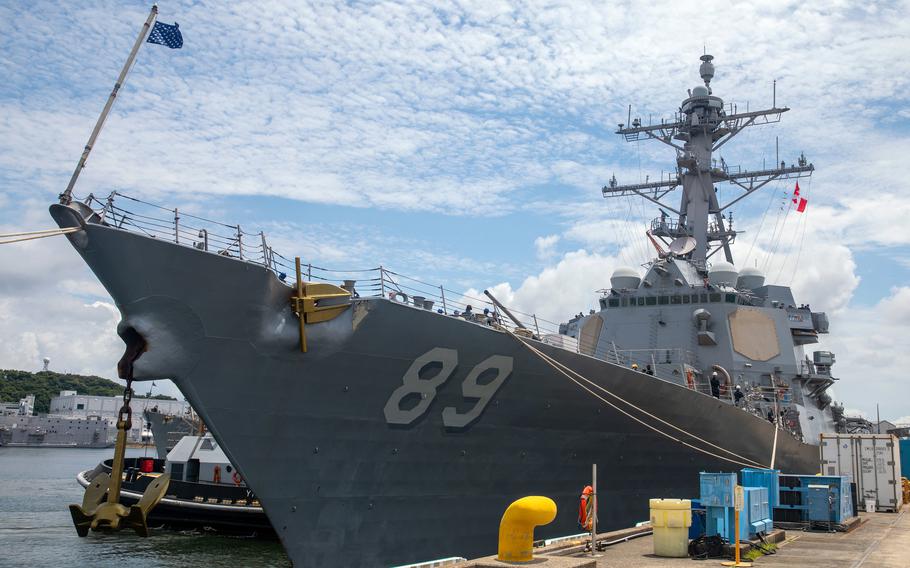 Schwegman said in an email Friday that the work will begin early next year and take two years to complete. However, she was unable to comment on the nature of the repairs and upgrades the ship will receive.
"Planned maintenance availabilities like these are critical to ensuring ships are maintained and equipped to perform combat ready tasking when called upon and achieve their expected service life," she said in an email Friday.
The Mustin will be replaced in Yokosuka by the USS Ralph Johnson, 7th Fleet spokesman Lt. Mark Langford said in an email Tuesday. The destroyer, commissioned in 2018, returned to Naval Station Everett, Wash., in January following its maiden deployment to the 5th Fleet and 7th Fleet operations areas.
It's unclear when the Ralph Johnson will arrive in Japan. The Navy typically does not announce ship movements in advance for security reasons.
In July, it sailed within 12 nautical miles of the Spratly Islands in the South China Sea. Beijing has reclaimed land and built military infrastructure in the Spratlys since 2014, according to the Center for Strategic and International Studies Asia Maritime Transparency Initiative.
The Mustin, which arrived in Japan in July 2006, has conducted three of its own freedom-of-navigation operations in the South China Sea. The most recent happened near the Paracels on Aug. 27.
The destroyer has also been active in the Taiwan Strait, sailing three times through the politically sensitive waters that separate the island from the Chinese mainland. Its most recent passage there happened on Dec. 19.
Other highlights of the Mustin's time with 7th Fleet include its involvement in 2011's Operation Tomodachi, the humanitarian relief following the devastating earthquake and tsunami in northeastern Japan. It provided similar aid to the Philippines after 2013's Typhoon Haiyan.
Twitter: @AlexMNWilson