Navy is struggling to retain surface warfare officers, according to watchdog report examining at-sea collisions
by
Sarah Cammarata
Stars and Stripes
June 18, 2021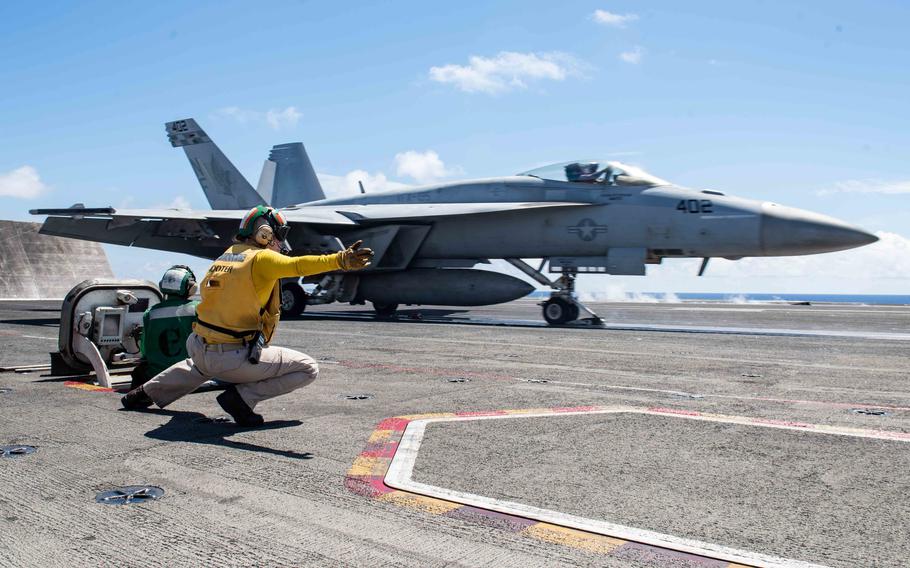 WASHINGTON — Navy officers who focus on the safe operation of surface ships are switching jobs or leaving the military at higher rates than other service officers in similar positions, according to a government watchdog report released Thursday.
The Government Accountability Office's report also found only 12% of female surface warfare officers stay in the job, compared with 39% of male SWOs. Overall, 33% of SWOs remain in the position compared with 45% of officers who are in similar Navy jobs.
Though Naval Surface Forces Command tracks separation rates for surface warfare officers by gender, it hasn't developed a plan to improve retention rates, according to the report titled "Navy Readiness: Actions Needed to Evaluate and Improve Surface Warfare Officer Career Path."
The GAO report is part of an ongoing response to two collisions at-sea that killed 17 sailors in 2017. That spring, the guided-missile destroyer USS Fitzgerald collided with a merchant ship off the coast of Japan, resulting in the death of seven U.S. sailors.
Later that year, the guided-missile destroyer USS John S. McCain was struck by a chemical tanker off the coast of Singapore and Malaysia. Ten U.S. sailors died as a result of the crash.
Some changes came after two internal investigations into the root causes of the 2017 collisions found challenges with training, qualifications and assignments as officers progressed throughout their career, according to the GAO report.
The Navy has taken small steps to improve officers' career paths, such as extending training and tours of duty to give more time to earn qualifications, but it has not fundamentally changed career paths for more than a century, the GAO said.
Rep. Rob Wittman, R-Va., said Thursday during a House Armed Services Committee subpanel hearing that the "lack of leadership" among the surface warfare officers "continues to haunt" him. Thursday was the four-year anniversary of the USS Fitzgerald crash.
During the hearing, Wittman pressed Vice Adm. James Kilby, the Navy's deputy chief of naval operations for warfighting requirements and capabilities, on the results of the GAO report and how the Navy is addressing ongoing issues with surface warfare officers.
Specifically, Wittman pointed out a statistic from the report that found by a factor of four to one, surface warfare officers believe specialized career paths would better prepare them for their job than the current generalized career path.
"Without periodic evaluations of current approaches, including alternative career paths, and the use of those evaluations, the U.S. Navy may miss an opportunity to develop and retain proficient SWOs," the GAO wrote.
Surface warfare officers are "screaming for change," Wittman said during the hearing of the House subcommittee on seapower and projection forces to discuss the Navy's budget proposal for fiscal year 2022.
Kilby said he could not speak to the specific data from the study released publicly after the hearing ended.
However, he said: "We've done a lot of work, we feel, to professionalize and increase our mariner skill training. Some of those investments are still underway in Norfolk [Va.] and San Diego and will prove to be sufficient."
Surface warfare officers are trained to serve on all ship departments and all ship types. This training provides a generalist career path spanning across disciplines such as ship-driving, engineering and combat systems. But other Navy officers specialize in specific ship department areas.
"According to the commander, Naval Surface Forces, a generalist approach is the best career path for SWOs because commanding officers must know how to drive, fight, and lead on their ship, and SWOs with specialist career paths are less prepared for this responsibility than are SWOs with a generalist career path," according to the GAO report.
However, the GAO found a majority of surface warfare officers want a specialized career path. An estimated 65% of surface warfare officers want a specialized track, compared with 16% who think a generalist model is best.
The GAO recommended the Navy develop a plan to improve retention, including female retention rates, and regularly evaluate its approach to training officers. The evaluation will then serve as a way to improve career options. The Navy concurred with all seven recommendations.
Twitter: @sarahjcamm