Okinawa citizens file lawsuit to stop Marine Corps runway construction
By
Matthew M. Burke and Keishi Koja
Stars and Stripes
August 24, 2022
---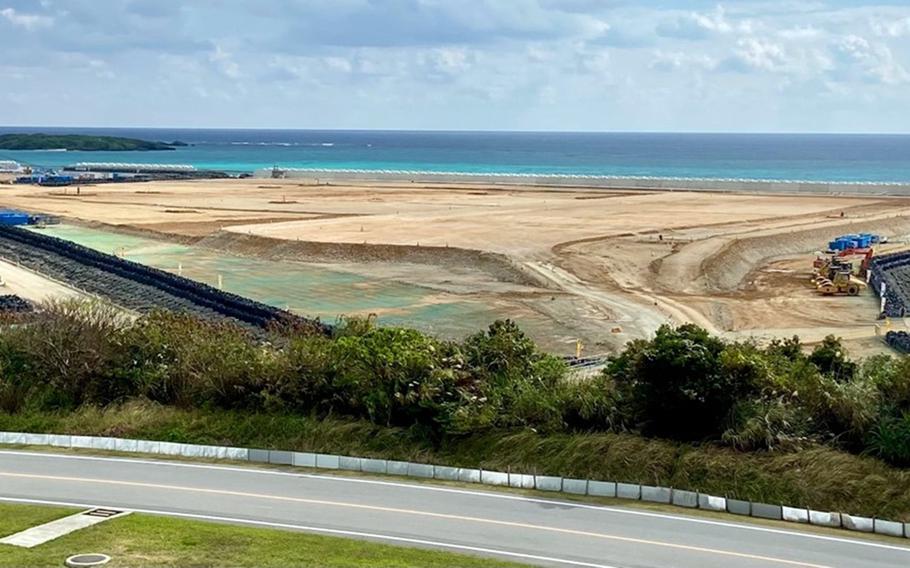 CAMP FOSTER, Okinawa — A group of Okinawa citizens has filed a lawsuit aimed at forcing the Japanese government to stop construction of a Marine Corps runway into Oura Bay at Henoko.
The suit follows a similar action by Okinawa prefecture challenging a cabinet minister's authority to override Okinawa Gov. Denny Tamaki, who rejected updated construction plans for the project in November.
The citizens' lawsuit filed Tuesday in Naha District Court names as plaintiffs 20 individuals who live in Henoko or operate businesses there, plaintiff Takuma Higashionna, a member of the Nago city council, told Stars and Stripes by phone on Wednesday. They seek an order upholding Tamaki's decision.
The plaintiffs claim that noise and environmental degradation will adversely impact their lives and businesses, plaintiff Toshiki Iwamoto, owner of the Oumi dive shop in Naha, said Wednesday.
"Oura Bay has some of the most beautiful coral in Okinawa and it is unbelievable and unacceptable that the government is destroying it," Iwamoto said.
The prefecture filed its lawsuit on Aug. 12 in Fukuoka High Court in Naha.
In rejecting the construction plans, Tamaki argued that Tokyo overlooked the soft seabed in the construction zone and the environmental impact on endangered species.
Japan's Ministry of Defense appealed to the minister of land, infrastructure, transport and tourism, Tetsuo Saito, who overruled Tamaki in April and ordered the governor to issue the required permits. Tamaki accused Saito of usurping the will of local officials.
The prefecture on Wednesday filed a second lawsuit regarding Saito's decision with the high court, a spokesman for the prefecture's Military Base Affairs Division said Wednesday. The Aug. 12 suit was over Saito's decision against the prefecture. The suit filed Wednesday was over his order to approve permitting.
The runway at the northern coastal Marine base Camp Schwab is decades in the making and will one day facilitate the closure of Marine Corps Air Station Futenma in Ginowan. The base has been labeled inherently dangerous by Japanese officials due to its central location in a densely packed urban area.
---
---
---
---