Federal court order in COVID-19 vaccine case delays court-martial for Japan-based Marine
By
Stars and Stripes
August 23, 2022
---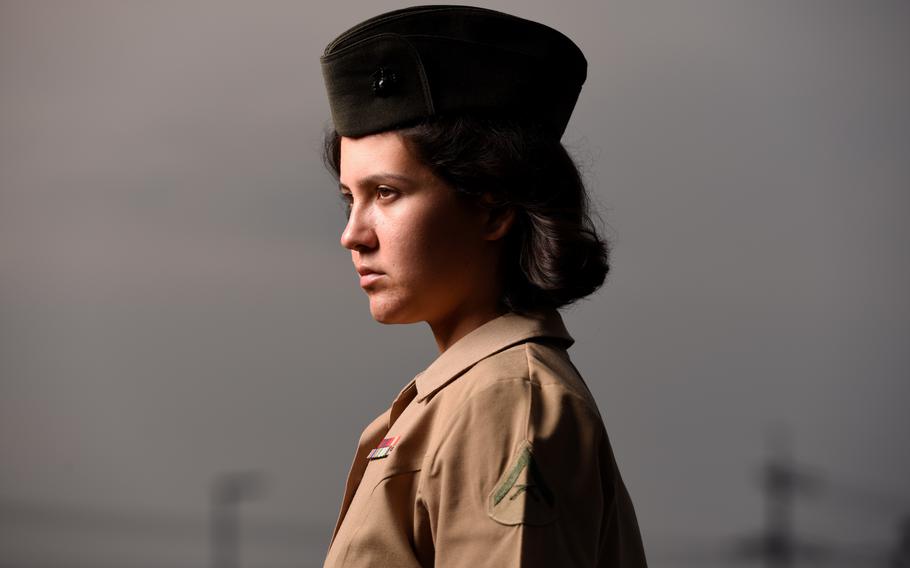 Stars and Stripes is making stories on the coronavirus pandemic available free of charge. See more stories here. Sign up for our daily coronavirus newsletter here. Please support our journalism with a subscription.
MARINE CORPS AIR STATION IWAKUNI, Japan — A federal judge's order in Florida means an indefinite trial delay for a Japan-based Marine who allegedly skipped two flights stateside to face discharge for refusing a COVID-19 vaccine.
A military judge agreed on Monday to delay a special court-martial for Lance Cpl. Catherine Arnett, 24, of Fort Worth, Texas, set to begin the next day at MCAS Iwakuni, Arnett told Stars and Stripes on Monday.
Arnett said her defense lawyer, Marine Capt. Brentt McGee, moved last week to delay her two-day trial indefinitely based on Thursday's order by U.S District Court Judge Steven Merryday in Tampa, Fla.
Ruling in a pending federal case, Merryday temporarily barred the Department of Defense and Marine Corps from punishing Marines who refused the vaccine on religious grounds.
Arnett is not being court-martialed for refusing the COVID-19 vaccine, Marine Corps spokesmen have said. A spokesman for MCAS Iwakuni did not respond Tuesday to a request for further comment on Arnett's court-martial delay.
Arnett is charged with violating two articles of the Uniform Code of Military Justice: two counts under article 87, missing troop movements on May 7 and May 14, and one under article 92, disobeying a direct order on May 7 to take a COVID-19 test.
Arnett claims her prosecution stems from the fact that she refused the COVID-19 vaccine mandated last year by the Marine Corps and Defense Secretary Lloyd Austin. She based her refusal to board those flights in her belief the vaccine mandate is unlawful, she said in an online interview with an anti-vaccination group, Children's Health Defense, in July.
"My lawyer was able to brilliantly tie the logic together with my decisions on May 7 and May 14 inextricably to the vaccine mandate, which is what I had been trying to have done all along," she said, referring to the scheduled flights.
Merryday in his ruling also granted class-action status for all active and reserve Marines who refused the DOD vaccine mandate on religious grounds, according to a report Saturday on The Center Square nonprofit news website.
Merryday's preliminary injunction bars the DOD and the Marine Corps from disciplining or discharging active duty or reserve Marines who refused the COVID-19 vaccination on religious grounds, even after their requests for religious exemptions were denied, according to The Center Square report.
The Marine Corps has already discharged 3,299 Marines for refusing the vaccine, the most of any service, according to an Aug. 4 monthly update from the service.
The Marines approved only 11 of 3,733 requests it received for religious exceptions, according to the update. Another 545 administrative or medical exemptions were approved.
Arnett refused the vaccine but feared losing educational benefits if she was given a general discharge under honorable conditions as a result, she said in the July interview.
Arnett maintains that because the DOD vaccine mandate is unlawful, anything flowing from it is also unlawful, including orders to return home and exit the Marine Corps.
"And if that means that they're moving me from point A to point B whenever I really shouldn't be moved, then I'm going to raise that issue with my chain of command," she told Children's Health Defense. "It's my duty to challenge unlawful orders."
When her lawyer raised the injunction last week, "the judge didn't seem fazed by it," Arnett said Monday.
This is not the first time a judge has stopped a military service from disciplining members who refused a COVID-19 vaccine.
In July, a federal judge in Ohio temporarily barred the Air Force from disciplining airmen who refused the vaccine while serving at Wright-Patterson Air Force Base.
Arnett said she wants to be a drill instructor in the Corps and hopes to get back to work once her case is resolved.
"I have put up a great fight to stay in and I would hope that's the kind of Marine that they want to keep around," she said Monday. "I want to stay in; I want to be a drill instructor."
---
---
---
---