Japan-based Marine says separation order for vaccine refusal is 'unlawful'
By
Stars and Stripes
July 28, 2022
---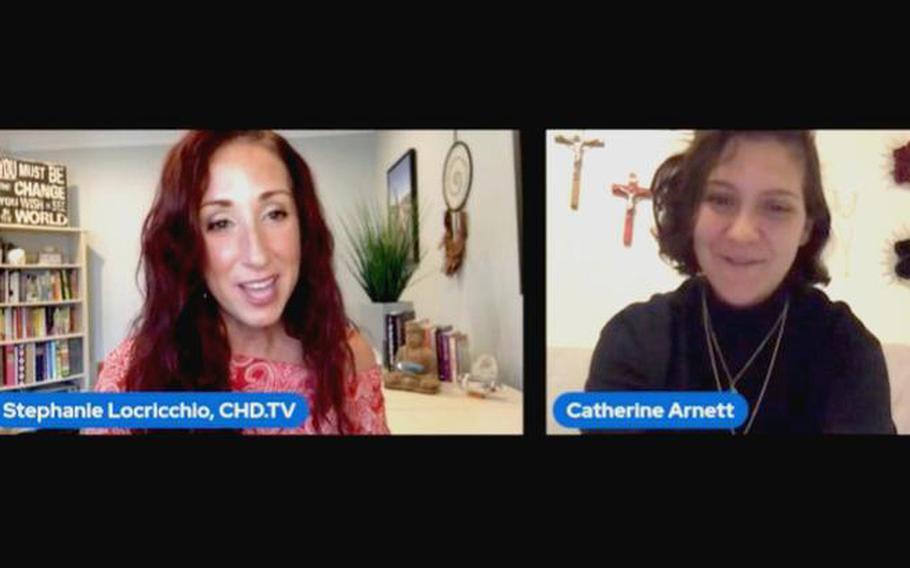 Stars and Stripes is making stories on the coronavirus pandemic available free of charge. See more stories here. Sign up for our daily coronavirus newsletter here. Please support our journalism with a subscription.
TOKYO — A Marine in Japan who refused a COVID-19 vaccine is being court-martialed for missing two flights to the United States to be discharged, the Marine Corps said Thursday.
Lance Cpl. Catherine Arnett, 24, is facing a special court-martial Aug. 3-4 on charges of missing a movement and disobeying a lawful order, according to the Navy and Marine Corps court docket.
Arnett said her troubles began last year when she missed a Marine Corps deadline to get vaccinated against the coronavirus.
In a video posted online Wednesday by the Children's Health Defense, an organization that opposes vaccinations, Arnett said she considers the Defense Department's vaccine mandate an unlawful order, and anything flowing from it as also unlawful, including orders to return home and exit the Marine Corps.
"And if that means that they're moving me from point A to point B whenever I really shouldn't be moved, then I'm going to raise that issue with my chain of command," she told interviewer Stephanie Locricchio. "It's my duty to challenge unlawful orders."
Arnett is charged with missing movements on May 7 and 14 and for refusing an order to take a pre-flight COVID-19 test, according to an email Thursday from 1st Lt. Aaron Ellis, a spokesman for Marine Corps Air Station Iwakuni.
"LCpl Arnett is not being court-martialed for refusing COVID-19 vaccination," he wrote.
Arnett, in an interview headlined "Refusal to Comply – Medical Apartheid in the Military," said she refused in spring to board a flight from MCAS Iwakuni to California, where she would be discharged for refusing the vaccine.
"So, with the vaccine mandate being unlawful, and, you know, my option not to participate in the vaccination program, that brought about administrative separation orders, which basically means … they curtail my service early," she said.
She said she feared losing her education benefits if she was given a general discharge under honorable conditions for refusing the vaccines.
Children's Health Defense, a nonprofit founded by Robert F. Kennedy Jr., encourages its supporters to reject COVID-19 vaccines as experimental and dangerous, a view firmly rebutted by public health authorities like the Food and Drug Administration and the Centers for Disease Control and Prevention.
Arnett, originally of Fort Worth, Texas, is charged with disobeying a lawful order and missing a movement, offenses under articles 92 and 87, respectively, of the Uniform Code of Military Justice.
Arnett said she refused the COVID-19 vaccines because they are tested or produced using stem cell lines that descend from fetuses aborted in the 1970s and '80s. Her request as a Catholic for a religious exemption, she said, was denied by the Marine Corps and again on appeal.
"I believe that I'm protected from not having to get a vaccine if it contradicts my moral conscience or has components of it that now goes against my religious tenets," she told Stars and Stripes on July 1.
She told Locricchio: "I don't have to get this vaccine because I'm religiously, legally and administratively protected from it. I don't have to accept or participate in experimental drugs."
During the 30-minute interview, Arnett, who enlisted in 2018, said she considered becoming a conscientious objector to handling a rifle in the Marine Corps but did not seek a religious exemption to vaccines until 2021. She described feeling lightheaded after a battery of vaccinations in basic training at Parris Island, S.C., but had no serious side effects.
"Whenever I heard that you could have submitted, you know, an exemption to vaccines before you entered the military, let me just say I wish I had known that," she said.
Arnett said she's been in limbo waiting for her court-martial and feels ostracized by her command. Sympathizers and friends have dwindled away, she said. Her car and driver's license were taken from her because she's considered a flight risk, she said.
"It's been a slow burn," Arnett told Locricchio. She said she hoped her commander would allow her to work until a civil lawsuit she is party to overturns the DOD vaccine mandate. She is assigned to Marine Air Logistics Squadron 12, she told Stars and Stripes.
Arnett said a barracks manager ordered her to vacate her room on July 12, but "Marine Corps underground media" posted her story "and I guess that did the trick for my command to hear about it." Arnett remained in her room.
In response, Ellis in his email stated: "The United States Marine Corps takes the care and accountability of personnel seriously and regularly assesses circumstances involving Marines with pending court-martials."
Locricchio sympathized with Arnett throughout the half-hour interview.
"Right now, that's the biggest enemy that we face, is these mandates, which are unconstitutional and go against all the freedoms this country was founded on," she said. "So, I absolutely understand and appreciate wholeheartedly your stance and refusal to comply with what's happening right now. It is our duty as Americans to continue to stand against these mandates for sure."
More than 601 million COVID-19 vaccine doses have been administered in the U.S., according to the CDC, which states they are "safe and effective" and meet "rigorous scientific standards for safety."
---
---
---
---