Marine Corps finds no evidence contaminated water in Okinawa town flowed from nearby base
by
Matthew M. Burke and Mari Higa
Stars and Stripes
October 14, 2021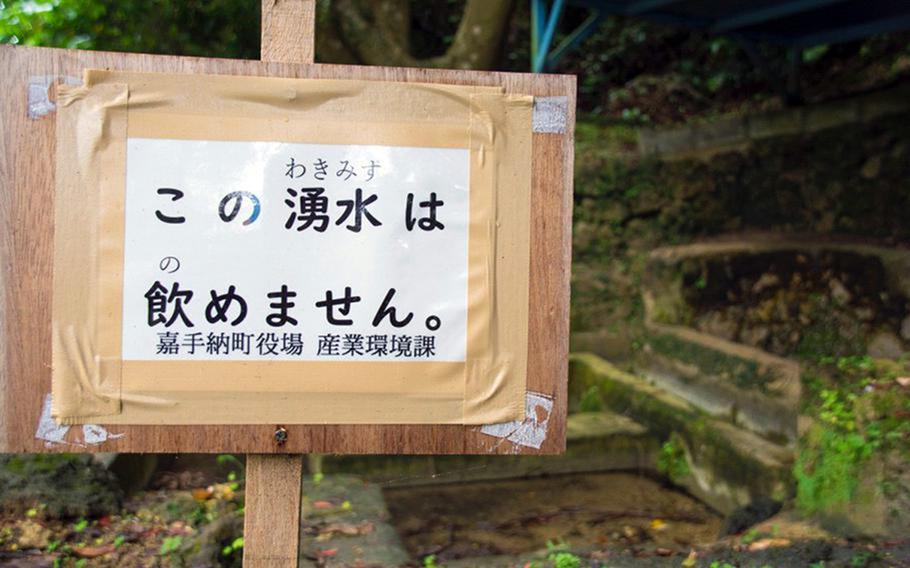 CAMP FOSTER, Okinawa – The Marine Corps said it was unable to find the source of toxins reportedly discovered last year in the drinking water of a community adjacent to a Marine base on Okinawa, according to a statement Thursday.
High levels of the contaminants PFOS and PFOA were detected June 22, 2020, in groundwater tests at four wells in Kin town, just outside Camp Hansen, a Kin spokesman told Stars and Stripes by phone Thursday.
Local officials planned to announce the test results in fiscal 2022, which begins in April. However, the findings were released Oct. 1 after a town council member mentioned them at a public meeting.
"Marine Corps Installations Pacific is aware of reports that the town of Kin identified elevated levels of PFOS and PFOA in several off-base wells used to supply drinking water to off-base areas," Marine Corps Installations Pacific spokesman Lt. Col. Matthew Hilton wrote in a statement Thursday. "After a preliminary investigation we have been unable to identify any possible on-base sources that would explain these elevated levels."
The Marine Corps shares the concern of locals regarding the pollution, Hilton wrote. The service is cooperating with local authorities to identify the pollution's source.
The service came under fire from Okinawa Gov. Denny Tamaki and other local officials on Aug. 26 after Marine Corps Air Station Futenma released an undisclosed amount of treated wastewater containing the toxic compounds into the public wastewater system.
Wells around MCAS Futenma in Ginowan and Kadena Air Base have been flagged for elevated levels of the synthetic organic acids in recent years.
PFOS and PFOA are found in firefighting foam, aircraft grease, water-repellant materials and fluorine chemicals. Studies involving lab animals show exposure to PFOA increases the risk of certain tumors of the liver, testicles, breasts and pancreas, according to the American Cancer Society. Studies involving humans and PFOA are so far inconclusive.
Kin tested nine wells in June 2020, eight just outside Camp Hansen, the town spokesman said. Four wells tested in excess of Japan's provisional safe drinking water standard of 0.05 micrograms per liter.
The highest was 0.41 micrograms per liter and came from a well right outside the base, the spokesman said. The town's tap water, which is a mixture of groundwater from the wells and water from a dam managed by Okinawa prefecture, tested at 0.07 micrograms per liter that same day.
Approximately 2,300 residents were recipients of the tainted water, the Asahi newspaper reported Oct. 5.
The town planned to monitor the water and release its findings next year, the spokesman said.
"We are currently requesting an on-site inspection," he said.
A spokesman from the Okinawa prefecture's Department of Public Health and Medical Care said it was unaware of the test results until August. Kin town is not obligated to report results to the prefecture.
"It is difficult to conclude that it is from the base," a prefectural spokesman from military base affairs said Thursday. "We only know [the well] is near the base."
A spokesman from the Okinawa Defense Bureau, which represents Japan's Ministry of Defense, said it has not yet been proven that the U.S. military is responsible.
The bureau spokesman declined to comment on what he called a "local government investigation."
It's customary in Japan for some government officials to speak to the media on condition of anonymity.