Japan agrees to pay for disposal of contaminated wastewater from Marine air base on Okinawa
by
Matthew M. Burke and Mari Higa
Stars and Stripes
September 20, 2021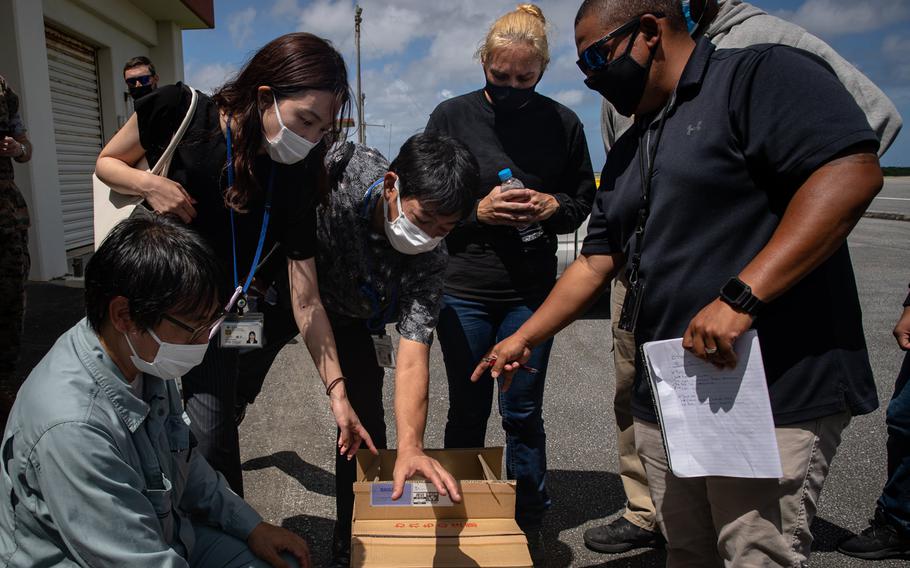 CAMP FOSTER, Okinawa — Japan's Ministry of Defense has agreed to temporarily take over disposal of contaminated wastewater from a Marine Corps air base in central Okinawa, according to a ministry statement Friday.
The agreement comes just weeks after the Marine Corps drew the ire of local officials for dumping an undisclosed amount of treated water from Marine Corps Air Station Futenma in Ginowan into the public wastewater system on Aug. 26.
Approximately 95,000 gallons of water remain untreated in underground tanks at the air station and also contain contaminants PFOS and PFOA from spilled firefighting foam, public broadcaster NHK reported Friday.
The Japanese government will incur a cost of approximately $825,000 for disposal.
"This is a step forward," according to a tweet by Okinawa Gov. Denny Tamaki on Friday. Tamaki in his tweet pointe out that other U.S. military facilities on the island still maintain stores of untreated wastewater containing the toxic compounds.
"It is still necessary to conduct an on-site investigation in Futenma and Kadena Air Base," he said.
This is the first time Japan has stepped in to pay for the disposal of wastewater from a U.S. military base within its borders, NHK reported. The ministry said it is a temporary, emergency measure "in anticipation of typhoon season," which runs from June to October, according to a joint statement Friday by the Defense Ministry and U.S. Forces Japan.
The fear is that heavy rains could cause the tanks to overflow and contaminate the environment, the ministry statement said. The U.S. and Japan will discuss specific plans to repair aircraft hangars at the base to prevent the further inflow of rainwater into the tanks, according to the joint statement.
The ministry did not respond to a request from Stars and Stripes for more information on Monday. Okinawa has called for the contaminated wastewater to be incinerated in the past.
PFOS and PFOA are synthetic compounds found in the foam, aircraft grease, water-repellant materials and fluorine chemicals. They have been known to cause tumors, increases in body and organ weight and death in animals.
The Marine Corps said it treated the water prior to the Aug. 26 release to a point its toxic levels were 20 times below the provisional threshold set by Japan. Tamaki at the time said he was caught off guard by the release and demanded that it stop.
Testing at the source by Ginowan city showed combined levels of PFOS and PFOA that were 13 times Japan's provisional safe drinking water standard of 0.05 micrograms per liter. The prefectural government took samples further downstream later in the day and found lower levels of the contaminants, though they were still present, they announced in results posted to their website on Thursday.
Discharged wastewater eventually reaches the ocean, according to the agency responsible for the island's water quality.