Marine Corps removes hazardous firefighting foam from its bases on Okinawa
by
Matthew M. Burke and Mari Higa
Stars and Stripes
September 10, 2021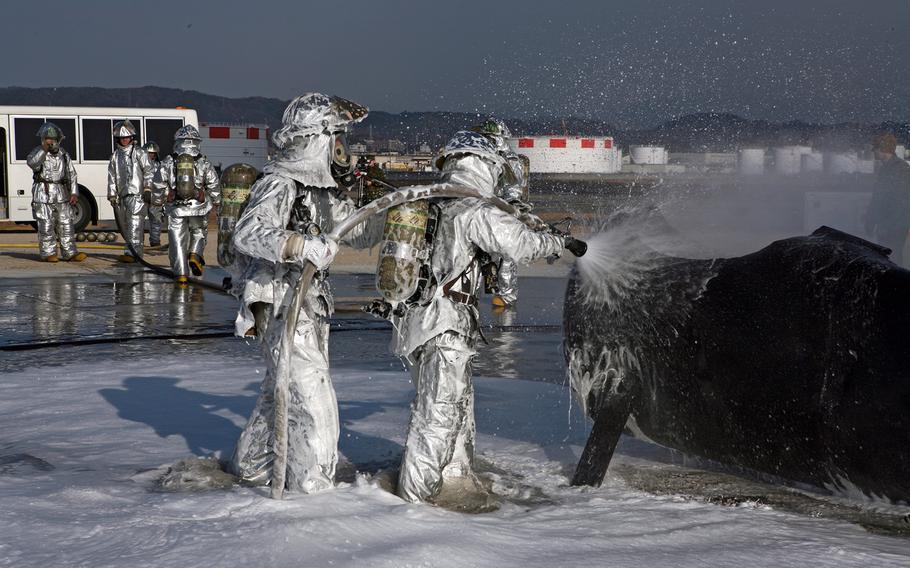 CAMP FOSTER, Okinawa – The Marine Corps on Okinawa this week replaced its supply of aircraft firefighting foam known to contain harmful contaminants PFOS and PFOA with a more environmentally friendly version, according to a Marine spokesman.
Most of the potentially toxic aqueous firefighting foam was at Marine Corps Air Station Futenma in Ginowan but also at other camps and installations around the island prefecture, according to an email Thursday from Marine Corps Installations Pacific spokesman Lt. Col. Matthew Hilton.
Supplies of that foam were shipped elsewhere in Japan to be incinerated, Hilton said. He did not provide details on when or how much material was shipped.
"This action significantly reduces the environmental risk posed by PFOS and PFOA on Okinawa and is another concrete demonstration of MCIPAC's transparency and its strong commitment to environmental stewardship," Hilton's statement reads.
PFOS and PFOA are man-made organic compounds. Studies involving lab animals show exposure to PFOA increases the risk of certain tumors of the liver, testicles, breasts and pancreas, according to the American Cancer Society. Studies involving humans and PFOA are so far inconclusive.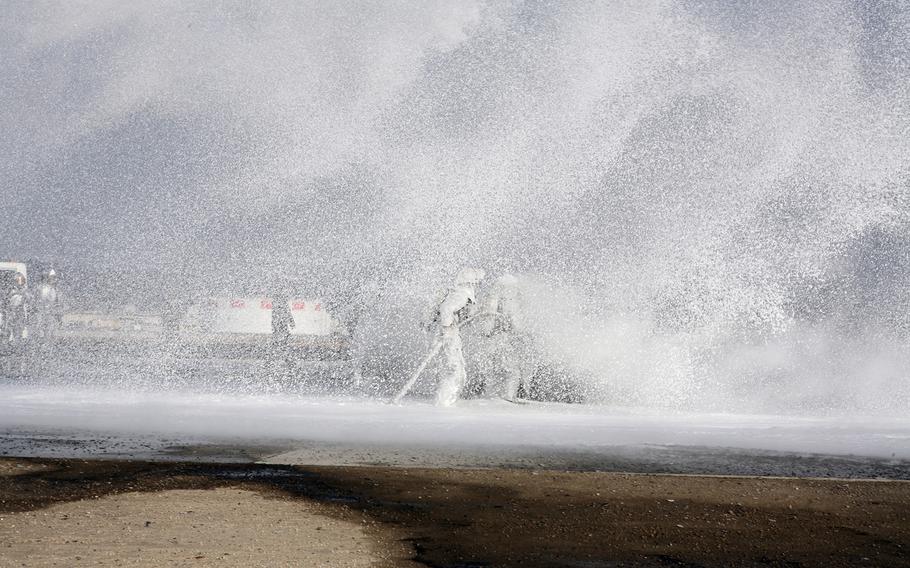 Neither the Marine Corps nor the Air Force's 18th Wing on Okinawa responded to emails Friday seeking further information on the replacement firefighting foam. U.S. Forces Japan in 2019 said replacement foam coming to Kadena Air Base on Okinawa would contain trace amounts of PFOA but no PFOS.
Hilton's statement said the Marines' new foam meets Department of Defense requirements and "still provides the same life-saving benefits in the event of a fire."
A spokesman for Okinawa prefecture's Military Base Affairs Division said it learned of the replacement foam from Hilton's statement.
"I don't know what the alternative product is," the spokesman said by phone Friday. "I cannot say if this alternative product is good or bad at the moment."
It's customary in in Japan for some government officials to speak to the media on condition of anonymity.
The prefecture first asked the U.S. military to replace the firefighting foam after a spill in 2019, the spokesman said. He called the Marine Corps' move "progress."
On Aug. 26, the Marines released treated water containing low levels of the toxic compounds into prefecture's wastewater system and ultimately into the ocean. The water was captured during accidental spills of firefighting foam at MCAS Futenma.
Prefectural Gov. Denny Tamaki said he learned of the August release as it happened and demanded that it stop.
The Okinawa Defense Bureau, which represents Japan's Ministry of Defense, did not respond to a request for comment Friday.