Marines stage departing display for locals as six-month Australia mission draws to a close
by
Seth Robson
Stars and Stripes
September 10, 2021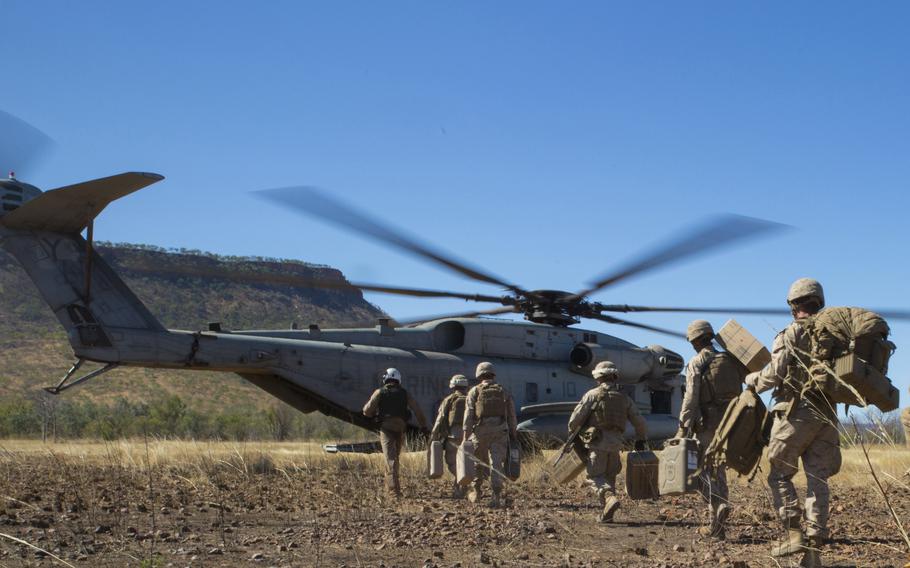 Marines preparing to head home from Australia showed off their gear and thanked Darwin residents Friday as their six months of field training Down Under comes to an end.
Thousands attended a community event at Robertson Barracks, the Marines' home away from home in Australia's Northern Territory, according to an email Friday from a spokesman for Marine Corps Rotational Force – Darwin.
Capt. Thomas deVries said the Marines and Australian Defence Force brought out Humvees, 7-ton trucks, armored personnel carriers, M777 howitzers, a High Mobility Artillery Rocket System, a sniper display, military working dogs and a robot dog.
They also showed off AH-1Z Viper, UH-1Y Venoms and Tiger helicopters, an MV-22B Osprey tiltrotor and RQ-21 Blackjack drones.
Marines were thanking the community for their support and talking about the gear, deVries said.
The 2,200 Marines started arriving in Australia in April for their 10th rotation Down Under since 2012. They quarantined for two weeks to prevent the spread of the coronavirus.
They spent the summer in field exercises that began with humanitarian and disaster response operations and ended in August with an island-seizing drill, deVries said.
The Marines finished the two-week Exercise Koolendong, their last field training event, on Aug. 31 at Bradshaw Field Training Area, he said.
The event involved more than 1,000 Marines working with 1,000 Australian soldiers in a task force commanded by Australian Army Brigadier Ash Collingburn, deVries said.
The rotational force for the first time was part of a combined task force, he said.
"It was definitely the largest exercise that has taken place for us this rotation," deVries said.
During Koolendong, the task force simulated the destruction of an enemy anti-ship missile positioned on a fictional island, he said.
Marines will head home to bases in the United States and on Okinawa over the next six weeks, deVries said.