Marine Corps finds low levels of toxins in wastewater flowing from Okinawa air station
by
Matthew M. Burke and Mari Higa
Stars and Stripes
September 30, 2021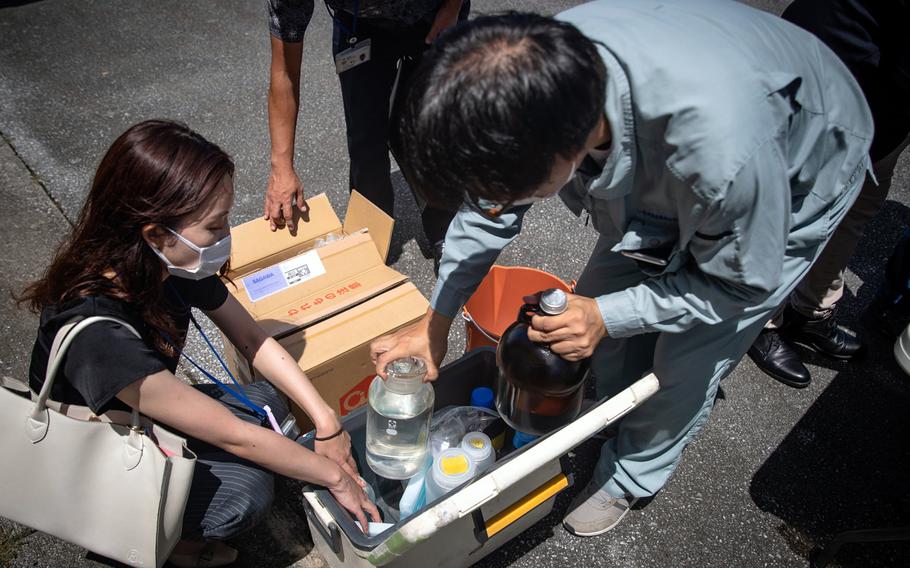 CAMP FOSTER, Okinawa — The Marine Corps found low levels of the contaminants PFOS and PFOA in water flowing from an air station on Okinawa, more than two weeks after it flushed contaminated water into the public system.
The service tested the water from Marine Corps Air Station Futenma where it flows into Ginowan city's wastewater system on Sept. 14 and found 0.015 micrograms per liter of PFOS and 0.003 of PFOA, Marine Corps Installations Pacific spokesman Lt. Col. Matthew Hilton wrote in a statement Thursday, citing preliminary results.
Japan's provisional safety threshold for drinking water is 0.05 micrograms per liter.
"This sampling was conducted where the wastewater sewer line exits from within the air station fence line to ensure the measurement captured only wastewater leaving [MCAS Futenma]," Hilton wrote. "These levels are consistent with those that can be found in the public wastewater system."
The samples were taken more than two weeks after the Marines released an undisclosed amount of treated wastewater into the public system on Aug. 26.
Ginowan city took samples two hours after the release began and reported combined levels of PFOS and PFOA that were 13 times the safety standard, 0.63 micrograms per liter for PFOS and 0.67 micrograms per liter for the combined concentration.
However, Hilton on Thursday said the water released Aug. 26 measured far below the safety standard. He said Okinawa prefecture and the Okinawa Defense Bureau, which represents Japan's Ministry of Defense on the island, independently verified the same low concentration prior to the release.
"We are aware of reports of high levels of PFOS and PFOA measured in the wastewater system in Ginowan, which have been widely attributed to outflow from" the air station, Hilton wrote. "At this time we have been unable to identify an on-base source which would explain the PFOS/PFOA results obtained by Ginowan."
Okinawa prefecture's Environmental Preservation Division isn't sure that any amount of PFOS or PFOA is safe for the environment, a division spokesman told Stars and Stripes by phone Thursday.
"We do not know for certain how (PFOS/PFOA) affects the environment," the spokesman said. "There is no environmental standard (in Japan). However, it is believed that even a small amount can accumulate."
All the prefecture can do is request that the wastewater be incinerated, he said.
Spokesmen from Ginowan and the defense bureau said they were reviewing Hilton's statement Thursday afternoon and were not prepared to comment.
Some government officials in Japan customarily speak to the media on condition of anonymity.
PFOS and PFOA are synthetic compounds found in firefighting foam, aircraft grease, water-repellant materials and fluorine chemicals. They have been known to cause tumors, increases in body and organ weight and death in animals.
The Marine Corps said it treated the wastewater prior to the Aug. 26 release to a point its toxic levels were 20 times below Japan's provisional threshold. Okinawa Gov. Denny Tamaki at the time said he was caught off guard by the release and demanded that it stop.
Tamaki called for an on-site investigation after Ginowan city's test results were released Sept. 10.
The government of Japan agreed to dispose of approximately 95,000 gallons of untreated water remaining in underground tanks at MCAS Futenma at a cost of over $800,000, public broadcaster NHK reported Sept. 17.