Navy awards $122 million contract to build gun range for Marines on Guam
by
Alex Wilson
Stars and Stripes
October 4, 2021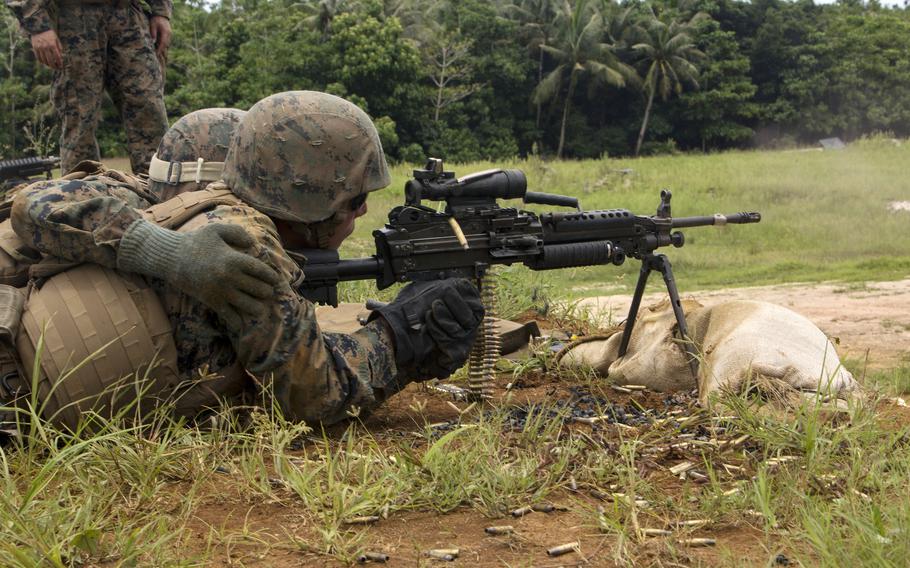 The U.S. Navy awarded a $122 million contract to a Guam-based construction company to build a machine-gun range at Andersen Air Force Base that will support the new Marine Corps Base Camp Blaz.
The new facility will include a multilane, multipurpose gun range, a range control tower, an ammunition distribution point and covered bleachers. The project is expected to be completed in October 2024.
The Navy gave the firm-fixed price contract to Black Construction Corp., based at Harmon, Guam, on Tuesday, according to a news release from Naval Facilities Engineering Systems Command Pacific.
Blaz' commander, Col. Christopher Bopp, called the range a "significant step" toward completing the installation.
"This range will provide critical training capabilities to our forces while ensuring our continued operational readiness to respond to any crisis or contingency in the region," he said in the release.
It will be part a larger complex known as the Mason Live-Fire Training Range at Andersen's Northwest Field.
The Navy previously awarded Black Construction a $78 million contract in August 2017 to build four other ranges and supporting facilities for the complex.
The other ranges are for rifles, pistols, non-standard small arms and a modified record fire, a spokeswoman for Naval Facilities Engineering Systems Command Pacific, Krista Cummins, told Stars and Stripes in an email Friday.
The announcement follows a slew of other projects on Guam recently announced by the Navy as part of the camp's ongoing construction. Blaz, activated in October 2020, is the first newly commissioned Marine Corps base since 1952.
The Navy has awarded more than $1 billion in contracts to build barracks, officer quarters and medical and logistics facilities.
Blaz and the associated projects are part of the Defense Policy Review Initiative, a deal between the United States and Japan that includes the relocation of 5,000 members of the III Marine Expeditionary Force from Okinawa to Guam.
Under the deal, Japan is paying $3 billion to build portions of Blaz, while the U.S. is spending another $5.7 billion.