More building contracts for Marines' Camp Blaz on Guam
by
Alex Wilson
Stars and Stripes
August 19, 2021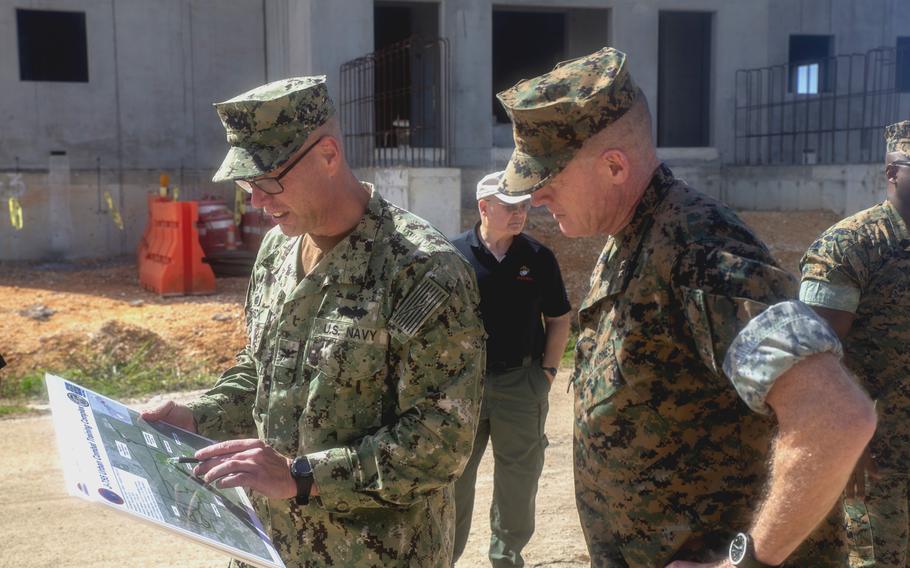 The Navy let two more construction contracts this week totaling $134.5 million for facilities on Camp Blaz, the new Marine Corps base on Guam expected to absorb troops relocated from Okinawa.
Cadell-Nan Joint Venture, of Montgomery, Ala., was awarded a $36.5 million contract Tuesday to build the warehouse at Marine Corps Base Camp Blaz, according to a news release that day from Naval Facilities Engineering Systems Command.
In a separate release on the same day, the command announced that Black Construction-Tutor Perini Joint Venture, based at Harmon, Guam, won a $98 million contract to build the bachelor officer quarters.
The Navy has awarded $936.5 million in contracts to build portions of Camp Blaz since the Marine Corps commissioned the base in October 2020. It's the first new Marine installation since the activation in 1952 of Marine Corps Logistics Base Albany in Georgia.
Camp Blaz is expected to accommodate 5,000 members of the III Marine Expeditionary Force who are set to move in over the next five years from Okinawa.
Japan is paying $3 billion to build portions of Camp Blaz, including the officer quarters and the warehouse, under the Defense Policy Review Initiative, an agreement to relocate some Marine Corp aviation assets from Okinawa. The United States is spending another $5.7 billion.
Will Boudra, Guam program management office director for Naval Facilities Engineering Systems Command Pacific Guam, said in the release that with the officer quarters contract, all 18 construction projects in the agreement for fiscal year 2021 have been awarded.
Plans for the bachelor officer quarters call for a housing tower and one-story common area wing. The building is scheduled for completion May 2024.
The warehouse is expected to be completed by 2023.
"This project provides general support warehouse required for storage and administrative space to support the distribution management office, base supply, food services, and general services administrative daily operations," said Grant Nakata, said Naval Facilities Engineering Systems Command Pacific design manager, in the release.
Cadell-Nan, the warehouse builder, already has two contracts worth approximately $304 million to build three of eight planned bachelor enlisted quarters at the base, according to the company's website.
The contract announcements this week cap a series of awards since October.
Chugach Consolidated Solutions LLC, of Anchorage, Alaska, won an $8 million contract Aug. 13 to build a combat training facility, according to a Navy news release.
Core Tech-HDCC-Kajima LLC, of Tamunig, Guam, won two contracts Aug. 5 worth $579.5 million to build the remaining five multistory barracks and a fire station. The company in May received a $45 million contract to build the Blaz medical and dental clinic.
Only 1,300 Marines will be permanently stationed at Camp Blaz, with another 3,700 coming as a rotational force.