Navy awards contracts worth nearly $580 million for Marine barracks, fire station on Guam
by
Alex Wilson
Stars and Stripes
August 11, 2021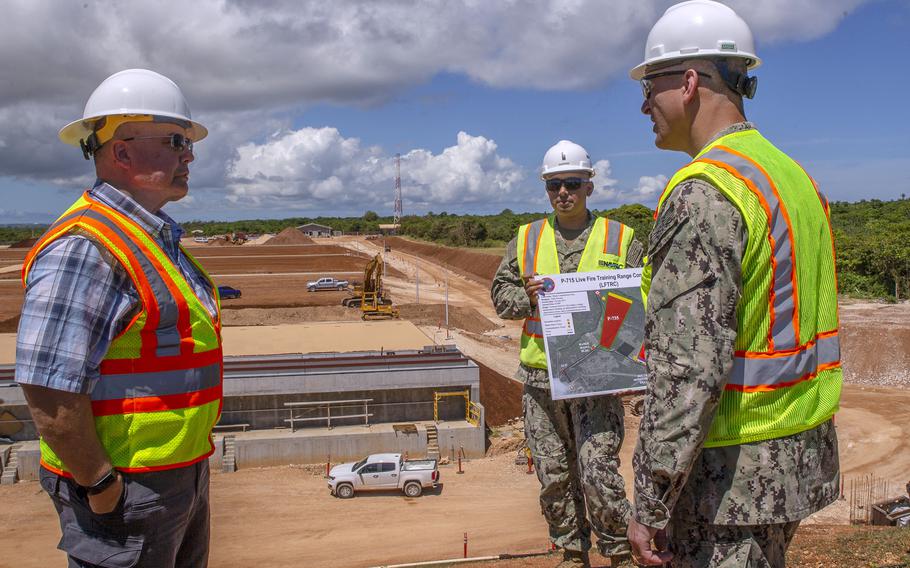 The U.S. Navy awarded two contracts totaling $579.5 million to a Guam-based construction company to build five multistory barracks and a fire station at the new Marine Corps base in Guam.
Core Tech-HDCC-Kajima LLC, of Tamunig, Guam, won the contracts on Aug. 5, according to a news release that day from Naval Facility Engineering Systems Command Pacific.
The government of Japan is paying for the construction as part of an agreement with the United States to relocate some Marine Corp aviation assets from Okinawa.
The first contract is a $546 million, firm fixed-price contract for five multistory bachelor enlisted quarters complexes. The second contract, $33.5 million for the fire station, is also a fixed-price contract.
"It is exciting to see all the progress and extensive efforts being made to ensure efficient, safe and responsible construction," said Camp Blaz' commander, Marine Col. Christopher Bopp, in the release. "I look forward to continuing the buildup while working and collaborating with our joint and regional partners."
The Marines activated Camp Blaz, near Andersen Air Force Base, in October 2020, marking the first new Marine installation to be commissioned since Marine Corps Logistics Base Albany, Ga., was activated in 1952.
The base is expected to accommodate 5,000 members of the III Marine Expeditionary Force who are set to move in over the next five years from Okinawa.
Only 1,300 Marines will be permanently stationed at Camp Blaz, with another 3,700 coming as a rotational force in the same way a Marine Air-Ground Task Force deploys to Australia's Northern Territory to train each summer.
The five barracks are the first of eight planned on Camp Blaz over the next few years. Each barrack includes a six-story tower with 300 rooms, a community core building, an outdoor laundry area and a utility building. Amenities include a small outdoor pavilion, a sand volleyball court, a basketball court and a horseshoe pit.
Rear Adm. John Adametz, commander of Naval Facility Engineering Systems Command Pacific, described the barracks contract as "the largest of the contracts planned for construction of Camp Blaz," according to the release. Construction is expected to be complete by May 2026.
The fire station contract specifies a low rise, reinforced concrete building at Camp Blaz's Naval Support Activity. It will also include information systems to gauge Guam's seismic, typhoon and tropical environmental conditions. Construction is expected to be complete by December 2023.
Brig. Gen. Daniel Conley, commander of Marine Corps Installation Command, described Camp Blaz as a "permanent forward presence in the Indo-Pacific," according to the release. He said Japanese funding of the construction demonstrates both unity between Japan and the U.S. and "shared investment for its future."