Marines may scale up Australia rotation under new defense pact, security expert says
by
Seth Robson
Stars and Stripes
September 17, 2021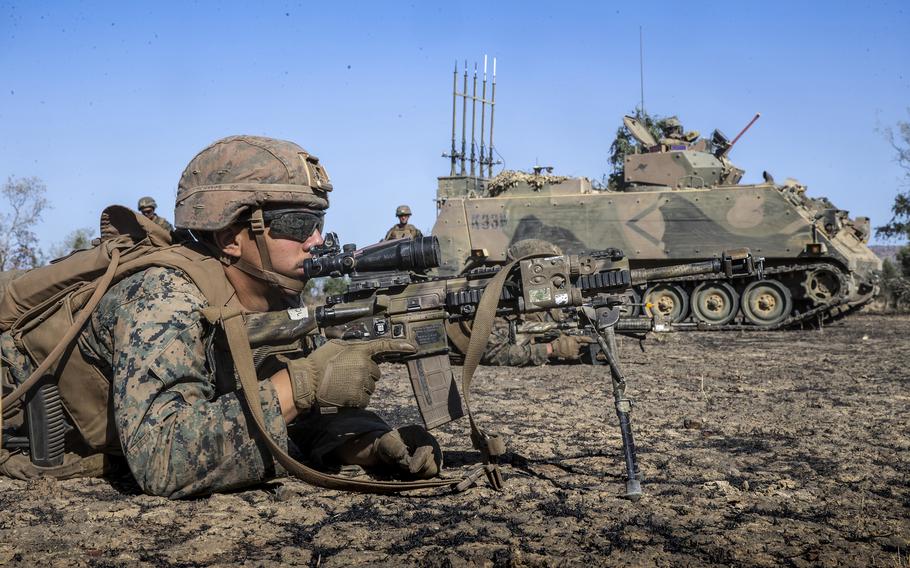 The Marine Corps could boost its presence in northern Australia following an agreement to strengthen defense ties between the United States, Australia and the United Kingdom, according to a former Australian assistant defense secretary.
President Joe Biden, along with Australian and British prime ministers Scott Morrison and Boris Johnson, on Wednesday announced a trilateral defense alliance — AUKUS — that will provide Australia with at least eight nuclear-powered submarines.
The move prompted an angry response from China.
Ministry of Foreign Affairs spokesperson Zhao Lijian said it was "highly irresponsible" for the U.S. and Britain to export nuclear technology, The Associated Press reported Friday.
However, Morrison said Australia wanted to boost peace and stability in the Indo-Pacific region.
"Everything we've done with the United States is consistent with the partnerships and relationships and alliances we've already had with the United States," Morrison told Radio 3AW, according to the AP report.
It doesn't take much for the Chinese to express strong views, and Australia has its own interests, said Ross Babbage, a former Australian assistant defense secretary.
"It's quite normal for nation states to strengthen their defenses and make appropriate investments as their interests require," he told Stars and Stripes in a phone interview Friday.
AUKUS, which officials had been talking about for the past 18 months, is about much more than submarines, Babbage said.
"We are going to see larger U.S. forces coming, including U.S. Army forces and air power coming here on rotation," he said. "It's quite likely the Marine Corps presence could be scaled up."
About 2,200 Marines are heading home this month from Darwin, in Australia's Northern Territory. The Marines arrived there in April for their 10th rotation since 2012 and spent the summer training with the Australian Army.
Darwin is about 1,900 miles from the Spratly Islands, where China has occupied contested territory and built military facilities in the South China Sea. That's 500 miles farther from the islands than Okinawa, where the U.S. has committed to reducing its military presence.
The U.S. Embassy in Canberra and the Australian Defence Department did not respond Friday to questions about the possible effect of the trilateral defense pact on the Marine rotations.
Closer defense ties will mean more cooperation on things such as autonomous systems in the sky, above and below the water, and on cyber and space systems, Babbage said.
Australia is also investing in logistics capability that can support U.S. forces Down Under. For example, the country is building missile manufacturing capability that will be able to rearm U.S. forces in the country, he said.