Army's top civilian defends Russian deterrence program, predicts more US troops could deploy to Europe
By
Stars and Stripes
May 17, 2022
---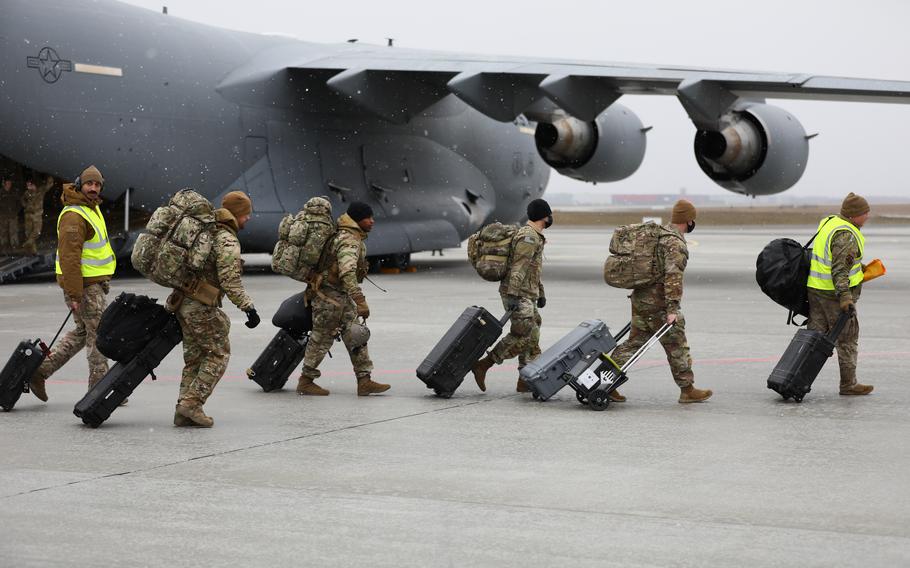 WASHINGTON — The Army's top civilian official on Tuesday defended an eight-year Pentagon program to deter Russian aggression and predicted more U.S. troops could be sent to Europe when the war in Ukraine ends.
Army Secretary Christine Wormuth told House lawmakers that the European Deterrence Initiative might not have stopped Russian President Vladimir Putin from ordering a full-scale invasion of Ukraine in February, but it positioned the U.S. military to respond quickly to it. The program was created in the aftermath of Russia's annexation of Crimea in 2014 to reassure U.S. allies in Europe and boost security on the Continent.
"Given how focused [Putin] seems to be despite the fact that his invasion into Ukraine was clearly a major strategic miscalculation, even as his forces continue to suffer setbacks, I think whether he could've been deterred from going into Ukraine is tough to say," she said during a House Appropriations Committee hearing on the Army's budget. "I think he was just intent on doing that."
Wormuth said the program allowed the Army to spend years investing in the modernization and stockpiling of weaponry in Europe, setting the stage for the rapid delivery of equipment and supplies to Ukraine as well as training.
"The stocks in Europe [were] ready to go," she said. "[Our troops] were able to take it right out of warehouses and go into live-fire training, they were able to do it in less than a week and I think that was very much because of the European Deterrence Initiative."
Rep. Harold Rogers, R-Ky., expressed concern about the ability of the program to counter Putin if he extends his warpath beyond Ukraine, noting the Russian leader's nostalgia for the Soviet Union and deep regret over its collapse.
"We all know that the countries of Europe are shivering, frightened by what's going on in Ukraine," Rogers said. "The European Deterrence Initiative was designed to prevent the kind of thing we're seeing in Europe writ large today."
Congress has poured billions of dollars into the deterrence program since its inception, doling out $6.5 billion for the initiative at its peak in 2019, according to the Congressional Research Service. The Pentagon is seeking $4.2 billion for the program for fiscal year 2023, an increase of $360 million from this year's enacted budget.
Wormuth argued the money has been well spent. She said the Army has infused program funds into infrastructure in NATO countries as well as exercises that demonstrate the alliance's military might.
"All of that I think contributes to showing Putin that the NATO alliance is not something that he wants to tangle with," she said. "I think, frankly, we are seeing today the value of the investments that Congress has supported in the European Deterrence Initiative over the last few years."
The largest chunk of the program's funds is spent on troop presence, particularly Army rotational forces, according to the Congressional Research Service. An armored brigade combat team rotates through Eastern Europe every nine months.
Rep. Steve Womack, R-Ark., asked whether the Army would move to a larger, more permanent footprint on the Continent in the wake of Russia's war in Ukraine.
Wormuth said it was too soon to tell. She said a decision on the nature of future troop presence could come at NATO's summit next month.
"I think it's possible that we would see potentially some rotational deployments over and above what we saw a year ago," she said.
In a separate exchange, Gen. James McConville, the Army's chief of staff, said Tuesday that "having an American soldier on the ground makes a huge difference." He touted the joint training and exercises in which U.S. and Ukrainian troops participated since Russia first invaded eastern Ukraine in 2014.
The Pentagon bolstered the number of U.S. troops in Europe from 80,000 to 100,000 this year in response to continued Russian aggression and announced plans last week to begin replacing 10,700 troops with new personnel in the coming months. U.S. military presence on the Continent is now the largest in nearly two decades, according to U.S. European Command.
---
---
---
---