Body of missing Texas National Guard soldier recovered
By
Stars and Stripes
April 25, 2022
---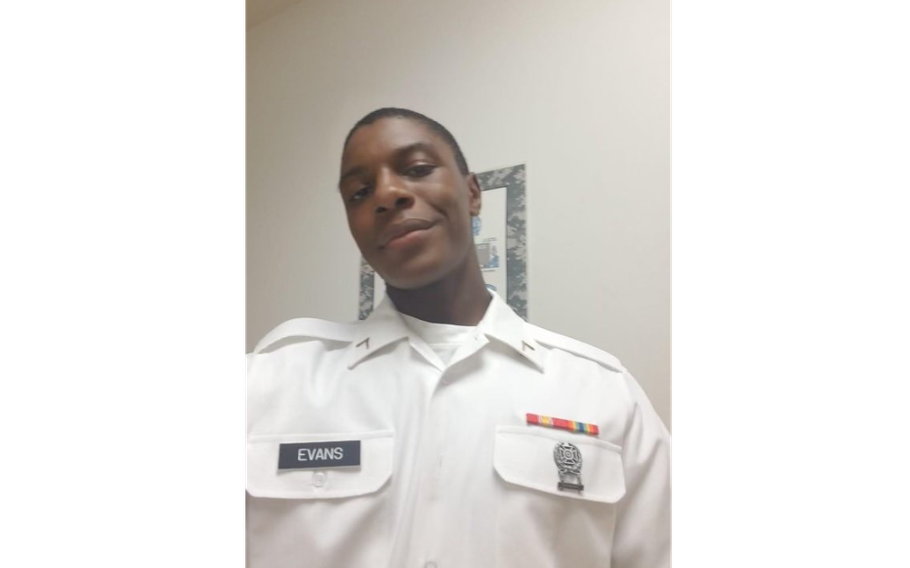 AUSTIN, Texas — The body of Spc. Bishop E. Evans was found Monday, three days after the Texas National Guard soldier jumped into the Rio Grande to rescue two migrants trying to cross from Mexico into the Texas city of Eagle Pass, the state's military department reported.
"We are devastated by the loss of a member of our Guard family," Maj. Gen. Thomas Suelzer, adjutant general for Texas, said in a statement. "We recognize the selflessness of this heroic soldier who put his life above others in service to our state and national security."
Evans, a 22-year-old from Arlington, took off his uniform jacket and radio before going into the water at about 8:30 a.m. Friday, Maverick County Sheriff Tom Schmerber told The Associated Press.
The Texas Military Department did not say where Evans' body was found or when. The Texas Rangers, part of the Department of Public Safety, have taken the lead on the investigation into the incident.
Evans was on duty Friday along the river as part of a state-sponsored border security mission known as Operation Lone Star. About 10,000 troops are assigned to the mission, with about 6,500 of those working positions along the state's border with Mexico, Texas National Guard officials have said.
Gov. Greg Abbott, who began the border mission one year ago, said he was heartbroken of the news of Evans' death.
"Our National Guard soldiers risk their lives every day to serve and protect others and we are eternally grateful for the way Spc. Evans heroically served his state and country," he said in a statement.
Evans was a field artilleryman assigned to Alpha Battery, 4th Battalion of the 133rd Field Artillery Regiment based in New Braunfels. Evans enlisted in the National Guard in May 2019.
Outside of his assignment to Operation Lone Star, Evans deployed to Operation Spartan Shield in Kuwait.
"During this mobilization, his dedication, talents and tactical prowess led his leadership to regularly assign him to operations in Iraq in support of special operations forces for short periods of time, while then rotating back into Kuwait," Guard officials said.
Since Friday, multiple agencies have participated in the search for Evans, including the Texas Military Department, Texas Department of Public Safety, Texas Parks and Wildlife and the U.S. Border Patrol. Dive teams temporarily had to stop their efforts Saturday evening because the current of the Rio Grande increased and made operations unsafe.
Schmerber, a former U.S. Border Patrol officer, told the AP that this was the first incident that he could recall where a Guard member entered the water to rescue someone. He estimated the portion of the river where Evans jumped in was roughly 70 to 80 yards wide.
---
---
---
---