Texas governor orders National Guard to expand border protections for fear of mass migration next month
By
Stars and Stripes
April 6, 2022
---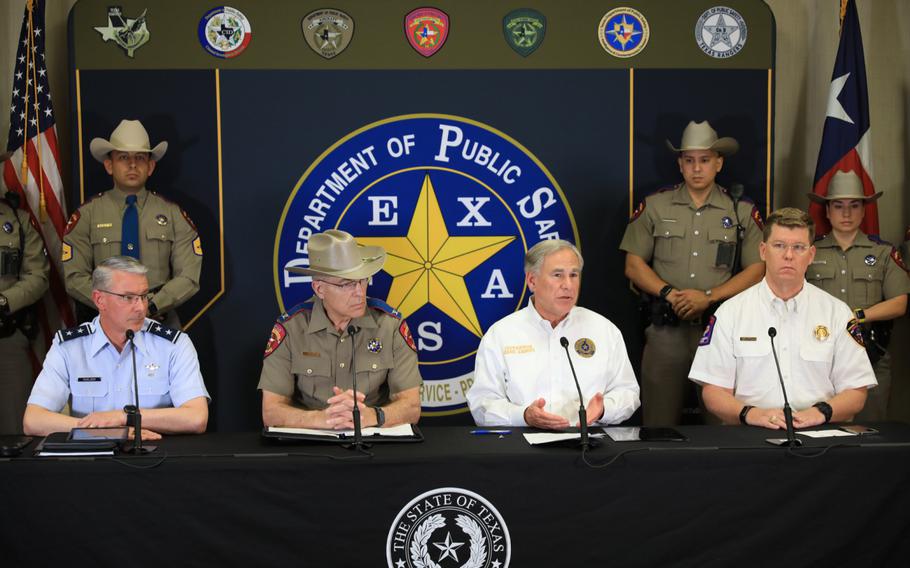 Texas Gov. Greg Abbott on Wednesday ordered the state's National Guard to begin building mass detention areas along the border with Mexico and form boat blockades in the Rio Grande out of concern that changing federal policies will increase illegal crossings into Texas.
"Texas will be taking its own unprecedented actions this month to do what no state in the America has ever done in the history of this country to better secure our state, as well as our nation," Abbott said during a news conference from the border town Weslaco.
The new measures are part of several additions that Abbott announced for his border security mission, known as Operation Lone Star, that will also order other state agencies to search commercial vehicles crossing into Texas from Mexico and charter buses to deliver legally processed migrants who volunteer for the trip to the steps of the U.S. Capitol.
Abbott said the actions are in response to President Joe Biden's decision to end a pandemic-driven border policy known as Title 42. The public health policy allowed federal Border Patrol agents to send migrants back across the border quickly because of concerns they would spread coronavirus.
The policy is scheduled to end May 23, and Abbott said the federal government is preparing for up to 18,000 illegal immigrants crossing per day.
Newly appointed Maj. Gen. Thomas Suelzer, commander of the Texas Military Department, joined Abbott during his announcement.
The day before, Suelzer told state senators that he was looking at how to use boats and contractors to lower the cost of the mission and reduce the number of troops deployed at the border. He said it would be Texas National Guard engineers, not contractors, building detainment areas out of coiled barbed wire capable of holding large groups of people.
Troops also will partner with Texas Department of Public Safety and Parks and Wildlife to "form a boat blockade" on the Rio Grande meant to keep people from crossing the water from Mexico into the state.
"Lastly, our civil disturbance capabilities will be in full force to have a nonlethal means of blocking people from entering the state," Suelzer said. "So if you're a caravan organizer, and you think you're going to overwhelm … a port of entry, we'll be there waiting for you."
Areas that can expect to see this activity include the Rio Grande Valley, Eagle Pass, Del Rio, Laredo and Zapata, he said.
There are about 10,000 troops deployed for the mission with about 6,500 working in areas along the Rio Grande. The remaining troops work to support the mission from elsewhere in the state. At the border, service members work alongside the DPS personnel to stop criminal activity between the ports of entry.
State and federal lawmakers, as well as human rights organizations, have called for reviews of Operation Lone Star, questioning the constitutionality of the state conducting immigration enforcement, the treatment of the National Guard troops and protection of the legal rights of those arrested as part of the mission.
Suelzer took command of the state's Guard three weeks ago and told lawmakers the mission "can be more effective and efficient," while also saying he would need $531 million to fund the operation to Aug. 31, the end of the fiscal year in Texas. Otherwise, the Texas Military Department will run out of money for its mission at the border by May 1.
Suelzer said how much money he would need to continue Operation Lone Star beyond the fiscal year would depend on how migration patterns shift with the end of Title 42.
Despite the increased measures, Abbott said none of it would require additional funding.
Border Patrol has said about one-third of people found crossing illegally between ports of entry are repeat offenders and were expelled under Title 42. When it lifts, Homeland Security Secretary Alejandro Mayorkas said last week that his agencies will process individuals through its standard procedures, as it did before the coronavirus pandemic.
"Let me be clear, those unable to establish a legal basis to remain in the United States will be removed," he said in a statement. "We have put in place a comprehensive, whole-of-government strategy to manage any potential increase in the number of migrants encountered at our border."
That includes increasing capacity to process new arrivals, evaluate asylum requests and quickly remove those who do not qualify for protection. More than 600 law enforcement officers were redeployed across the southwest U.S. border, Mayorkas said.
Suelzer said Guard troops on Thursday will begin to conduct "mass migration response rehearsals" at five locations, which are meant to train troops on managing large groups of migrants crossing in the U.S. at one time. He did not name the locations of these exercises.
---
---
---
---