'America is power': US Army hosts African military officials at Fort Benning to build relationships amid power competition
By
Stars and Stripes
April 13, 2022
---
FORT BENNING, Ga. — Dozens of military leaders clad in varying shades and patterns of camouflage fatigues watched intently from the metal, sun-scorched grandstands that line the front of Fort Benning's Red Cloud Range as American soldiers spread out before them, unleashing firepower on distant targets.
As soldiers with the Army post's 316th Cavalry Brigade demonstrated the use of some of the U.S. military's heaviest land-based weapons, these military officials — among them top land forces generals from some 40 African nations — raised their camera phones and traded impressed glances. The American soldiers fired off mortars, anti-tank weapons and M4 rifles from ground positions, and they shot machine guns and guided missiles from armored Stryker and Bradley infantry vehicles.
But the biggest bangs were saved for last.
After some 15 minutes of shooting, a pair of M1A2 Abrams Main Battle Tanks raced onto the range. Without slowing, the first tank — dubbed "Death Trap" — unleashed its 120mm smoothbore cannon just yards in front of the spectators, sending a shockwave through the crowd. Battle-hardened commanders who have spent years fighting terrorists and other forces across Africa smiled, clapping occasionally, as the American tanks blasted round after round hundreds of yards into old military vehicles and tanks scattered across the range.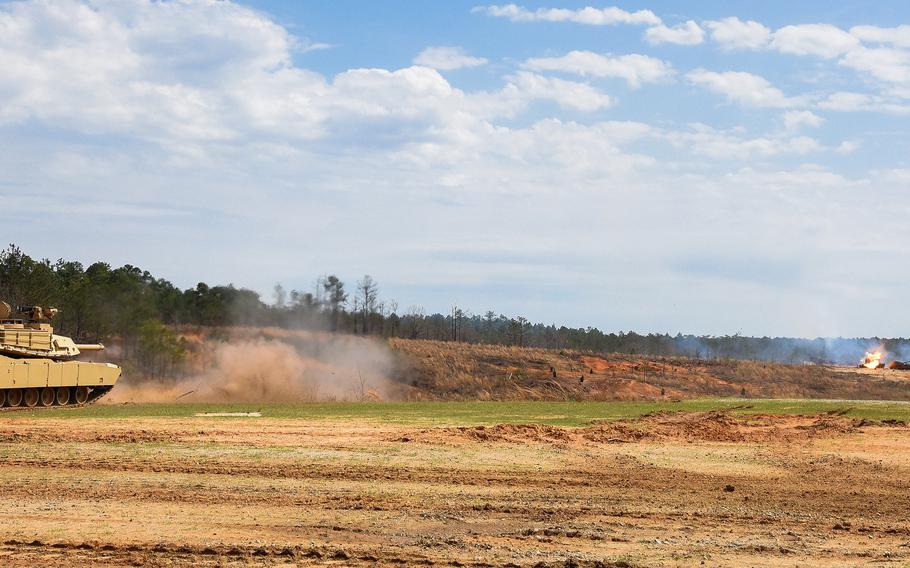 This combined-arms, live-fire demonstration launched last month at the U.S. Army's African Land Forces Summit displayed American military might for these key leaders of African armies — many of whom have long worked with U.S. forces and others with whom American generals aim to strengthen ties.
The display was partly to convince these allied and potential partnering militaries to work with the United States over rivals such as Russia and China — both of which have sought to expand influence through economic, military and others means across Africa in recent years. But the U.S. Army also spent the March 21 to 25 summit preaching its top values: Civilian control of the military, respect for the laws of armed conflict and human rights, and building a resilient military force centered on empowered noncommissioned officers.
The U.S. Army's power is not in its weapons systems, including the impressive M1 tank, top service officials hosting the summit said. U.S. Army Maj. Gen. Patrick Donahoe, the longtime armor officer who leads Fort Benning's Maneuver Center of Excellence, said instead its "secret sauce" is those highly trained NCOs who are empowered to make critical decisions on the battlefield.
"So, when you talk to a lot of these international senior leaders — yes, they are attracted to the shiny objects, the weapons, the tanks, the Bradleys, right?" said Donahoe, who is in charge of the Army's infantry and armor training courses and its Airborne and Ranger schools, among other key combat education courses. "But they're absolutely fascinated by how we train our noncommissioned officers, and that's where they end up focusing on 'how do you get that done?'"
That's why for the first time in the African Land Forces Summit's decadelong history, Army officials elected to bring African leaders to the United States to learn directly from American soldiers. The summit has been held traditionally in an African nation and co-hosted by the United States. It is planned and run each year by the U.S. Army's contingent responsible for operations in Africa, the U.S. Army Southern European Task Force-Africa, or SETAF.
"This is where we create our combat forces," said Army Gen. James McConville, the service's chief of staff who visited the summit May 22. "There's tremendous capability here to show our allies and partners what is the best way to train soldiers and what we do here, which is really investing in the future of our Army."
The summit
Throughout the weeklong summit, U.S. soldiers conducted airborne operations, demonstrated the capabilities of the Army's newest training tool — its Security Forces Assistance Brigades, and showed the skills required to earn the coveted Ranger Tab. The African leaders participated in seminars to teach the tenets of U.S. Army values and capabilities and in smaller group discussions aimed at specific security challenges faced across Africa.
"We want to demonstrate to African leaders that the U.S. is committed to their long-term success," said Army Maj. Gen. Andrew Rohling, the SETAF commander, who is based in Vicenza, Italy.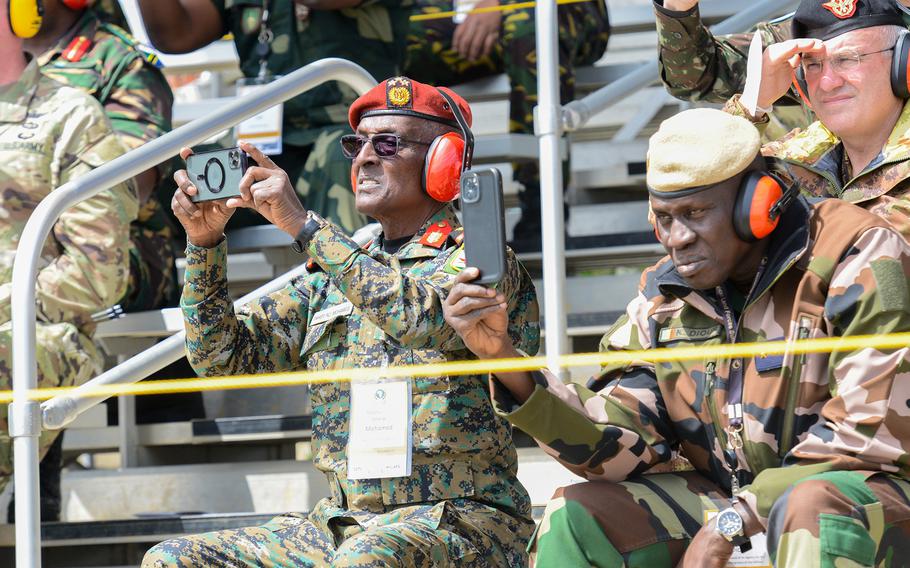 Rohling has commanded the Army's Africa-focused forces for nearly two years during a period marked by the global coronavirus pandemic and an increase in Russian and Chinese operations across the continent. The Chinese have largely focused their influence efforts in Africa on economic initiatives, including so-called vaccine diplomacy and debt-inducing infrastructure programs, while Russia has dramatically increased its presence with mercenary fighters in several African nations, U.S. officials have said in recent months.
But with the uptick in those competitors' activities, Rohling said discussions with his African counterparts rarely venture into those activities. Instead, he and his subordinates focus on providing them what they believe to be the best possible package to strengthen security ties.
"The countries are typically going to do what they believe is in their best interest," he said. "Now what you're seeing here over the course of our time at Fort Benning this week is, through key leader engagements … [determining] how we help move forward strategic access and influence here in Africa."
Throughout the week, Rohling said the request that he heard most often from African officers was for U.S. military presence in their countries. He said he especially expected to field upticks in requests for Security Force Assistance Brigade soldiers across the continent.
SFAB
The Army created five Security Force Assistance Brigades, beginning in 2017, with an eye toward providing a force of specially trained adviser-soldiers to partner with allied militaries. The units were the brainchild of then-Army Chief of Staff Mark Milley, who is now the chairman of the Joint Chiefs of Staff.
The SFABs initially rotated through Afghanistan to train Afghan security forces, but they have since been regionally aligned to provide small units of trainers to countries in their area of operations. For the 2nd Security Force Assistance Brigade, based at Fort Bragg, N.C., they have been responsible for operations in Africa since October 2020.
The unit has operated in several countries since then — including Djibouti, Kenya, Somalia, Morocco, Tunisia and Senegal — and plans to expand its footprint in the coming months, said Col. Michael Sullivan, the unit's commander. He said his interactions last month at the African Land Forces Summit were already generating a lot of new interest from other nations.
"There's been several nations coming up and going, 'OK, now that I understand exactly what you guys do, we would love you to help build capability, capacity and cohesion in our military, share best practices,'" Sullivan said, emphasizing his soldiers also learn from the armies with which they partner. "That's part of it. We get just as much out of the deployments, I think, as our partners do in terms of building those relationships and seeing how they do business."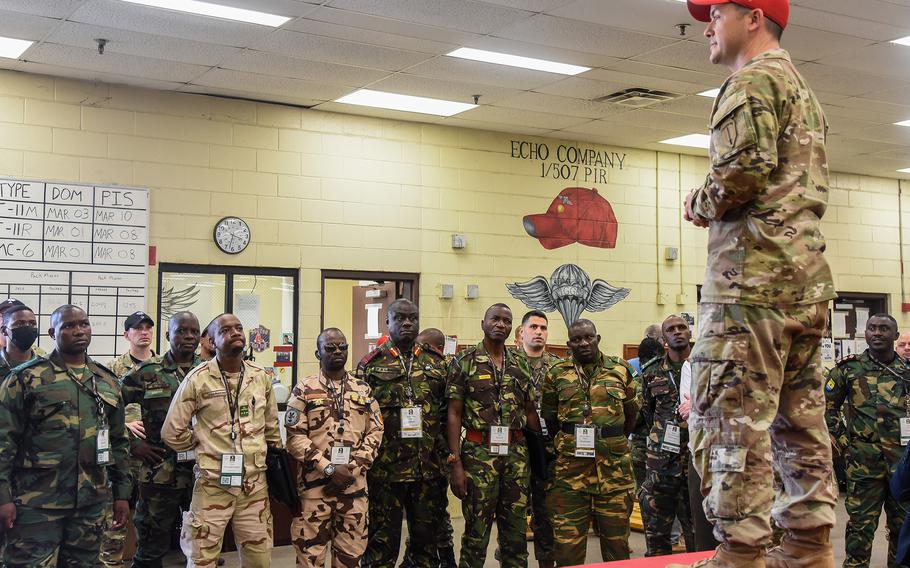 African officials have been especially interested in how the SFAB does austere and battlefield medical response, logistics, intelligence among other critical capabilities. And while Sullivan said Russian and Chinese activities in Africa — including in some of the nations where his soldiers operate — do not impact his mission, he believes the quality of his brigade's product speaks volumes to African military leaders.
"We're there to provide the best quality adviser, coach, mentor, partner that any nation could ask for," he said. "We can provide the best training, we're unintrusive — small teams of experts — and we're not asking for anything in return. So ideally, we hope to become the partner of choice for their training and capability needs and that results in more work for the SFAB, and if that means it's less work for our competitors, that's a great secondary effect."
American power
For many of the African officials, the summit marked a first-time visit to the United States, while for others it was somewhat of a homecoming. Maj. Gen. Chikunkha Harrison Soko, the land forces commander for Malawi, is no stranger to Fort Benning or working closely with the American military.
Soko, who studied at the U.S. Military Academy at West Point, N.Y., is a graduate of Fort Benning's Airborne School and Ranger School. He is also a top proponent to his African counterparts of the merits of working with U.S. forces instead of others. The general said Malawi has continued to send young officers to train in the United States, and he would always accept more U.S. troops operating in his country.
"I am biased, as I spent my youth training here in America," he said. "But look, America is power in the world. I can see from [the summit's live-fire] displays for some of these [other African military leaders], they see that display of power, and maybe now they will be looking more towards America. And, again I am biased, but I think that's a positive thing."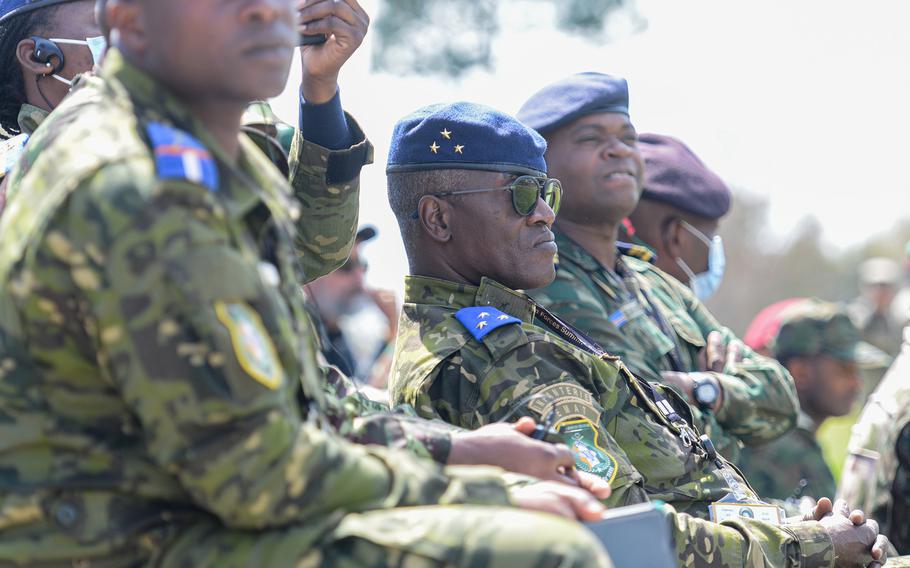 Other African generals agreed.
Maj. Gen. Thomas Oppong-Peprah, the chief of staff of Ghana's Army, said he had been awed by the work of SFAB soldiers in his country. Brig. Gen. Venuste Nduwayo, Burundi's land forces commander, said he had been impressed by American troops who he worked with in Somalia when he was a commander with AMISOM, a peacekeeping force known as the African Union Mission in Somalia.
"At that time, I had some advisers from the U.S. Army — it was not easy, this operation in AMISOM, but having advisers from the [U.S. Army] — in logistics for example … helped us succeed," Nduwayo said.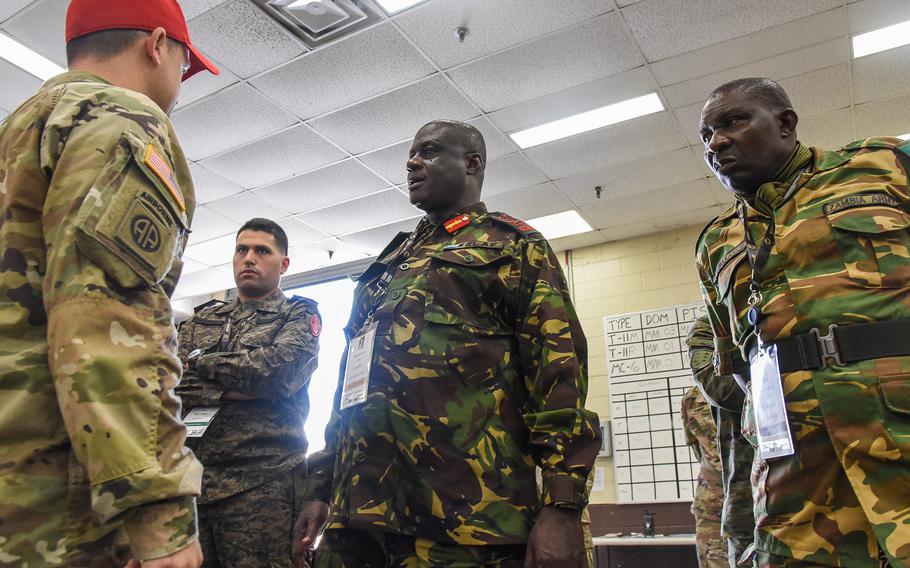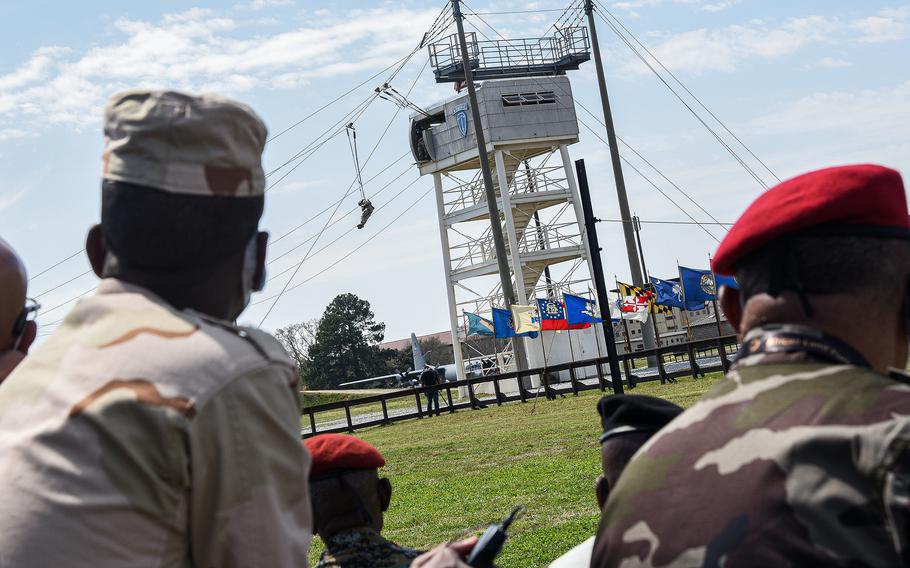 McConville, the U.S. Army's top general, said he hoped more African nations would see that value as a result of the summit.
"Many of the leaders [in Africa] are starting to believe in [American] types of values and where we're going," he said. "I think that's what we're trying to do here — shore up those partnership with like-minded nations and show them the benefits of our training and our partnerships. And, for those who don't share the same values and interests — they're not going to get those benefits of working with us."
---
---
---
---