Army CID increases reward to $50,000 for missing Fort Bliss soldier
By
Stars and Stripes
February 9, 2022
---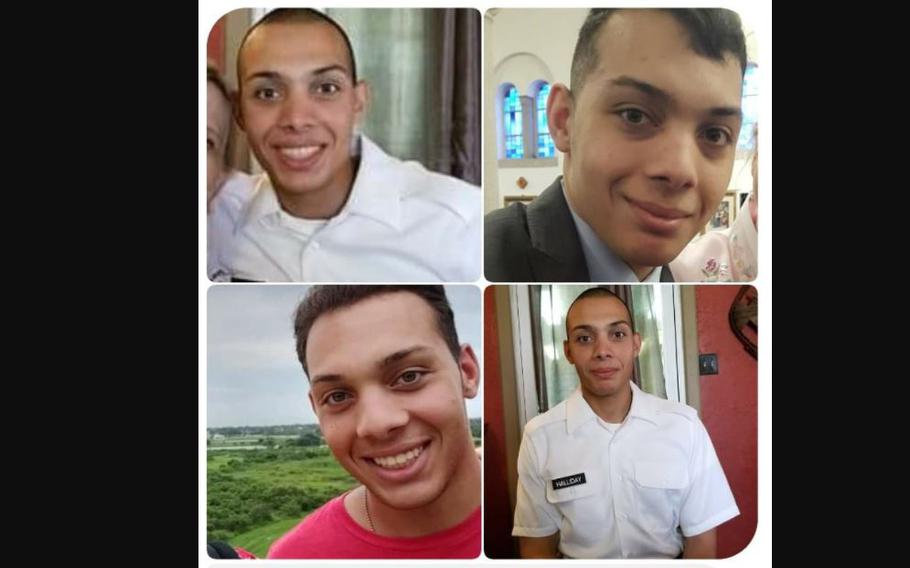 The Army Criminal Investigation Division is now offering $50,000 for anyone with credible information in the search for Pvt. Richard Halliday, a Fort Bliss, Texas, soldier who went missing more than 18 months ago.
Army officials announced Wednesday that they decided to double the reward money, which was first introduced in September 2020, because investigators hope to stimulate public awareness and generate tips and potential new leads, according to the agency.
"We want to find Private Halliday and bring him home to his family," said Special Agent Marlon Soto, the resident agent-in-charge of the Fort Bliss CID Office. "We continue to ask for the public's assistance in providing any credible information that might lead to finding Private Halliday."
Halliday, a 22-year-old white man, was last seen July 23, 2020, according to CID. At that time, he was assigned to the 1st Battalion, 43rd Air Defense Artillery Regiment of the 11th Air Defense Artillery Brigade at Fort Bliss.
Since then, Army officials said they have conducted more than 240 interviews and issued 71 subpoenas and six search warrants on financial institutions, emails, telephone numbers and social media accounts associated with Halliday.
He is a dual citizen of the United States and Ireland, and he has a passport from both countries, CID officials said. However, his Irish passport expired in May 2020 and there's been no attempt to renew it.
The Halliday family said in a statement that they are grateful Army officials decided to increase the reward for information.
"It gives Richard value and makes him important. It shows that the Army has a good intention of finding Richard," the soldier's mother Patricia Halliday said in a video posted to Facebook.
Deciding when to increase a reward varies by case, said Jeffrey Castro, spokesman for CID.
"There is not a simple one-size-fits-all approach to investigations," he said. "As mentioned before, we hope the reward stimulates public awareness of the investigation and generates potential new tips and leads."
The CID said anyone with information is encouraged to call the Fort Bliss CID office at 915-568-1700, the Fort Bliss military police at 915-744-1237 or anonymously submit information at https://www.cid.army.mil/report-a-crime.html.
---
---
---
---