Family, Army offering rewards for information on missing Fort Bliss soldier
By
Stars and Stripes
September 28, 2020
---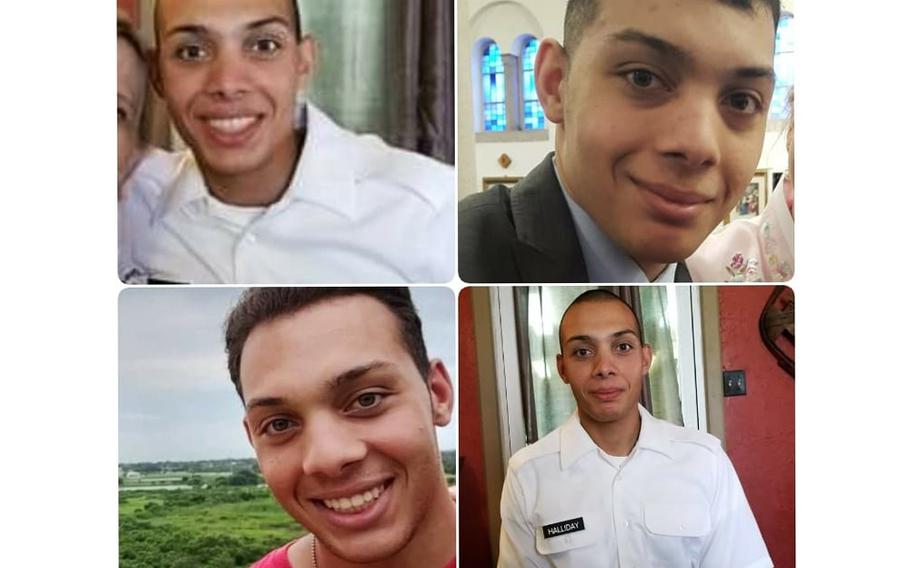 AUSTIN, Texas – Up to $36,000 could be available to anyone with information regarding Pvt. Richard Halliday, a soldier missing from Fort Bliss since July 23.
Army Criminal Investigation Command, known as CID, announced a $25,000 reward as Halliday's parents also offered $11,000, according to information released Saturday from the west Texas Army base.
The search for 21-year-old Halliday has escalated during the past month with Army criminal investigators from CID taking over the case Sept. 1. Previously, officials for the Fort Bliss Directorate of Emergency Services were the lead investigators, according to CID officials.
To date, there is no indication of foul play or any specific suspicious circumstances surrounding his disappearance, Army investigators have said.
Fort Bliss also released a video Saturday with Halliday's parents speaking alongside Brig. Gen. David Stewart, commander of the 32nd Army Air Missile Defense Command, which is Halliday's unit.
"We are working with the Army to find any information and to get the word out so that we can find our son," Patricia Halliday said in the video. "He's missing and we miss him, and we want him back. Richard, if you're listening, come home. We miss you and we love you. And we will have your back."
Patricia Halliday said earlier this month that she didn't even know her son was missing until her husband Rob, an Army veteran, called the unit in late August because they had not heard from him in a month. Since then, the couple has been advocating for more resources to find Halliday.
After Halliday did not report to his place of duty on July 24, search efforts were conducted during the next two days at Fort Bliss within unit areas, barracks, on base and at all access points, according to base officials. Unit commanders tried to contact Halliday's family at the time with no results. Commanders also contacted local law enforcement and hospitals.
"These were all measures in excess of standard Army AWOL procedures," according to Fort Bliss.
Originally, it was believed Halliday was last seen July 24, though witness testimony proved to be false, base officials said last week.
"Fort Bliss took immediate action and widened the geographic area of the search area due to this new information. It was now plausible to look to other areas that he may have frequented," according to the base statement.
Since then, public efforts from base officials and CID agents to find Halliday have increased and Saturday's news release included a list of investigative activities conducted since late July.
An "in-depth forensic search" of Halliday's barracks room did not reveal any signs of foul play or suspicious activity, according to CID. Agents have participated in searches of more than 80 barracks rooms, as well as interviewed homeowners and conducted searches of numerous homes in the local community in conjunction with local law enforcement.
Agents and local law enforcement have interviewed dozens of military personnel, as well as Halliday's friends and family.
Dozens of CID special agents along with military police and emergency services personnel have participated in a search of an about six-square-mile radius using Halliday's unit as the center point. The search included sinkholes, water drainages, water sewage systems, water canals, railroad tracks (on and off-post) and associated buildings. Agents also searched homeless areas in the nearby areas as well as in downtown El Paso.
Off-post searches included multiple locations identified through data from a cellphone registered to Halliday.
Last week, agents joined soldiers and volunteers in searching about 20 miles of trails in the Franklin Mountain State Park and Indian Peak Trail near Fort Bliss because Halliday was known to enjoy camping and hiking. Army aircraft also assisted in that search.
"We take this very seriously and a host of other investigative techniques have been employed in the search for Pvt. Halliday and we will continue to investigate until we determine what happened to this soldier," CID spokesman Chris Grey said in a statement. "If anyone has any information, we ask you to come forward and share it with us."
Fort Bliss is situated near the city of El Paso along the U.S. border with Mexico. It is the most western city in Texas where the state meets New Mexico. Officials believe he is still in that area, Rob Halliday said in the video.
The soldier's parents also announced they plan to have five rallies to raise awareness of Halliday's disappearance. Two occurred during the weekend and a third was scheduled for Monday afternoon at the base's Fred Wilson Gate, according to a Facebook page dedicated to finding Halliday.
Halliday is a white man, 5 feet, 9 inches tall, and weighs 162 pounds, according to CID. He has black hair and hazel eyes. He was last seen July 23 after departing his on-post barracks room wearing gray or turquoise cargo shorts, a gray T-shirt, a charcoal gray zip-up hoodie, and dark gray running shoes with red, yellow, and white paint stains.
"Richard, please call home," Rob Halliday said in closing the video. "We can't wait to see you again. We are getting the word out with the United States Army as one team to bring you back home. Please reach out to us."
Anyone with information can contact the Fort Bliss CID office at 915-568-1700, the Fort Bliss military police at 915-744-1237 or contact their local police department. People can also anonymously submit information at https://www.cid.army.mil/report-a-crime.html. People wishing to remain anonymous will be honored to the degree allowable under the law and the information will be held in the strictest confidence allowable, according to CID.
Thayer.rose@stripes.com Twitter: @Rose_Lori
---
---
---
---