Woman gets 18 years in prison for killing US soldier's 3-year-old son in South Korea
by
David Choi
Stars and Stripes
January 14, 2022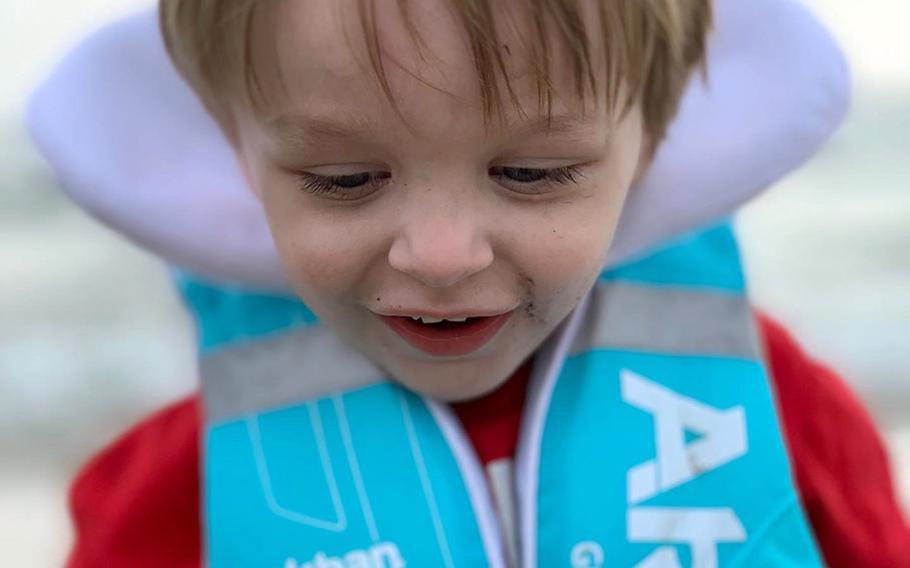 PYEONGTAEK, South Korea – A woman accused in the September killing of a U.S. soldier's 3-year-old son was convicted Friday by a South Korean court and sentenced to 18 years in prison.
Jamaica Eblacas, 30, was found guilty of killing the boy, Noa Calhoun, the son of Army Pvt. James and Kourtney Calhoun, by a three-judge panel at the Pyeongtaek Branch of the Suwon District Court.
Neither James nor Kourtney Calhoun appeared in court on Friday.
Eblacas admitted during a November court appearance to killing the child. She was charged with murder in conjunction with child abuse, which carries a minimum of three years in prison and a maximum penalty of death under South Korean law. Prosecutors had recommended a 30-year sentence.
Eblacas' actions were "serious and cruel," Chief Judge Kim Seyong said during the sentencing.
"She does not seem to have been reflecting on herself sincerely," Kim said, referring to previous court appearances in which Eblacas failed to respond to questions from the bench or the prosecutor.
The court also banned Eblacas from working for any child-services organization for 10 years after serving her sentence.
James Calhoun, a former 2nd Infantry Division soldier stationed at Camp Humphreys, knew Eblacas, a Filipina bartender, through a mutual acquaintance, he told Stars and Stripes in December.
Calhoun left Noa and his 7-year-old brother in Eblacas' care while he hung out with friends the night of Sept. 5, he said in December. He said he expected to pick them up the following morning.
Instead, police responding to a disturbance call the following morning discovered Noa's body, bruised and lacerated, in a home near Eblacas' workplace, a short walk from Camp Humphreys' main gate.
In sentencing Eblacas, the court considered that she may have been mentally "unfit" at the time of the killing, the judge said. Eblacas' statements during her previous court appearances were mostly incomprehensible, according to her court translator.
Eblacas' defense attorney, Jung Wang Jae, argued that she displayed symptoms of schizophrenia during a previous marriage and spoke of casting out "evil spirits" while in police custody after the killing.
"I hope the court takes it into consideration that … the defendant's religious issue has mixed with the defendant's psychiatric issue," Jung told the court Dec. 22. "Even if the defendant was not mentally defective, it was a situation that the defendant was at least mentally weak at the time."
Jung said Eblacas did not cooperate with him and refused a psychiatric exam. Following the hearing, he told Stars and Stripes the sentence was "appropriate" but that he planned to file an appeal.
---
---
---
---