Woman implicated in death of US soldier's son in South Korea faces 30 years in prison
by
David Choi
Stars and Stripes
December 23, 2021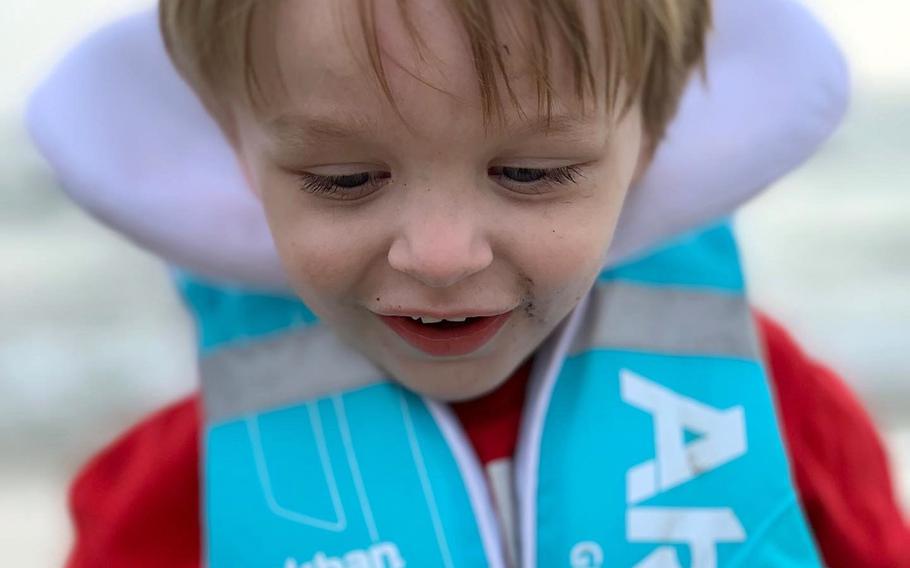 PYEONGTAEK, South Korea — South Korean prosecutors recommended a 30-year prison sentence for the woman accused of killing a U.S. soldier's 3-year-old boy left in her care in September.
Jamaica Eblacas, 30, displayed a "weak-willed repentance" for the death of Noa Calhoun, the son of Army Pvt. James and Kourtney Calhoun, prosecutor Kim Jin-kyu told a three-judge panel at Suwon District Court on Wednesday. Eblacas was back in the Pyeongtaek branch court Wednesday to continue a sentencing hearing begun earlier this month.
James Calhoun, a 2nd Infantry Division soldier stationed at Camp Humphreys, was introduced to Eblacas, a Filipina bartender, by a mutual acquaintance, he told Stars and Stripes on Dec. 7. Calhoun said he left Noa and his 7-year old brother in Eblacas' care before hanging out with friends the night of Sept. 5. He said he expected to pick them up the following morning.
Police responded to a disturbance call in the morning and discovered the child's bruised body in a home near Eblacas' workplace.
Eblacas admitted during her Nov. 5 arraignment to killing Noa Calhoun. She is charged with murder in conjunction with child abuse, which carries in South Korea a minimum three years in prison and a maximum penalty of death.
Kim in his closing remarks said Eblacas exhibited "a very poor attitude" during the proceedings.
Eblacas did not answer most questions from the court throughout her previous appearances. She was warned earlier this month by Chief Judge Kim Seyong that there would be "issues" if she continued to be unresponsive.
Eblacas' responses in court Wednesday were mostly incomprehensible, according to her court translator.
"I'm easily angered," Eblacas said in her closing remarks.
Eblacas' defense attorney, Jung Wang Jae, asked the court for a "reasonable punishment" and apologized "to the bereaved family" on behalf of his client.
Jung argued that Eblacas did not kill Noa Calhoun out of anger but exhibited "abnormal behavior" after being influenced by a fringe religious sect in South Korea.
He referred to a statement Eblacas' gave police after the killing in which she referenced "evil spirits," and said she previously displayed schizophrenia-like symptoms during a previous marriage.
"I hope the court takes it into consideration that … the defendant's religious issue has mixed with the defendant's psychiatric issue," Jung told the court. "Even if the defendant was not mentally defective, it was a situation that the defendant was at least mentally weak at the time."
Eblacas was a "good speaker" immediately after her arrest but her cognitive ability declined, Jung told Stars and Stripes in an interview Thursday.
"She was not like that when I met her for the first time, when she was under arrest," Jung said, adding that Eblacas was "answerless" when asked if she would take a psychiatrist evaluation.
Jung said a prison sentence of over 10 years would be an "extremely heavy punishment" for Eblacas. She is expected back in Suwon District Court in January for sentencing.
Stars and Stripes reporter Yoo Kyong Chang contributed to this report.
---
---
---
---