US Army Japan reports 12 new coronavirus cases as Tokyo's numbers continue to fall
by
Joseph Ditzler
Stars and Stripes
September 22, 2021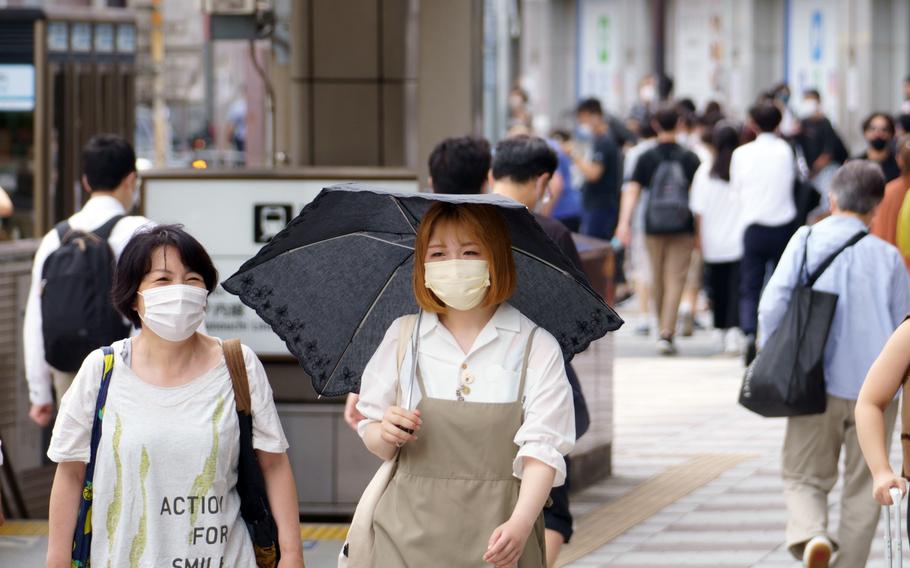 TOKYO – The fifth wave of COVID-19 in Japan's capital city subsided Wednesday to levels not seen since July.
Tokyo reported 537 newly infected people, 515 fewer than one week prior, according to public broadcaster NHK and metropolitan government data online. The city has confirmed fewer than 1,000 new infections for seven consecutive days, according to metro data.
The most recent coronavirus surge in Tokyo, which began in July and continued through the Tokyo Olympics and Paralympics, peaked at 5,773 new cases on Aug. 13. The previous daily record stood at 2,520 on Jan. 7
Tokyo, with an estimated population of 13.4 million, has reported more than 373,000 COVID-19 cases during the pandemic, and more than 2,800 deaths, according to metro data.
Also Wednesday, U.S. Army Japan reported 12 new coronavirus cases since Sept. 15. Eleven are close contacts of another infected person and one tested positive prior to travel outside of Japan, according to an Army news release Wednesday.
At Yokota Air Base in western Tokyo, the principal at Joan K. Mendel Elementary School notified families and staff Wednesday that someone at the school had tested positive for the coronavirus respiratory disease.
The letter from principal Justin Treisch did not indicate that the school would close temporarily or that a class or classes would be canceled. He wrote that contact tracing had been complete and families of individuals who were potential close contacts were notified.
"If you are not contacted by public health officials, your student is not considered to be a close contact," Treisch wrote.
Okinawa prefecture, where the bulk of U.S. troops are stationed in Japan, reported 162 new infections, according to the prefectural Department of Public Health and Medical Care.
More than half of Japan's population, 54.5%, or 69 million people, are fully vaccinated, according to the Johns Hopkins Coronavirus Resource Center. Japan reported 1,761 new cases of COVID-19 on Tuesday, and 47 deaths.
Stars and Stripes reporter Mari Higa contributed to this report.