New general takes command of Fort Hood's 1st Cavalry Division after investigation clears former commander
by
Rose L. Thayer
Stars and Stripes
July 21, 2021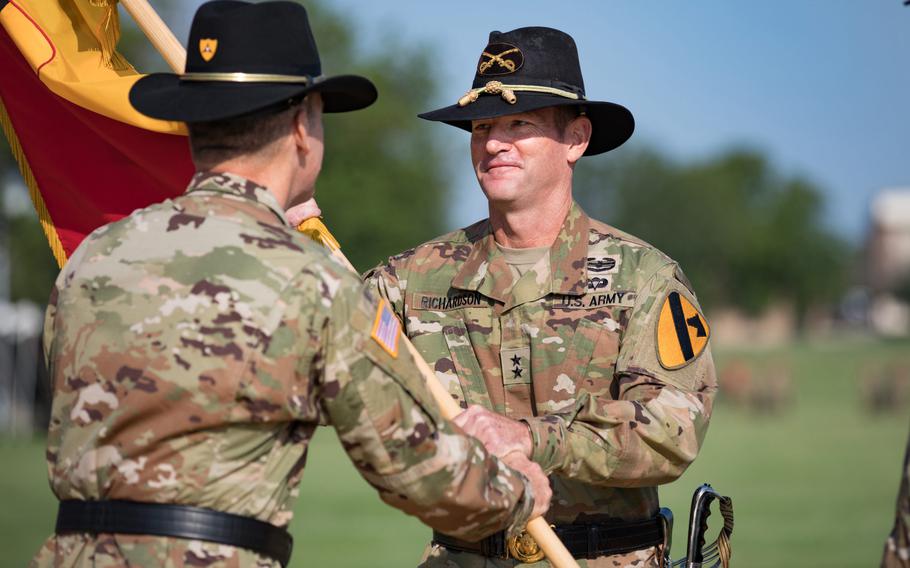 Maj. Gen. John B. Richardson assumed command of the 1st Cavalry Division in a ceremony Wednesday morning, seven months after the previous commander of Fort Hood's largest combat unit was suspended in the wake of a soldier's death that sparked several investigations into the Texas base.
Former commander Maj. Gen. Jeffery Broadwater will not face any disciplinary action following an internal investigation into the division's climate and culture and will move on to serve as the deputy commander of V Corps at Fort Knox, Ky., the Army said Wednesday.
He did not participate in Wednesday's ceremony.
Richardson comes to the division after joining its higher headquarters, III Corps, during a difficult time. He became the acting Fort Hood commander in September, stepping in for Maj. Gen. Scott Efflandt, who was later suspended and fired for his handling of the disappearance and death of Spc. Vanessa Guillen. Richardson held the position until III Corps and its commander, Lt. Gen. Pat White, returned from a deployment to the Middle East about a month later. Since then, he has served as the corps' deputy commander for maneuver. White is still the commander of Fort Hood.
In remarks at Wednesday's ceremony, White thanked Broadwater for leading the division through challenging times while balancing readiness, modernization and caring for soldiers and families.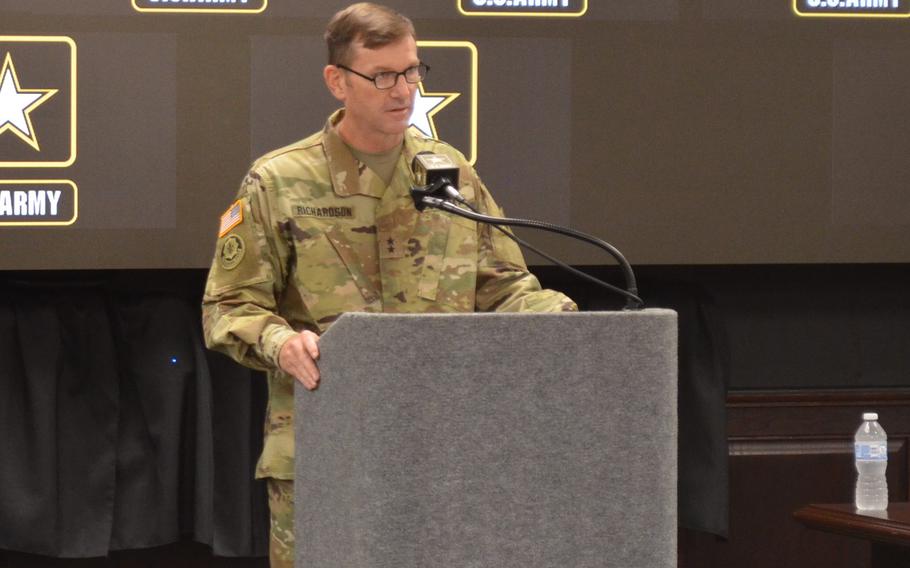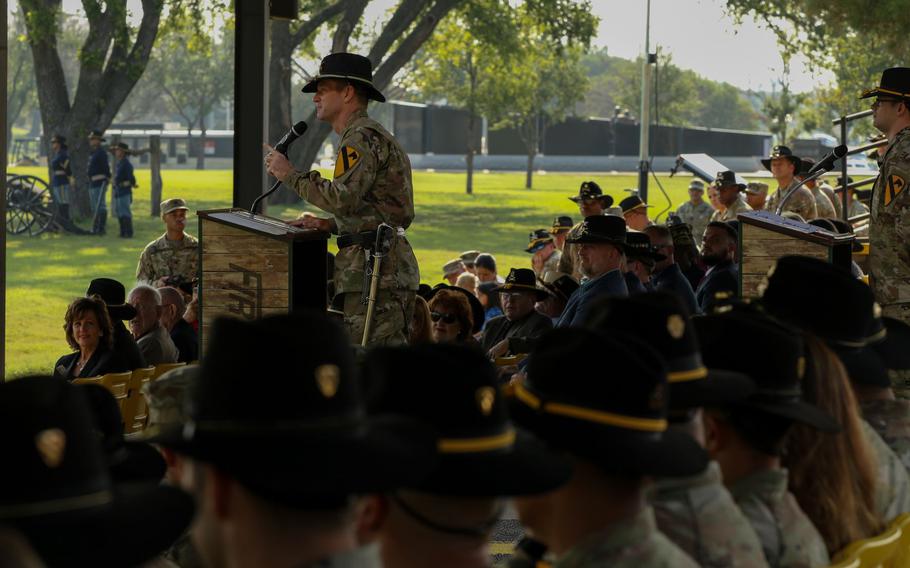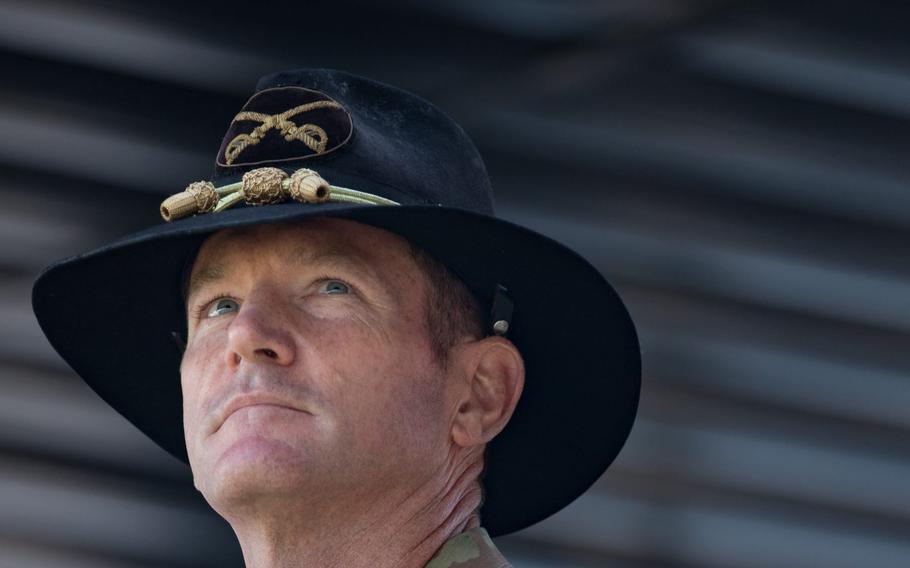 Richardson inherited a high-performing team, White said.
The entire base has been under increased scrutiny since April last year, when Guillen, a soldier in the 3rd Cavalry Regiment, went missing. She was killed by a fellow soldier in an arms room at Fort Hood on April 22, 2020, and it took investigators more than two months to find her body buried about 20 miles from the base.
Since her disappearance, Guillen's family has said the soldier faced sexual harassment at Fort Hood that she was too afraid to report, which led to an outpouring of service members and veterans sharing their own stories of harassment and assault, as well as racism and other mistreatment.
At least five investigations were triggered in the wake of Guillen's death, including the Fort Hood Independent Review Committee. On Dec. 8, the committee released its findings, which showed various instances of leadership failure and a distrust of the programs designed to support soldiers who report instances of sexual assault and harassment.
Following the report's release, the Army suspended or relieved 14 Fort Hood leaders, including Broadwater and Command Sgt. Maj. Thomas Kenny, then the commander and command sergeant major of the 1st Cavalry Division. Army Forces Command then launched an administrative investigation, known as a 15-6, to specifically review the division's climate and culture.
Though Army Forces Command did not release the findings of the investigation, the Army said the results cleared Broadwater and the investigation's findings and recommendations will be made public when the final review is complete.
A decision on Kenny remains pending and will be addressed later, according to Army Forces Command. A handwritten farewell letter released by the division was signed by Broadwater and Kenny.
"It has been our distinct honor and privilege to serve with each of you," the two men wrote.
During the investigation, Brig. Gen. Brett G. Sylvia served as acting commander of the 1st Cavalry Division, who departed the unit Friday for the Pentagon. The acting division command sergeant major is Command Sgt. Maj. Ryan McLane.
Richardson, a former commander of Fort Hood's 3rd Cavalry Regiment, played a key role in developing and implementing plans to reverse the culture at the base. He initiated a five-day pause in training to kick off the "People First" initiative, which aimed to rebuild trust between soldiers and their chain of command. The efforts eventually spread to the other bases under the corps' command and then, to some extent, across the Army.
About a month after arriving at Fort Hood, Richardson said a major factor in the distrust at the base stemmed from stress created by the high operational tempo of its units. The division that he will take command of Wednesday spent years rotating through deployments to Iraq, then to Afghanistan, and now its brigades serve as rotational forces in Korea and Europe.
As Richardson on Wednesday addressed soldiers for the first time as division commander, he wore a division patch first worn by his grandfather, an infantry officer who served with the unit in Japan. Richardson emphasized the importance of trust and treating everyone with dignity and respect.
"Trust is earned through genuine care and compassion for soldiers and families," he said. "It is earned through actions, and not words alone."
Known as America's "First Team," the 1st Cavalry Division has more than 18,000 soldiers divided among three armored brigade combat teams, an aviation brigade, a sustainment brigade and the 1st Cavalry Division Band.
At III Corps, which also oversees the 1st Armored Division at Fort Bliss, Texas, the 1st Infantry Division at Fort Riley, Kan., and the 4th Infantry Division at Fort Carson, Colo., Richardson was replaced as White's deputy commander by Maj. Gen. Steven Gilland, who will officially join III Corps in a ceremony Thursday.