House introduces bill merging two high-profile measures to combat military sexual assault
by
Nikki Wentling
Stars and Stripes
June 23, 2021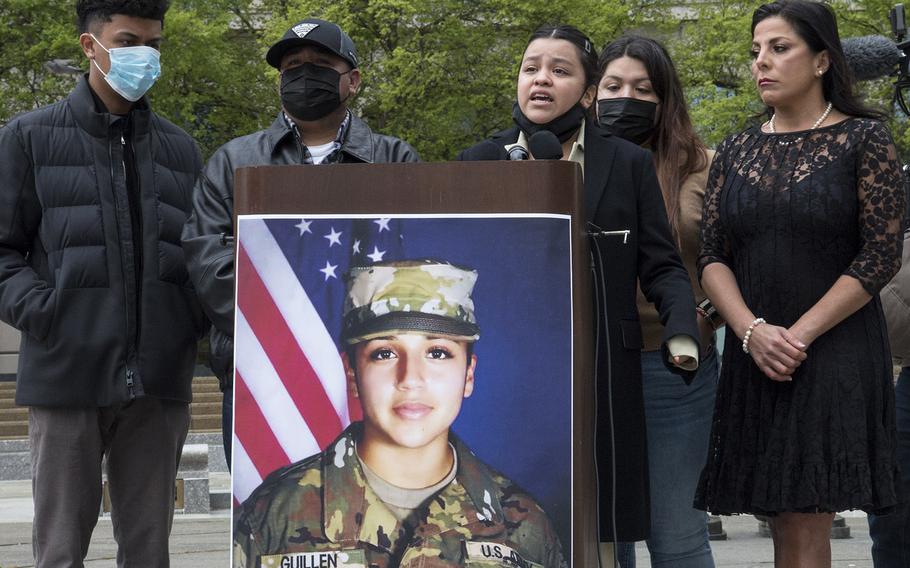 WASHINGTON — House lawmakers introduced a bill Wednesday that combines two high-profile measures to combat military sexual assault and harassment.
The new legislation would remove the decision to prosecute serious crimes in the military from the chain of command. Instead, the decision would fall to trained, independent military prosecutors. This would apply to non-military, felony-level crimes, such as murder, rape, domestic violence and sexual assault.
"The time has come," said Rep. Jackie Speier, D-Calif., lead sponsor on the bill. "Today we have broad, bipartisan support to make a critical and fundamental change to the military justice system."
The bill, titled the Vanessa Guillen Military Justice Improvement and Increasing Prevention Act, is being introduced as the House version of a bill by Sen. Kirsten Gillibrand, D-N.Y. After nearly a decade of pushing for the change, Gillibrand's Military Justice Improvement Act has been gaining momentum in the Senate.
Gillibrand's bill now has a filibuster-proof level of support from 66 senators, including 43 Democrats, 21 Republicans and two independents. However, Senators Jack Reed, D-R.I, and Jim Inhofe, R-Okla., respectively the chair and ranking member of the Senate Armed Services Committee, have blocked the legislation from advancing.
In a split with the Joint Chiefs of Staff, Defense Secretary Lloyd Austin threw his support Tuesday behind removing decision-making from military commanders over prosecution in cases of sexual assault.
"It's historic to have the first secretary of defense to agree with us that sexual assault should be taken out of the chain of command," Gillibrand said. "That is a monumental step forward. It's validation that our approach is the right approach."
Gillibrand's bill, though, goes beyond sexual assault and would send cases of all non-military, serious crimes to independent prosecutors. In letters last month, the Joint Chiefs of Staff argued that the bill went too far.
"It is my professional opinion that removing commanders from prosecution decisions, process and accountability may have an adverse effect on readiness, mission accomplishment, good order and discipline, justice, unit cohesion, trust and loyalty between commanders and those they lead," Joint Chiefs Chairman Gen. Mark Milley wrote.
The legislation introduced Wednesday combines Gillibrand's bill with the I Am Vanessa Guillen Act, a House bill that would change the reporting process for sexual harassment and assault in the military and allow service members who are victims to seek monetary damages from the Defense Department. It was named for Spc. Vanessa Guillen, a 20-year-old small arms repair soldier who was sexually harassed before she was killed by a fellow service member last year.
Speier sponsored the I am Vanesa Guillen Act and will now lead the new Vanessa Guillen Military Justice Improvement and Increasing Prevention Act. Natalie Khawam, the attorney for the Guillen family, said she and the family supported the new measure, believing it could get passed through Congress quicker than the I Am Vanessa Guillen Act.
"We're doing it this way because we have the votes. We've got the Senate votes and the House votes," Khawam said. "We're making sure this can now get passed immediately and codified into law."
The new bill does not include the part of the Guillen Act that would allow service members to file claims against the Defense Department. Khawam said she wanted that language added as an amendment to the National Defense Authorization Act, which sets the Defense Department's annual budget and includes a slew of policies for the Pentagon. It's one of the only major bills that passes reliably through Congress each year, making it a desirable target for lawmakers to attach other measures.
"There's no teeth in the law if there's no accountability," Khawam said.
Twitter: @nikkiwentling