US, South Korean F-35 stealth fighters conclude joint drill
By
Stars and Stripes
July 14, 2022
---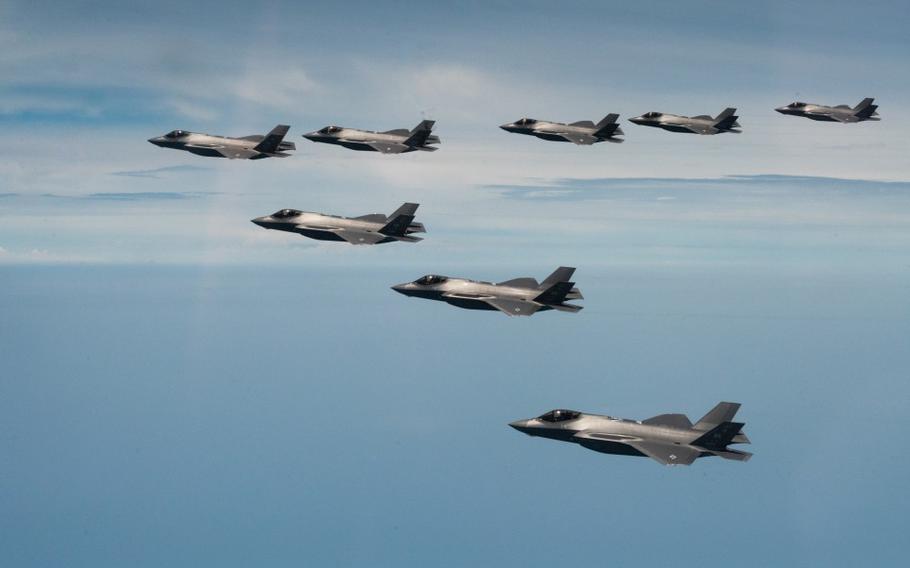 CAMP HUMPHREYS, South Korea — The United States and South Korean air forces concluded four days of air combat exercises by F-35A Lightning II stealth fighters from both countries for the first time.
At least 14 South Korean aircraft, including the F-35A, F-15K, KF-16 and FA-50, participated in drills over South Korea, according to a news release from the Ministry of Defense on Thursday.
Sixteen U.S. aircraft took part, including six F-35As from Eielson Air Force Base, Alaska, and 10 F-16 Fighting Falcons from the Kunsan and Osan air bases in South Korea, 7th Air Force spokeswoman Lt. Col. Kelley Jeter told Stars and Stripes by phone. 
No ordnance was dropped from the aircraft during the exercise, Jeter said.
The two countries held the exercise "to improve capabilities in conducting combined operations through live environment training" and boost collaboration between the stealth fighters, the Defense Ministry said.
The aircraft practiced attack formations and air intercepts after being split by simulated friendly and enemy forces, according to the release.
The drill symbolized the U.S.-South Korea alliance, and showed the two sides shared tactics exclusive to the stealth aircraft, South Korean air force Maj. Kwon Haebin, an F-35A pilot with the 17th Fighter Wing, said in the release.
The South Korean military purchased roughly 40 F-35s from the U.S. in 2014 and took its first delivery of the aircraft in 2019.
The drill marks the first time F-35s from both countries have flown together, although South Korea's stealth fighters have exercised with other U.S. aircraft.
On June 7, two days after North Korea test-fired eight short-range missiles, 16 aircraft, including South Korean F-35s and U.S. Air Force F-16s, flew over the West Sea, also known as the Yellow Sea, in a show of force.
The latest air combat drill comes nearly two months after President Joe Biden and South Korean President Yoon Seok Youl met for the first time and agreed to bolster their military ties. Yoon, during a press conference in May, said the two countries were "going to step up our exercises."
North Korea has conducted 17 rounds of missile tests so far this year and continues to lambast the U.S. and South Korea through its state-run media. In a statement by the Ministry of Foreign Affairs on Tuesday, North Korea described the U.S.-South Korea drills as "reckless military provocations" and said the F-35's goal was to "destroy the key targets" of its country.
---
---
---
---