Supreme Court won't intervene on behalf of Air Force vaccine refuser
By
Stars and Stripes
April 19, 2022
---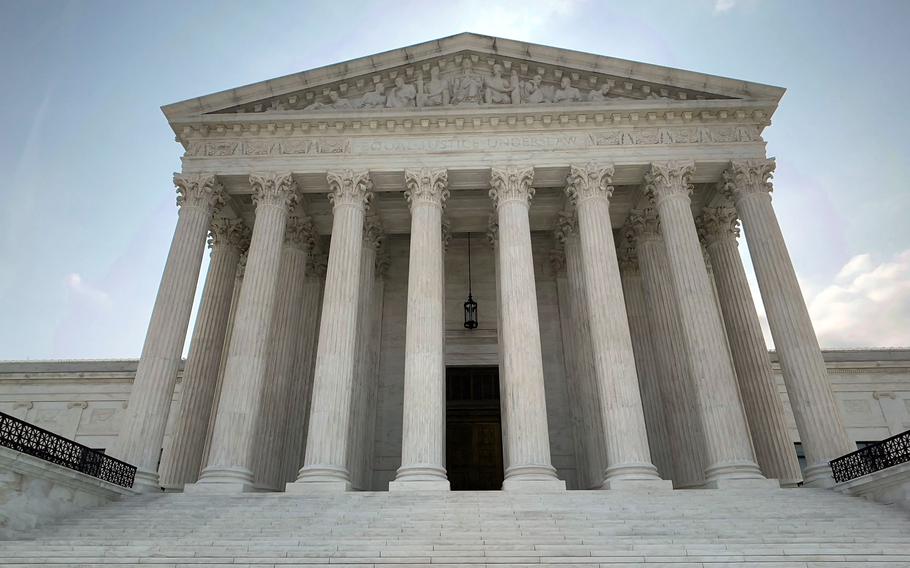 Stars and Stripes is making stories on the coronavirus pandemic available free of charge. See more stories here. Sign up for our daily coronavirus newsletter here. Please support our journalism with a subscription.
WASHINGTON — The U.S. Supreme Court has decided it won't block the Air Force from disciplining a Reserve officer who refused to be vaccinated against the coronavirus.
Lt. Col. Jonathan Dunn brought the case to the Supreme Court earlier this month, asking the justices to block the service from "inflicting punishments that deprive him of his First Amendment freedoms and irreparably harm his career."
Dunn is an Air Force pilot who served multiple tours in Afghanistan. He left active duty and joined the Air Force Reserve in 2014.
The justices denied Dunn's request in a brief, unsigned order Monday. Three conservative justices — Clarence Thomas, Samuel Alito and Neil Gorsuch — disagreed with the decision and would've granted Dunn's request, the order said.
Dunn requested a religious exemption during the summer from the Defense Department's mandate that all personnel be vaccinated against the coronavirus. His request was denied, and he was relieved of his command of the 452nd Contingency Response Squadron, which is based at March Air Reserve Base, Calif.
Dunn asked a federal court in California to block the Air Force from relieving him of his command, but the court rejected his request. The U.S. Court of Appeals for the Ninth Circuit did the same. On April 11, he asked the Supreme Court to intervene on an emergency basis.
In a rebuttal to Dunn's case, U.S. Solicitor General Elizabeth Prelogar wrote the Air Force had a "compelling interest" in requiring Dunn's vaccination because he led a unit "designed to be deployable worldwide with just 72 hours' notice."
"[V]accination of service members is an essential component of military readiness and is critical to protecting the health and safety of service members," Prelogar wrote.
Dunn's case follows a Supreme Court ruling in March in which the justices upheld the Navy's authority to reassign Navy SEALs who refused to be vaccinated.
---
---
---
---