Airmen have five days to get immunized after vaccine exemption is denied or they face punishment, Air Force says
by
Caitlin Doornbos  
Stars and Stripes
December 8, 2021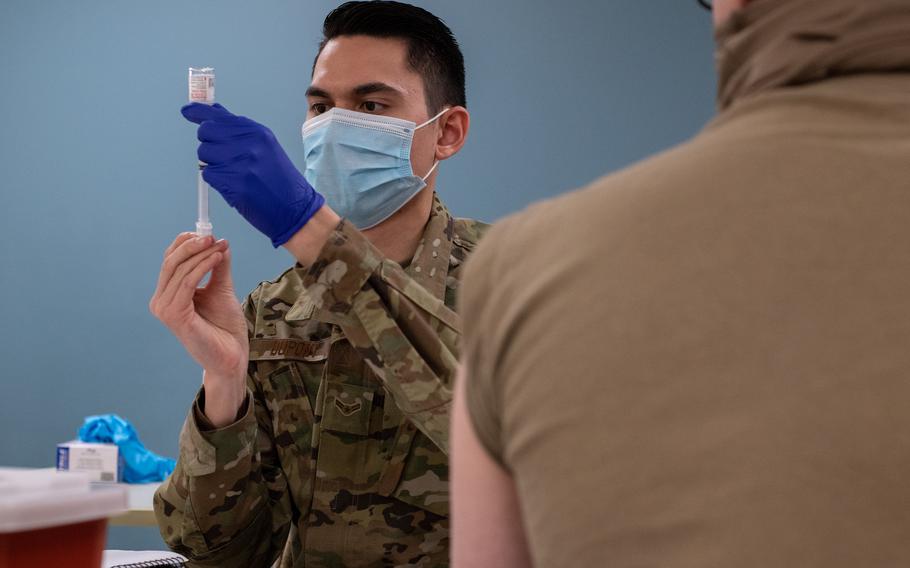 WASHINGTON — Unvaccinated airmen denied medical, administrative or religious exemptions to the Defense Department's coronavirus vaccine mandate must get immunized within five days or face possible punishment including separation, the Air Force announced in a policy issued Wednesday.
More than 97% of active-duty airmen were vaccinated against the coronavirus as of Tuesday, according to the Air Force. The remaining troops are either waiting for decisions on their exemption requests, have not started the vaccination process or have verbally declined the shots.
So far, the service has approved 1,133 medical exemptions, 184 administrative exemptions, but no religious exemptions for its active-duty force of about 326,000, the service said Tuesday. About 4,756 active-duty airmen are awaiting decisions on religious exemptions requests.
The service required all active-duty troops to become fully vaccinated by Nov. 2 after Defense Secretary Lloyd Austin in August ordered all service members to receive the vaccine.
"Immediately following notification of final adjudication, [Air Force] members must comply with the vaccination requirement," the service said in its new policy. "Any refusal to receive the [coronavirus] vaccine, absent an approved exemption, may be punishable under the [Uniform Code of Military Justice]."
The UCMJ is the military's legal framework, which includes a provision that allows for the separation of troops for failing to obey a lawful order.
Airmen denied medical exemptions may delay the five-day deadline by requesting a second opinion or submitting an appeal to the service's final appeal authority, according to the policy. However, the clock will restart to get vaccinated if the appeal is denied.
The policy also stated that after Dec. 31, unvaccinated Air National Guard members without pending or approved exemptions "may not participate in drills, training or other duty" under federal or state authority.
The National Guard provision comes after Oklahoma Adjutant General Tommy Mancino canceled the state's coronavirus vaccine requirement last month, arguing Oklahoma did not have to enforce the Pentagon's mandate. The Defense Department has said its mandate is still valid for Oklahoma troops.
More than 92% of the Air National Guard are at least partially vaccinated, the Air Force said Tuesday. The service has approved 643 medical exemptions, 1,405 administrative exemptions and no religious exemptions for Guard troops, though about 3,553 are awaiting decisions on religious accommodation requests.
The Air Force is not alone in its lack of religious-exemption approvals. To date, no military branch has approved requests for a religious exemption to the vaccine, chief Pentagon spokesman John Kirby said Wednesday.
"This has absolutely nothing to do with trampling on the religious liberties of our men and women in uniform," he said. "Just because none have been approved doesn't mean that they can't still be applied for."
---
---
---
---