Nearly 9,000 active-duty airmen and guardians remain unvaccinated one month after deadline to get the shots
by
Caitlin Doornbos  
Stars and Stripes
December 3, 2021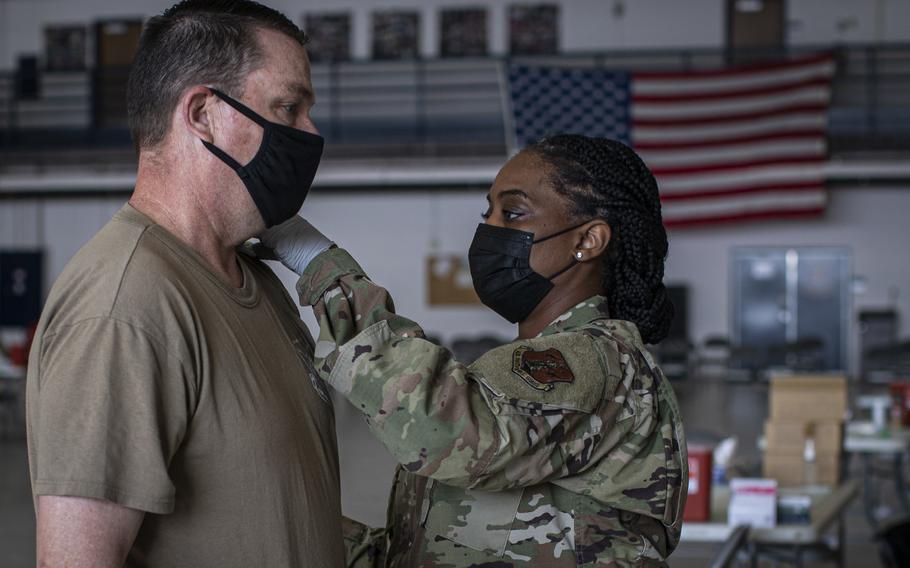 WASHINGTON — More than 97% of active-duty airmen and Space Force guardians are at least partially vaccinated against the coronavirus, though nearly 9,000 remain unvaccinated a month after the Air Force's deadline to get the shots, the service reported Friday.
The service required all active-duty troops to become fully vaccinated by Nov. 2, but the Air Force and Space Force are still clamoring for those who continue to resist the vaccine to get the shots.
Those who refuse the vaccine without an approved exemption could face possible separation from the service after Defense Secretary Lloyd Austin in August ordered all service members to receive the vaccine.
"Any refusal to receive the [coronavirus] vaccine, absent an approved exemption or accommodation, may be punishable under the Uniform Code of Military Justice," Air Force Secretary Frank Kendall said in a memo to the force in September. "Military commanders retain the full range of disciplinary options available to them under the UCMJ."
The UCMJ is the military's legal framework, which includes a provision that allows for the separation of troops for failing to obey a lawful order.
About 8,867 active-duty airmen and guardians were unvaccinated as of Friday morning, though 1,133 had received medical exemptions and 184 received administrative exemptions to the vaccine, the Air Force said in a statement. Those with exemptions will not be required to receive the shot.
The remaining 7,550 troops include those who do not have pending exemptions and have not started the vaccination process — 1,108 of whom have verbally refused to comply with the mandate.
The Pentagon also allows troops to submit exemption requests for religious reasons, but so far the Air Force has not issued any. About 4,754 of the 7,550 unvaccinated airmen and guardians are awaiting decisions from the Department of the Air Force on religious exemption requests.
Still, 96.9% of the approximately 326,000 active-duty airmen and guardians were fully vaccinated and another 0.4% of the force were partially vaccinated as of Friday morning, the service reported. The military does not consider personnel fully vaccinated until two weeks have passed since their final shot in the vaccine series.
That's up from a 94.6% fully vaccinated active-duty force that the Air Force reported on Oct. 26, just a week before the active-duty deadline.
Thursday was the deadline for Air Force Reserve troops to become fully vaccinated. While the service does not break down vaccine data for the Reserve force alone, about 6.3% -- or about 11,023 -- of all Air National Guard and Reserve troops remain unvaccinated.
About 2,125 of those Reserve and Guard troops have verbally refused the shot, while there are 5,804 Reserve and Guard troops awaiting decisions on their religious accommodation requests, according to the Air Force.
The service has approved 1,190 Reserve and National Guard requests for medical exemptions, 2,331 administrative exemptions and no requests for religious exemptions.
---
---
---
---