Air Force bars unvaccinated airmen from transferring to new duty stations
by
Wyatt Olson
Stars and Stripes
November 24, 2021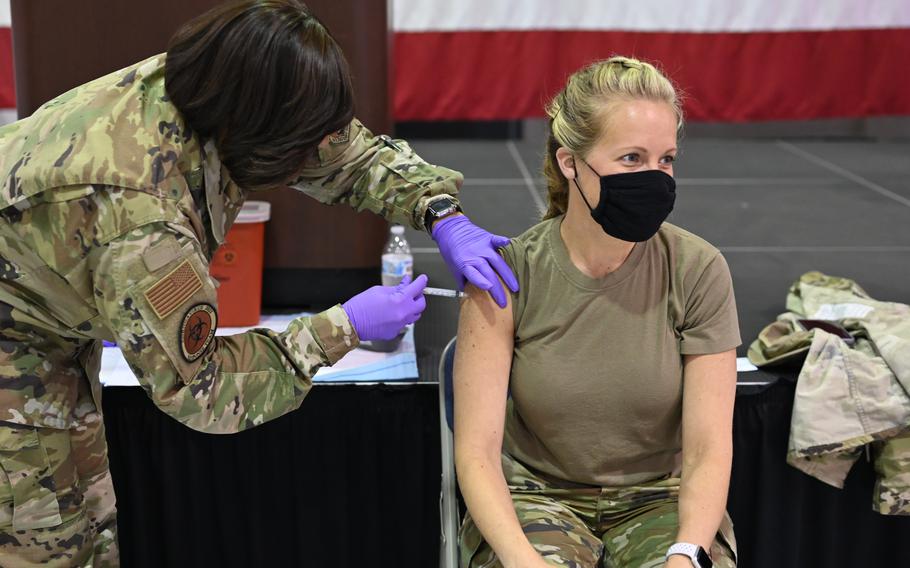 Airmen who have not been fully vaccinated against the coronavirus will not be allowed to proceed to their next permanent duty station beginning Monday, according to a memo issued by the Air Force.
Compliance with the guidance, which was issued Tuesday by Lt. Gen. Brian Kelly, the Air Force's deputy chief of staff for manpower, personnel and services, is mandatory.
"Airmen who are not fully vaccinated against COVID-19, including those awaiting final decision on a medical exemption or religious accommodation, are restricted from proceeding on existing [permanent change of station] orders, or selection for future PCS," Kelly wrote in the memo, which was first reported by the Facebook page Air Force amn/nco/snco.
Phone calls from Stars and Stripes on Wednesday to the Department of the Air Force went unanswered.
In August, Defense Secretary Lloyd Austin ordered that all service members be vaccinated against the coronavirus but left the timeframe up to individual services.
The Air Force set a deadline of Nov. 2 for all active-duty airmen and U.S. Space Force guardians to be fully vaccinated.
The deadline for full vaccination for Air National Guard and Air Force Reserve members is Dec. 2.
The Air Force's PCS restriction will remain in force for any airman until that person either becomes fully vaccinated against COVID-19, which is the disease caused by the coronavirus, or receives an approved medical exemption or religious accommodation, Kelly wrote.
As of Tuesday, 96.6% of active-duty airmen had been fully vaccinated, leaving 7,874 airmen unvaccinated, according to the service's statistics.
The Air Force has granted 1,254 medical exemptions for vaccination and none for religious reasons. The Air Force is currently processing 4,756 requests for religious exemption, according to the statistics.
Airmen not fully vaccinated and those awaiting exemption approval will be flagged in their personnel file to prevent them from being selected for future assignments, Kelly wrote.
"Airmen currently on assignment are not authorized to out-process and depart on PCS, with the exception of those who have out-processed and/or shipped household goods/vehicles on or prior to 29 November, who are permitted to proceed to their new duty location," Kelly wrote.